Found November 15, 2012 on Wrestling Truth:
NXT (still taped for international markets) emanates from Full Sail University, Florida. Bo Dallas challenges Jinder Mahal: The show opens cold with Tony Lufton interviewing the number one contender for the NXT title, Jinder Mahal. Last week Mahal won a big 4-Way Elimination match over his 3MB team mate Drew McIntyre, Bo Dallas and Justin Gabriel. Mahal says that never before has there been a Superstar of his caliber going for the title, nobody….Bo Dallas interrupts and says he's not a nobody. He challenges Mahal to a match with the title shot on the line. "If I'm a nobody I should be easy to beat…unless you're scared," insinuates Dallas. Mahal says "it's on". There's your hook ladies and gentlemen. The Ascension def. Yoshi Tatsu & Percy Watson: The Ascension consists of long-haired British wrestler Kenneth Cameron and his larger American partner Conor O'Brian. The pair are quite imposing and do a lot of screaming in the ring. Outside of the ring they're mysterious and wear black guy-liner. They get the win here with the old Eliminators finisher. With some development they could have an entertaining run in the emerging main roster tag division. Aksana annoys Layla: Backstage WWE Diva Layla is looking in the mirror when Aksana appears and says she likes Layla's hair. She said she likes it "because it looks so bad it makes me look so good". Bit of a clunky line, but you get the idea. Layla says she doesn't care what anyone thinks. She's not going to take grooming tips from an "Eastern Euro-Trash". Have WWE taken my advice from a few weeks back about playing in to the British/Eastern-European tension? After all NXT's main audience is now in the UK. Layla says she's going to give Aksana a makeover in the ring later tonight. There's your second hook. Corey Graves def. Oliver Grey: The former Sterling James Keenan is now Corey Graves, the "bad guy your girl always wants", who is "a fan of the underground music scene" and dresses a bit like a British MOD/Skinhead. Oliver Grey is a farm boy from Britain. Even though Grey is being dominated, the fans choose to cheer for Corey. I guess that's a good thing, at least for Corey. A good technical match from Corey, who gets the win. Graves can certainly get it done in the ring and the character could be interest once he makes it his own. Big E Langston Video and Interview: Powerful and athletic monster Big E. Langston is on the verge of main roster promotion. He's arguably the most over in NXT. The master of the 5 count (pins his opponents for 5 seconds) is out to address Vickie Guerrero's bounty. He says he's worried…worried for anybody dumb enough to try and claim the cash. "I am Big E, and the E stands for End, the end for anyone who stands across that ring from me." Not the best promo, but he has bucket loads of non-verbal charisma and it hasn't stopped men of his build get over in the past. Langston is jumped by Camacho, but he runs away before Langston can retaliate. Layla def. Aksana: It seems the women can't get enough time on the main roster so are given a random match here on NXT. Aksana plays her sultry-***** role well and Layla is coming in to her own as the babyface. Not the best match however. Aksana's offense is the opposite of stiff. Her punches were not even touching Layla. She has some nice looking submission maneuvers though. Aksana dominates Layla to build the babyface fire. She comes back with clotheslines and facebusters, before hitting an impressive springboard cross-body. Layla gets the win with a Kick to the head. It's not really the best finishing move. Bray Wyatt footage: Louisiana Preacher Bray Wyatt is in the swamp somewhere with his disciple Luke Harper. He rants about how he cannot be stopped. "How can you stop something that has won wars and been followed for thousands of years?" It's early days, but if anyone can pull off the gimmick it's Rotunda. Roman Reigns def. Chase Donavon: Reigns is yet to live up to the hype of his new "Lebron James" arrogant show-stealer gimmick. Jim Ross puts him over as the "Blue Chip of the Blue-Chippers", he apparently has "it". There's no doubt he's solid in the ring, but he was much more effective as Leakee. Still it's early days, they call it developmental for a reason. He gets the squash win. Following the match he tells the ring-announcer to call him the "thoroughbred". At lease they're moving away from the stereotypical Island gimmicks for the Samoans. Jinder Mahal def. Bo Dallas: The other Rotunda Bo Dallas definitely has "it". He smoothly works around the ring like a pro and has that extra finesse that the non-wrestler wrestlers don't always pick up on. Dallas is dominant throughout, causing Mahal to exit the ring for a breather. Mahal only gets the upper-hand when the referee gets in the way. He uses his knee as a weapon before locking in a submission to the arm. Fans get behind Dallas who manages to escape. He nearly gets the win with a roll-up and then a back-slide, but Mahal cuts him off with a sweep of the knee. Mahal gets the win with a Camel Clutch after eating the turnbuckle. After the bout Mahal beats-down the babyface, but before lasting damage can be done, the NXT Champ Seth Rollins makes the save.
Original Story:
http://wrestlingtruth.com/news/jinder...
THE BACKYARD
BEST OF MAXIM
RELATED ARTICLES
Scott Stanford and Matt Striker welcome us to this week's episode of WWE Superstars. Heath Slater & Jinder Mahal def. The Usos: After defeating Jinder Mahal on last week's show Jimmy Uso returns with his twin, Jey, to face Heath Slater and 3MB partner, Mahal. Please don't shoot me, but I'm starting to like the 3MB entrance theme. In terms of the gimmick Slater seems...
Heat News

Delivered to your inbox

You'll also receive Yardbarker's daily Top 10, featuring the best sports stories from around the web. Customize your newsletter to get articles on your favorite sports and teams. And the best part? It's free!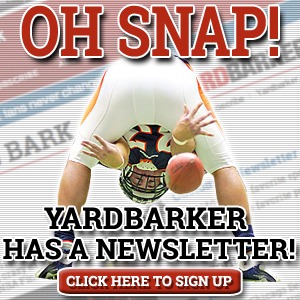 Latest Rumors
Best of Yardbarker

Today's Best Stuff

For Bloggers

Join the Yardbarker Network for more promotion, traffic, and money.

Company Info

Help

What is Yardbarker?

Yardbarker is the largest network of sports blogs and pro athlete blogs on the web. This site is the hub of the Yardbarker Network, where our editors and algorithms curate the best sports content from our network and beyond.