Found March 28, 2012 on cheap-heat:
John Cena sat down with Brian Soscia of The Soscia Network for a Q&A session with fans. Highlights from the interview are as follows:
Who is left if he defeats The Rock at WrestleMania XXVIII:"Honestly, this is what I like about April 1, you have a definitive number one being decided. I think at that point it is anybody's game to try to take somebody off the mountain. We're at a period in WWE, WrestleMania is truly the end of an era. Triple H vs. Undertaker, Shawn Michaels is a special referee, John Cena vs. The Rock. One of those names, one of those names is a full-time employee for this company and you're looking at him.
"So I think WrestleMania is a platform, as it always is, for new Superstars – Daniel Bryan, Sheamus, C.M. Punk, Cody Rhodes, Team Laurinaitis, Team Teddy Long. Anyone can step up. I'm going to be there on the top of the mountain with my fists up waiting for someone to challenge me. I think everybody is going to watch WrestleMania and enjoy it, but I think everyone behind the curtain, behind the wall that I'm not supposed to talk about, is going to be watching as hungry as they can be knowing that they want to face the winner of that match."
Advice to younger wrestlers: "Never give up. Back in 2003, 2002, when I was just wearing boots and tights and I was supposed to be the ruthless aggression young good guy, nobody in the company liked me. I know Vince McMahon won't admit this, but he wanted me fired, Triple H wanted me fired, everybody hated me. They just wouldn't give me a forum to showcase my talents. I've always been able to connect with the audience if given the ability to speak.
"I got that ability and I was off to the races. I was up against all odds. I wasn't born into this business. I'm not a third generation guy or a second generation guy. I'm just a dude who grew up a fan like all you guys and I wanted to do this my whole life. And I never gave up. That's the advice I give to all the young cats, all the guys who have been trying and trying, trying to make it, attempt after attempt. I've failed many times, but you never ever give up."
The video interview is available here.
Original Story:
http://www.cheap-heat.com/wrestling/n...
THE BACKYARD
BEST OF MAXIM
RELATED ARTICLES
John Cena recently spoke with Chad Dukes of CBS Radio and continued his attack on The Rock. Here are the highlights… "The problem I have with Dwayne is the problem I've always had — you say you dig the gig, then f'n show up. That's the animosity I think a lot of our guys have. Showing up for the important (dates) is fine, but when you show up for the important ones don't...
- Sheamus did a Q&A session with BaltimoreSun.com and says he's supporting John Cena at WrestleMania 28: "I'm going to go Team Cena, man. There's a lot of rumors going around, people with animosity for The Rock. That's not the case with me at all. The Rock has come back; he's been cool with me and I have nothing against him at all. He's achieved everything in...
Rather than give my thoughts on it like many people tend to do this time of the year, I thought I'd look back at some of the best Undertaker WrestleMania Dream Matches that never happened. Probably for most people it was Shawn Michaels and The Undertaker pre-WrestleMania 25 days. Related posts: 27 WrestleMania Matches That Should Have Happened (10-6) – Inside the Wheelhouse...
- Yesterday we reported that the March 26th episode of WWE Raw scored a 3.05 cable rating with 4.44 million viewers – a disappointment to WWE officials.In comparison, the show which also featured The Rock and John Cena did a 3.84 cable rating with 5.89 million viewers. This show going into WrestleMania had a 21% decline in ratings and a 25% decline in total viewers.In the segment...
- WWE posted the following video of John Cena's brother talking about a past run-in with The Rock: - The Miz, Drew McIntyre and Booker T are featured in the latest WWE Backstage Fallout: - As noted before, WWE's Hell in a Cell pay-per-view will be held on October 28th at the Philips Arena in Atlanta, Georgia. The pre-sale goes until Friday and the password is ATLANTA. Tickets...
You know, there are several moments in wrestling that I will always remember. I remember watching Goldberg beat Hulk Hogan on Nitro for the world title. I could tell you every thing about that moment. I was in my room, sat at the end of my bed, cheering on Goldberg. I had my window open because it was warm, so I could hear my family in the garden all laughing and joking. I could...
WWE officials are interested in doing more one-hour specials for big events like they did with the "Once In A Lifetime" special for John Cena and The Rock this week.   Follow me on Twitter: www.twitter.com/therealjeffpeckDownload my wrestling podcast "The Still Real to Us Show" every Thursday at www.wheelhouseradio.com & www.wrestlechat.net
Eric Bischoff posted the following on Twitter, discussing John Cena's performance on RAW… Checked out tonights Raw. Cena is one of the best talkers in the business in my opinion.
- WWE confirmed the previous list of Hall of Fame inductors on their website tonight with the exception of Rikishi. WWE noted that Rikishi will be in attendance but that The Usos will induct Yokozuna. - Former WWE Diva Lita indicated on Twitter tht she is in attendance for tonight's RAW Supershow in Atlanta. She lives in the area. - WWE will hold a WrestleMania 28 press conference...
- WWE issued the following: World Wrestling Entertainment, Inc. : Social Media Event of the Year WrestleMania® WWE® (NYSE:WWE) today announced the first ever "WrestleMania Pre-Show," simulcast live on YouTube, Facebook and WWE.com this Sunday, April 1 at 6:30 p.m. ET, as the centerpiece of its record-level digital and social media activities for WrestleMania Week in Miami....
As noted before, the go-home WrestleMania 28 episode of WWE's RAW Supershow scored a 3.05 cable rating with 4.44 million viewers – a disappointment to WWE officials. In comparison, the WrestleMania 27 go-home show which also featured The Rock and John Cena did a 3.84 cable rating with 5.89 million viewers. This year's go-home show had a 21% decline in ratings and a 25% decline...
After today's WrestleMania press conference, John Cena and The Miz answered questions from fans on Twitter.
WWE News

Delivered to your inbox

You'll also receive Yardbarker's daily Top 10, featuring the best sports stories from around the web. Customize your newsletter to get articles on your favorite sports and teams. And the best part? It's free!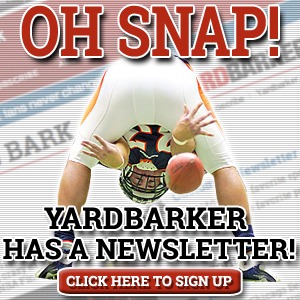 Latest Rumors
The Backyard

Today's Best Stuff

For Bloggers

Join the Yardbarker Network for more promotion, traffic, and money.

Company Info

Help

What is Yardbarker?

Yardbarker is the largest network of sports blogs and pro athlete blogs on the web. This site is the hub of the Yardbarker Network, where our editors and algorithms curate the best sports content from our network and beyond.