Found March 08, 2012 on Wrestlechat.net:
After Eve declared on Raw SuperShow two weeks ago that she'd taken advantage of Zack Ryder's feelings to further her own career and planned on doing the same with John Cena, she quickly became the recipient of great scorn. Cena proclaimed on the same show that he lost a "broski" for a "hoeski;" this has led to the WWE Diva being inundated with the derogatory name at live events and through social media outlets. Legendary wrestler Mick Foley, a friend of Eve's, is not fond of this uncomplimentary storyline and is voicing his concern through Twitter.
Foley initially played up the storyline on the micro-blogging site by saying Ryder should give Eve another chance. A follower of Foley's disagreed, writing, "Once a #Hoeski, always a #Hoeski." He responded by saying both Ryder and Cena should apologize to Eve for calling her that name.
"Sorry, @LizBDecker, but @ZackRyder should take @EveMarieTorres back AND apologize for calling her that name. @JohnCena should apologize too," Foley wrote. "It's important to be able to disagree without being disagreeable. @ZackRyder should just say #noski when it comes to using the word #hoeski."
Foley adds that WWE is sending a "mixed message" with the name-calling since they have an anti-bullying campaign in place not to mention that Cena proclaims to "rise above hate."
"I wouldn't be so uneasy with the name-calling if not for Be a Star and @JohnCena rising above hate. Mixed message," he wrote in response to the following comment: "How does John Cena accusing Eve of being a skank and of being diseased fit with the Be a Star campaign?"
Foley continues, "I think @zackryder can come out of this looking good, but not if he gives into something as cheap and easy as name-calling."
He was also asked whether the storyline is a product of lazy writing or indicative of a blatant sexism problem within WWE.
"I really love what WWE is doing with it's anti-bullying campaign – but the "hoeski" thing did strike me as the lazy way out," Foley responded.
This is not the first time where Foley has publicly taken a stand for a female being demeaned on WWE programming as he took offense online to Triple H belittling ring announcer Lilian Garcia with a hurtful behind-the-scenes joke during a 2010 episode of Raw. He acknowledged then that speaking out against the WWE head may have cost himself professionally down the road, but vehemently felt he had to take a stand.
Follow me on Twitter: www.twitter.com/therealjeffpeck
Download my wrestling podcast "The Still Real to Us Show" every Thursday at www.wheelhouseradio.com & www.wrestlechat.net
Original Story:
http://wrestlechat.net/mick-foley-not...
THE BACKYARD
BEST OF MAXIM
RELATED ARTICLES
John Cena referencing The Rock having notes on his wrist, which were visible on RAW, was not a planned part of the show. There was much speculation that it was scripted for Cena to call out The Rock's notes, but that appears to be incorrect. The Rock legitimately had the notes to refer to if needed for his lengthy live promo. It is something The Rock has done for years. Sources...
– Regarding the relationship between Dwayne Johnson and John Cena behind the scenes, while the two are cordial with each another, they are not the best of friends. There is genuine tension between both stars, which was said to have intensified in the weeks leading up to Survivor Series. One former WWE insider who has worked with both Johnson and Cena said of their relationship...
- John Cena will be doing a special autograph signing at Toys R Us in Times Square, New York City on March 18th at 12pm. Beginning this week, the first 300 fans to purchase $30 worth of WWE merchandise in the store will receive a ticket to the meet-and-greet. There are only 300 tickets available. - FCW referee Brian Nguyen made his WWE RAW debut this past Monday in Boston, working...
Edge did another new interview, this time with Busted Open, highlights are below. Edge on being inducted into the Hall of Fame: "It's kind of surreal. I was kind of expecting to be like ok in a few years or like you said if it's in Toronto, or Vancouver, or Montreal. I was fully expecting that too. I got the phone call and I was like "this year? Really?" Ok, I'm not going...
- Rapper Machine Gun Kelly, who's song Invincible is being used for WrestleMania 28, has an interview in the new issue of WWE Magazine. Here's what he had to say about Cena being a perfect representative for the song: "Like me, I consider John Cena to be an underdog; The Rock is like this flashy Hollywood guy. You can't give him a song like "Invincible" because no one...
- We've posted the fan footage already but WWE cameras were rolling for John Cena's post-RAW speech about his brother fighting cancer in Boston on Monday night. They've just posted the HQ footage, which shows Cena getting emotional at the end: - John Cena vs. Kane in a Steel Cage match and eight-man action with CM Punk, Randy Orton, Big Show and Sheamus vs. Daniel Bryan, Dolph...
- Source: Briana Webber WWE Hall of Famer Dory Funk Jr. and his wife, Marti Funk, lost the lawsuit that was brought against them on March 5, 2012. Former students of Dory Funk Jr. successfully sued him over conduct that occurred at his professional wrestling school, the Funking Conservatory in Ocala, Florida. The terms in the contract the students had signed in order to train...
- WWE shipped 158,000 DVD units in January, down 16% from January 2011. The Steve Austin DVD from last year has shipped 136,000 units total and the Oh My God! DVD set has shipped 113,000 units. The Shawn Michaels vs. Bret Hart Rivalry DVD is not listed among the biggest sellers for WWE so it appears that set was not a big seller. - The new issue of Cosmopolitan magazine has an article...
Back in July 2011, Zack Ryder wrestled at several WWE live events as the "Ultimate Broski." Ryder parodied Ultimate Warrior character, using Warrior's facepaint, ring gear and mannerisms. Earlier this week, Zack Ryder wrote the following message on Twitter: "Z! TLIS action figures coming soon. Here's a preview." Ultimate Warrior, who is very protective of his intellectual...
– Bret Hart will be attending Niagara Falls Comic Con this June while Alice Cooper, who appeared at Wrestlemania III, will be headlining the Chiller Convention in New Jersey on April 28th. – Zack Ryder was on Sky Sports news this week as part of a UK promotional tour. Ryder said that he's unsure whether he'll have a match at WrestleMania and was carrying a cane to sell his...
- After stating that John Cena was up on The Rock after last night's segment on RAW, Dolph Ziggler defended Cena to fans on Twitter today: "i hate @johncena like most of you, but im still a fan that wants to be entertained. hes doing his part…." - The Miz says he will not be looked over and wants a match at WrestleMania 28. He wrote today: "All im hearing is @JohnCena vs...
– During the CM Punk/Sheamus vs Daniel Bryan/Chris Jericho match Monday night on RAW, the ticker at the bottom of the screen read: "Edge in 'Breaking the Rules' – in theaters this Friday!". The only problem is that the movie is called Bending the Rules. – Here is a video of New York Yankees' player Curtis Granderson offering his prediction of who will win between...
WWE News

Delivered to your inbox

You'll also receive Yardbarker's daily Top 10, featuring the best sports stories from around the web. Customize your newsletter to get articles on your favorite sports and teams. And the best part? It's free!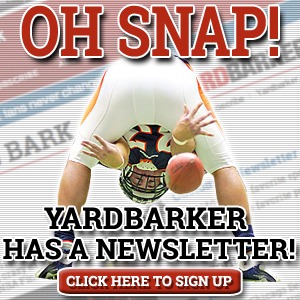 Latest Rumors
The Backyard

Today's Best Stuff

For Bloggers

Join the Yardbarker Network for more promotion, traffic, and money.

Company Info

Help

What is Yardbarker?

Yardbarker is the largest network of sports blogs and pro athlete blogs on the web. This site is the hub of the Yardbarker Network, where our editors and algorithms curate the best sports content from our network and beyond.