Found July 17, 2013 on Wrestling Truth:
Orton says he's not injured: Despite WWE.com claiming Randy Orton suffered a cervical neuropraxia at Tuesday's SmackDown tapings, the Viper took to Twitter to dispute the injury, possibly believing the news came from websites like this one… "Remember when I said don't listen to the net? I'm fine. Del Rio's kicks are hard as hell, and I caught one to the neck, part of the job." Either this is a storyline and Orton is pissed that the storyline is fooling people (which it's supposed to do), it's a storyline and Orton doesn't even know about it, or WWE.com over-exaggerated the injury and for whatever reason Orton decided to blame "the net". The good news is that he's fine. D'Lo released from agent job: D'Lo Brown is the latest person to be released from TNA. He was under an agent's contract though made several appearance as a wrestler on TV and in other roles. JR on Bryan vs Cena: Jim Ross chimed in on the coming Daniel Bryan vs John Cena Summerslam match in his latest JRSBARBQ.com blog… "John Cena picked the only man that he should have logically picked, in my opinion, for the main event for the WWE Title bout at Summer Slam and that was the red hot Daniel Bryan. I will not be surprised if DB beats Cena in LA as that outcome would be HUGE in WWE-land and significantly re-shuffle the deck. Plus, MITB winner Randy Orton is obviously and largely in play no mater the main event's outcome as Orton could realistically leave Summer Slam as the WWE Champion no matter who wins the Cena-Bryan match." JR also discussed Vickie's future… "Vickie Guerrero in a sandwich board obviously indicates that she hasn't or isn't going away…at least quietly. Got a feeling that we haven't seen nor heard the last of Vickie's presence in WWE just yet." Jericho interview highlights: Chris Jericho recently sat down with Busted Open Nation to discuss a number of topics, including his latest WWE run… "I've been wrestling 23 years. I'm 42 years old. I think this year, 2013, is probably one of my favorite years. I don't know what it is, but I just seem to have been on a roll. Not to pat myself on the back, but I think I've had some really great performances." Here are some other highlights… How he looked at his start in wrestling: "I never thought of myself as just a wrestler. I always thought of myself as an entertainer because when I started wrestling in 1990 it was still the land of the giants. When I started in Calgary, I was a small guy. How could I ever make it in wrestling? Well, I decided I have to be the biggest personality of the show. Have the most charisma, be the biggest character, even if I wasn't the biggest physically in stature. That's how I made it. "I was fortunate enough to go to Japan and Mexico where size didn't matter as much. But then when I came back to the states, and let's be honest, size still matters. It always will. It's Vince's edict. It's Triple H's edict. I had to do something different so it was always about the personality and the show business." His match against CM Punk at Payback: "I kind of got there and kind of talked to Punk a little bit. I never talked to him once the whole time, for the build up or anything, until I saw him that day. I remember, I think it was the girl's match that was on right before us, and we were still kind of going through what we wanted to do. That's when it really started clicking in. That was basically called 30 minutes to an hour beforehand, just kind of made up a lot in there. "Moments like that, it's like you have this experience. You can't teach experience. I think that's why I'm able to work with Curtis Axel and Ryback and Punk and Ziggler, all these guys every week, whoever they put me in there with. They've been a lot of fun because I have that experience." How do you build chemistry with other wrestlers: "You don't build it. Chemistry is what it is. It's a natural thing that just happens. I remember years ago in Japan there was a guy called Koji Kanemoto. People were raving about how good he was and I never had a good match with him. Never. Never great. Other guys you just have that certain chemistry with. I have chemistry with Curtis Axel. We worked three matches over the last week, one in Japan and two on TV, and I felt all of them were great matches. You just click. Some guys you just have a connection with that you just really have that style with. Punk's another one of those guys. He came up in the same way that I did. Just from the moment that we started working back in 2007 we've had good chemistry. Now that we're both at completely different levels, it just means more focus on the matches." What happened to the crowd being behind Ryback: "The WWE is a strange world sometimes because it's all based around what Vince wants. To me, it's like if they didn't go all the way with him three or four months ago, they have to do something different with him now. He's done it. He did the thing with Punk. He didn't win. He could've, but for whatever reason he didn't. He did the thing with Cena as a heel. He didn't win. He could've, but for whatever reason he didn't. "Wrestling is like a cycle. If you're the guy, like John Cena is, you're on top and challengers work their way up the ladder to face you. That's the idea behind wrestling. Once you face the champion, and if you do not win, you go to the back of the line and work your way back up the ladder again. That's how it works. That's how wrestling is. I think Vince wanted to try something different with Ryback and I think people, once again, are like ah, he beat Jericho with a roll up. Ah, we hate it. You're supposed to hate it. He's a heel and if he's not giving you what you want, that's what a heel does. "I don't know anything about it, I'm assuming he migh start something with Vickie Guerrero. You'll the build up of Ryback in this different image and it's either going to work or it's not. And if it doesn't work, guess what? Put him in two or three weeks of killing guys again and he's Ryback again. So I think Vince wants to add a dimension to the character and I think he's going to get it because I know how Vince is and I know when he gets an idea in his head he goes with it until he decides not to and then he changes direction. But I think you have to change up things once you get to the back of the line after you've had your challenge in that position as a heel."
Original Story:
http://wrestlingtruth.com/wrestling-n...
THE BACKYARD
BEST OF MAXIM
RELATED ARTICLES
- TMZ has an article up on how Brock Lesnar and his wife Sable ate at Fresco Restaurant in Montclair, New Jersey after Monday's RAW, racking up a $500+ bill and leaving a generous tip to the workers who stayed past closing time to help them. TMZ reports the couple shared ahi tuna with asparagus and a margherita pizza. Lesnar demolished chicken parm with triple-extra chicken, a...
WWE published an article on their website noting that Randy Orton has suffered a cervical strain and cervical neuropraxia at Tuesday's WWE tapings. Here is what their article reads: "At Tuesday night's SmackDown television taping, Mr. Money in the Bank Randy Orton was injured during his match against World Heavyweight Champion Alberto Del Rio. According to WWE medical...
- TMZ has an article up on how Brock Lesnar and his wife Sable ate at Fresco Restaurant in Montclair, New Jersey after Monday's RAW, racking up a $500+ bill and leaving a generous tip to the workers who stayed past closing time to help them. TMZ reports the couple shared ahi tuna with asparagus and a margherita pizza. Lesnar demolished chicken parm with triple-extra chicken, a...
- The online pre-sale for the 2013 WWE SummerSlam Axxess fan fest begins today at 10 AM PT with the code TWAXXESS. - As noted earlier, John Cena appeared on "Live With Kelly and Michael" on this morning to promote the E! Network's new Total Divas reality show. Embedded below is footage of Cena and Strahan sumo wrestling.
- Here is video of Daniel Bryan and the winner of the Doritos Jacked fan contest at last night's RAW: - WWE will return to the Barclays Center in Brooklyn, New York for a live event on Sunday, September 8th. The pre-sale is going on now and the password is WWELIVE. - The announced attendance for last night's RAW from Brooklyn was 15,803 – a legitimate sellout. Backstage Update...
- Triple H told the Orlando Business Jourlan that WWE is thinking beyond a physical Hall of Fame building to more of a "big attraction" that includes a Hall of Fame. "I don't want a Hall of Fame or some other attraction to just be something where people see some guy's shorts. We are the WWE and we are big, so whatever we do needs to be the same. If I were to say...
- Below is the latest episode of WWE Inbox: - The Oddities have been added to WWE's Alumni roster. - The Bella Twins recently appeared on the NFL Network's "NFL AM" and discussed John Cena and Daniel Bryan's match at SummerSlam. Nikki mentioned that the family has been placing bets on who would win, with more bets coming in on Cena. When asked if they've been having...
- The Usos tweeted about their match against The Shield at Money in the Bank:"We'd like to think our #MITB tag match was a 5 star entertaining match, with that being said..we head HOME with our heads held high..thank U"- Brock Lesnar will be appearing on the August 5th WWE RAW from Green Bay.- The dark main event after last night's WWE SmackDown tapings saw Rob Van Dam, Randy...
- Besides CM Punk vs. Brock Lesnar and Daniel Bryan vs. John Cena for the WWE Title, other matches in the works for SummerSlam include: * Kane vs. Bray Wyatt * Cody Rhodes vs. Damien Sandow with the briefcase on the line * Big E Langston vs. Dolph Ziggler * A Divas match on the pre-show The Shield will be doing something with Mark Henry and The Usos and if not, Seth Rollins and Roman...
- The Rock recently commented on Tamina Snuka's journey into the WWE. Here is what he wrote on his Instagram account: "10 years ago my cousin, Sarona Snuka divorced, decided to go back to college to complete her education and be a great example for her two beautiful little girls she was raising - all while working as a janitor. Today, she's one of the WWE's most...
- Scott Hall tweeted out a new photo of he and wrestling legend Lex Luger: - Chris Jericho was at the Sirius/XM studios today to record two shows. He will be hosting Ozzy's Boneyard this weekend and Liquid Metal this week on Sirius. - The Bella Twins were interviewed by The New York Daily News to promote Total Divas and were asked about their workout routines. Nikki Bella replied...
WWE News

Delivered to your inbox

You'll also receive Yardbarker's daily Top 10, featuring the best sports stories from around the web. Customize your newsletter to get articles on your favorite sports and teams. And the best part? It's free!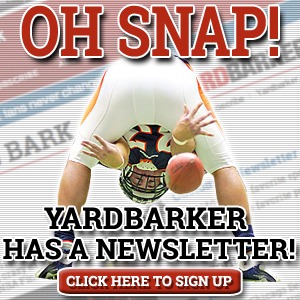 Latest Rumors
Best of Yardbarker

Today's Best Stuff

For Bloggers

Join the Yardbarker Network for more promotion, traffic, and money.

Company Info

Help

What is Yardbarker?

Yardbarker is the largest network of sports blogs and pro athlete blogs on the web. This site is the hub of the Yardbarker Network, where our editors and algorithms curate the best sports content from our network and beyond.