Found April 03, 2012 on Wrestling Truth:
- The male demographic have had to endure milk-toast kiddie-favorite John Cena for far too long. Nobody has really been able to take him off his perch….that is until now. Last night on Raw none other than Brock Lesnar made his return to the company! As the fans chanted "holy ****" he wasted no time on small talk. He's back, this is his ring and Cena does not fit in it! The former UFC champ has been away from the company for 8 years. Although he left with somewhat negative fanfare, he's just the kind of legit monster needed to bring life back in to those fans jaded by John Cena, who have been desperately clinging on to CM Punk since last Summer. According to the Wrestling Observer he's signed a limited one year contract, that will have less of the grind than the full WWE schedule, which was part of the reason he left. PWInsider.com reports that he'll make a minimum of 2 appearances per month. The deal culminates at next year's Wrestlemania where it's likely he'll be facing Cena or The Rock. From a business standpoint Jim Ross wrote on Twitter:
"Why's Brock Lesnar back? I'd suggest 2 earn BIG money. He's done w/ UFC & still young. He's a complex, supreme athlete. Interesting times."
_________________________________________________ - Another name that returned last night (although sporting a new gimmick) was Albert/A-Train, now Lord Tensai. He squashed Alex Riley: Although fans will most likely see him as just that Albert bloke in a silly gimmick, he's totally upped his game since wrestling in Japan and will likely win them over with time. Like Lesnar he brings a physicality that many of us have been missing.
_________________________________________________ - Quick Results: The Rock says it's only the beginning and he wants a title run.
Santino Marella US(c) def. Dolph Ziggler, Jack Swagger…when he hit the Cobra on Swagger.
Santino dances with Brodus Clay.
Lord Tensai def. Alex Riley.
Mark Henry def. CM Punk via countout.
Y2J then pours alcohol over Punk.
Alberto Del Rio challenges Sheamus, but gets Brogue Kicked.
Kofi Kingston def. Cody Rhodes…after big Show distracts Cody with Mania footage.
The Miz def. Zack Ryder
John Cena calls out the Rock but gets BROCK LESNAR!
_________________________________________________ - The crowd were super super hot throughout the night, it almost felt like 10-12 years ago. - In a dark match prior to Raw going live FCW star Dean Ambrose defeated JTG.
Original Story:
http://wrestlingtruth.com/news/raw-br...
THE BACKYARD
BEST OF MAXIM
RELATED ARTICLES
– After WrestleMania 28 was over, The Rock and John Cena had a staredown with Cena at the top of the entrance ramp and Rock in the ring. Cena left and Rock celebrated with the fans. He high-fived fans around the ring. His family, along with his mother, were at ringside. He also signed autographs, including on his old college football jersey and the official program for WrestleMania...
– Below is the video of John Cena at the WrestleMania 28 press conference on Sunday in Miami before the show. Check out some of the highlights: On the build to WrestleMania: "I cannot tell you how stressful this last year has been on my life," Cena said. "A lot of things have happened to me from a business and personal perspective that have taken a lot of my time and emotion...
- WrestleMania 28 headliner John Cena spoke with Tim Baines of The Toronto Sun this weekend. Here are some highlights: Tonight's main event: "Often times, when you get a generational clash, one member of the generation is past his prime. Rock is in the best shape of his life. I'm certainly the strongest I've ever been. We're both ready to go. It's not like you're getting...
John Cena is still maintaining his silence on Twitter. The Rock tweeted "thank you" to a follower complementing him on his return to WWE. Also, The Rock posted the following about last night's crowd in Miami… "INCREDIBLE Miami crowd tonight for RAW. Electric. THANK U for that energy! Honored to entertain U. #TimeToGetMyAssToBed." Rock didn't discuss Cena and Lesnar.
SyFy Kicks Into High Gear When 'Dream Machines' Premieres Tuesday, April 10 With Guest Star 50 CentNEW YORK – April 4, 2012 – Syfy will drive viewers to dream big and build bigger as its latest original reality series Dream Machines premieres on Tuesday, April 10 at 10PM (ET/PT) featuring guest star 50 Cent, immediately following WWE SuperSmackDown Live at 8 PM (ET/PT).Dream...
- Below is footage of Daniel Bryan addressing the "YES!" crowd after last night's RAW Supershow in Miami:- WWE's website posted an article last night looking at why Brock Lesnar has returned. They wrote the following about Lesnar and John Cena:"What kind of message is Brock trying to send Cena – and the entire WWE Universe – by punishing the Cenation leader? We can...
Ten time world boxing champion Oscar De La Hoya voiced his approval of Dwayne "The Rock" Johnson defeating John Cena at WrestleMania XXVIII, tweeting Monday, ""I knew @TheRock would win." #GoldenBoyPromotions #TeamBringIt." Johnson wrote in response, "Thank U champ!"   Follow me on Twitter: www.twitter.com/therealjeffpeckDownload my wrestling podcast "The...
An eight-man tag team match took place as the dark main event after WWE concluded this week's WWE Smackdown taping from the Amway Center in Orlando, Florida.John Cena, Randy Orton, Sheamus & Big Show beat Kane, Daniel Bryan, Sheamus & Mark Henry when Cena pinned Kane after hitting an Attitude Adjustment.
- The April 23rd WWE RAW Supershow from Detroit, Michigan will be a three-hour show with an "extreme" theme to it. This is the final RAW before WWE's Extreme Rules pay-per-view on April 29th. Advertised locally is Chris Jericho and Kane vs. CM Punk and John Cena. The Joe Louis Arena website confirms the three-hour show and is also advertising several SmackDown stars. - As noted...
- Steve Austin wrote the following about the Hell in a Cell match at WrestleMania 28: "Well that was damn sure worth $65 bucks. Great F'n story. Brutality personified. HBK tremendous addition to drama. Hats off to Taker/HHH." - WWE has released new WrestleMania Champion t-shirts for CM Punk and Sheamus. Also released is a new Hall of Fame t-shirt for Edge, commemorative plaques...
- PWInsider reports that Brock Lesnar didn't arrive for RAW until 30 seconds before his music hit and he walked out on the stage. However, WWE's Twitter account posted the news of Lesnar's arrival at 11:06pm EST.- WWE and TNA will run in the same city tonight as WWE tapes SmackDown in Orlando, Florida at the Amway Center. Matches for tonight include Kane vs. Randy Orton and...
WWE News

Delivered to your inbox

You'll also receive Yardbarker's daily Top 10, featuring the best sports stories from around the web. Customize your newsletter to get articles on your favorite sports and teams. And the best part? It's free!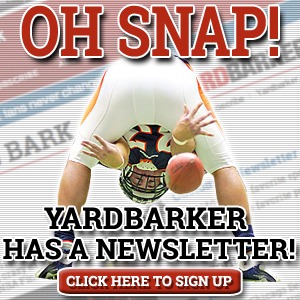 Latest Rumors
Best of Yardbarker

Today's Best Stuff

For Bloggers

Join the Yardbarker Network for more promotion, traffic, and money.

Company Info

Help

What is Yardbarker?

Yardbarker is the largest network of sports blogs and pro athlete blogs on the web. This site is the hub of the Yardbarker Network, where our editors and algorithms curate the best sports content from our network and beyond.