Found May 20, 2012 on cheap-heat:
Thanks to PWTorch for results.
- Kevin Steen suffered a concussion in Baltimore last night at the TV tapings and was unable to compete. Steen and Davey Richards both ended up in the ring trading insults and it was decided the main event would now be a one on one encounter between Davey and Jimmy Jacobs.
Jay Lethal def. Mike Mondo (Hail to the King): Said to be a good match and it's interesting how the hierarchy of ROH can be determined by Lethal's finishers; only those lower down the card lose to the big elbow drop these days, with others requiring a Lethal Injection… or if you're Tommaso Ciampa a Lethal Combination with ten backbreakers.
- The Bravados come to the ring for a promo but are interupted by Haas and Benjamin leading to an impromptu tag team title match. Crowd were majorly behind the Bravados while WGTT heeled it up in grand fashion (as you'll see…)
ROH Tag Team Title Match – The Bravados def. WGTT (Disqualification): Haas shoved the referee to cause the DQ after about six minutes. No word on the match quality but in previous encounters the Bravados have made for pretty good crash-test dummies for Haas and Benjamin, so hopefully their reported new form from their time in Japan continued and they put up more of a fight.
- Haas and Benjamin began a beat-down on the Bravados, bringing out the All-Night Express to make the save and the belts will be defended as scheduled, making two defenses in a row for the champions.
ROH Tag Team Title Match – The All-Night Express def. WGTT (Disqualification): This time Haas hit Rhett Titus with one of the belts to cause the DQ in eight minutes. So apparently now the champions are mega-heels now. Ya know, as opposed to when they were chasing the titles and were flipping off the fans and using chairs and stuff. To be fair, Haas was responsible for both DQ's, and in terms of continuity you can argue he's in fight-mode for his match at the end of the night, or that he's making sure he isn't too tired for said match later on.
Tommaso Ciampa def. Adam Cole (Roll-Up w/tights): Said to be good but lacking in some crowd heat compared to previous matches. I'm imagining Ciampa behaving erratically and pulling the tights because he's become desperate to prove himself again. After the match Nana asked Ciampa to attack Cole but instead he left. Really liking this direction of his character even if I didn't approve of Lethal being the first man to beat him. Instead, Ernesto Osiris tried his luck with Cole and ate a Superkick.
The Briscoes def. The House of Truth (Doomsday Device): Elgin ate the pin after colliding with Strong. Dissension! Of note, Truth Martini got pantsed, revealing he wears Roddy's trunks for funsies. What a fruit.
Chris Silvio & Paradyse def. Team A-1: I have zero knowledge on three of the four men in this match, and have only seen Silvio in his few ROH TV appearances. Allegedly Silvio was fantastic in this one. I'll abstain from opinion.
Eddie Edwards def. Mike Bennett: Said to be pretty good and Bennett got some praise. Edwards got the win after Bennett collided with Maria on the apron. I assume the pin came with a roll-up, but can't be sure. If so, it's the reverse of what happened on TV recently with Maria faking that injury when Edwards ran into her and Bennett rolled Eddie up. This makes Edwards 3-1 against Bennett. I'd imagine this makes the Battle of Boston a best of 7 series over the next year.
Davey Richards (w/Kyle O'Reilly) def. Jimmy Jacobs (w/Kevin Steen) (Ankle Lock): Stunningly this match lasted eight minutes. I know it was a rescheduled main event and all, but come on, they're both good wrestlers, throw them in there for fifteen or something. My biggest fear is they've just squashed Jacobs when this was a great opportunity to showcase his ability after months of tag matches and being a manager. Some fans were said to have started leaving the arena during this match as it was getting late, and those that stayed were too distracted by Steen and O'Reilly's antics on the outside to pay attention to the match. Considering this was the main event in the ROH canon it sounds awful.
Lights-Out Fight – Charlie Haas def. Jay Briscoe (Low Blow): So again they end one of these No DQ matches with a frustrating dirty tactic from Haas, bringing him to three variants of cheating in one evening (yes, I know, there's no cheating in a Lights-Out match.) Jay put Haas through a table with a double stomp at one point and then set up for the J-Driller but Shelton ran in to stop it. Mark Briscoe ran out and put Mr. Benjamin through a table, leading to the low blow finish. Jay challenged Haas to a Texas Death Match instead, but WGTT left. What would be the point in that anyway? If they actually book that match they'll have followed a Fight Without Honor with two consecutive death-matches, really diminishing the impact of the Fight Without Honor stipulation. Sigh.
Overall Show Thoughts: I stopped buying ROH DVDs a while ago, but if you're someone who still does then this sounds like one to pick up in a sale alongside something you do want. The Ciampa stuff intrigues me, three frustrating Charlie Haas endings in one night is a bit much for my sensibilties, and Davey vs Jacobs going 8-minutes is just insulting. Most importantly: No Steen = No Buys.
Original Story:
http://www.cheap-heat.com/wrestling/n...
THE BACKYARD
BEST OF MAXIM
RELATED ARTICLES
Partial Source: Pwinsider – Monday was the one-year anniversary of the announcement that Sinclair Broadcasting had purchased Ring of Honor. – Kevin Steen's concussion is legitimate and not a work. In other Steen news, there are plans to air his title win on ROH TV soon, likely just as highlights so as not to cut into potential DVD sales. – June 15th's Charleston, West Virginia...
Ring of Honor Television Taping Results May 18th 2012: The Bravados defeated Fusion DS in a dark match. Ring of Honor Wrestling Spoilers 5/26/12 We have a new Ring of Honor Champion after Border Wars, Kevin Steen. Adam Cole scored the win over Mike Mondo. Tommaso Ciampa got back on track after losing his undefeated streak at Border Wars, destroyed Nick Westgate. He wants Jay Lethal...
It was announced at the ROH TV taping tonight that Kevin Steen will defend the ROH Title against Davey Richards at the "Best in the World" iPPV next month. The match will be Richards' only shot at the ROH title. ROH "Best in the World" will take place on Sunday, June 24, 2012 at the Hammerstein Ballroom in New York City. The show begins at 5:00pm EST. We'll be there live...
It was announced at the ROH TV taping tonight that Kevin Steen will defend the ROH Title against Davey Richards at the "Best in the World" iPPV next month. The match will be Richards' only shot at the ROH title. ROH "Best in the World" on iPPV will take place on Sunday, June 24, 2012 at the Hammerstein Ballroom in New York City. The show begins at 5:00pm EST.
Lance Storm vs Mike Bennett III at Du Burns June 29 (At the next TV Tapings i guess) 1st Show 1. Adam cole over mike mondo via backslide in a really good match to open the first show 2. Tommaso Ciampa over Nick Westgate (Local Wrestler) via ref stoppage after knees and elbows. Assault continues after match. 3. ANX over Coleman & Alexander in a super hot tag to get the crowd on...
Ring of Honor his West Virginia for the very first time on June 15th and as part of our debut there we will tape "Road Rage" for future episodes of "Ring of Honor Wrestling" TV!  Several matches were set over the weekend for this huge debut including the World Title match we alluded to last week… - ROH World Title Match – "Wrestling's Worst Nightmare" Kevin Steen...
WWE News

Delivered to your inbox

You'll also receive Yardbarker's daily Top 10, featuring the best sports stories from around the web. Customize your newsletter to get articles on your favorite sports and teams. And the best part? It's free!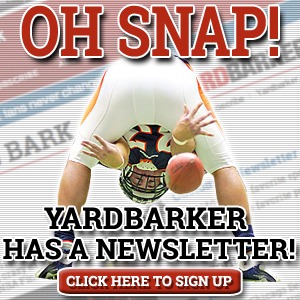 Latest Rumors
The Backyard

Today's Best Stuff

For Bloggers

Join the Yardbarker Network for more promotion, traffic, and money.

Company Info

Help

What is Yardbarker?

Yardbarker is the largest network of sports blogs and pro athlete blogs on the web. This site is the hub of the Yardbarker Network, where our editors and algorithms curate the best sports content from our network and beyond.