Found September 18, 2012 on Wrestling Truth:
PLAYERS:
John Cena
,
Paul Heyman
,
Rey Mysterio
,
Sin Cara
,
Daniel Bryan
,
Heath Slater
,
Dolph Ziggler
,
Santino Marella
,
Wade Barrett
,
Justin Gabriel
,
Kofi Kingston
,
Zack Ryder
,
Randy Orton
,
Jerry Lawler
,
Alberto Del Rio
Was Punk's foot on the ropes? Controversy continues on tonight's Raw, from Bridgeport, Conn:
- John Cena interrupted Paul Heyman's interrogation of referee Chad Patton and challenged CM Punk to a rematch from last night. However Alberto Del Rio's music cut him off mid-sentence. The Essence of Excellence, still flanked by the injured Ricardo Rodriguez, wasted no time in condemning SmackDown General Manager Booker T's reinstatement of the Brogue Kick, and the fact that it (according to Del Rio) cost him the World Heavyweight Championship at Night of Champions. As "the man who never lies," Del Rio demanded that he receive a title rematch. That brought out Raw GM AJ Lee to settle the debate: Eyes wide with the fire of inspiration, AJ declared she'd come up with a "super main event": A tag match pitting WWE Champion CM Punk & Del Rio against World Heavyweight Champion Sheamus & Cena. "And who knows?" she concluded. "Whoever wins will go a long way toward determining if there will be a rematch and who will be in it."
- Rey Mysterio & Sin Cara def. Primo & Epico, after a 619 to both opponents, followed by a senton bomb from Sin Cara.
- The Prime Time Players, who, still steaming from losing their No. 1 contenders' spot to the Tag Titles to Kane & Daniel Bryan, attacked Mysterio & Sin Cara from behind, planting the dynamic victors with a pair of punishing moves before grabbing the microphones and declaring that the No. 1 contenders' spot was "taken" from them.
- Divas Champion Eve def. Beth Phoneix with a quick roll-up.
- Brodus Clay def. Heath Slater, while Cesaro sat at ringside.
- Ryback crashed the debut of "Miz TV", featuring Booker T. The two stars high-tailed it while Ryback destroyed the set.
- Dolph Ziggler def. Santino Marella.
- Wade Barrett def. Justin Gabriel.
- WWE Superstars presented Jared from Subway their ideas for sandwiches:
R-Truth & Kofi Kingston were only minutes away from their Tag Team Championship rematch against Kane & Daniel Bryan, but it didn't stop Truth from throwing his buddy a shindig with Jared from Subway catering the proceedings. No sooner did Kofi & Truth take their leave, though, than a series of WWE Superstars made their way to Jared, offering their ideas for new Subway sandwiches.
First came Damien Sandow, whose eponymous sandwich promised to satiate any and all appetites. Jared, however, satisfied "The Intellectual Savior of the Masses" with a meatball parm offering of his own. Zack Ryder was up next, and his "Woo Woo Woo You Know It" sub was the next idea to pass by Jared. The Ultimate Broski got an Italian BMT instead. Seemingly satisfied, Jared took the scene until he became uncomfortably aware of an unseen visitor. He slowly turned around to reveal Ryback, who demanded the sandwich spokesman "FEED. [HIM.] MORE." Jared cautiously handed the rampaging Superstar a sub, but Ryback grabbed a second one before taking his leave. At least the couches remained blessedly un-thrown.
- WWE Tag Team Champions Kane & Daniel Bryan def. Kofi Kingston & R-Truth:
Bryan eventually managed a tag to Kane, however. The Devil's Favorite Demon seemed to have the match finished when he set Truth up for a Chokeslam, and then a series of strange things happened. Bryan attempted to steal the pin again, but before he could get the tag to Kane, The Big Red Monster grabbed his irritable partner by the throat. Bryan countered, bouncing Kane's head off the ropes, causing him to stumble directly into a Lie Detector from Truth. Bryan managed to break up the pin, opening the door for Kane to finally hit the Chokeslam. Bryan then finally got his tag in, twisting Truth into the "No!" Lock and retaining the championships.
The two didn't let five minutes pass before the bickering resumed, with each grabbing hold of the titles and screaming that he was the Tag Team Champions. And then, heeding the cries of the WWE Universe, they hugged it out. Of course, Bryan snatched one of the titles off Kane's shoulder, and the back and forth began anew. The saga continues.
- Randy Orton def. Tensai with the RKO.
- Damien Sandow def. Zack Ryder.
- World Heavyweight Champion Sheamus & John Cena def. WWE Champion CM Punk & Alberto Del Rio:
Raw General Manager AJ Lee's big idea for Raw's main event — a tag match pitting Sheamus & John Cena against CM Punk & Alberto Del Rio — was a battle for the age. With four of WWE's most dynamic competitors clashing between the ropes, rematch implications were on the line for the victors. And, when all was said and done, it was Cena who got the monkey off his back, finally getting a hard-earned pin over The Second City Saint to seal the contest for his team.
Surprisingly, The Voice of the Voiceless seemed to want no part of Cena following his narrow retention of the WWE Title at Night of Champions. Punk went out of his way to avoid a one-on-one matchup with the Cenation leader and either sent Del Rio in to do the dirty work or waited until Cena was outnumbered to get his licks in. The strategy didn't last long, though. After ending up on the wrong exchange of a Cena offense, Sheamus tagged in and promptly pounded The Second City Saint into the corner before Punk managed to tag in Del Rio. The longtime rivals from opposite ends of the social spectrum clashed yet again, with victory seemingly in hand as Sheamus called for the Brogue Kick.
Punk's instincts kicked in and a cheap shot on The Celtic Warrior saved the match for his team, leaving him an opportunity to tag in again. The WWE Champion got the better of Sheamus this time, trapping The Great White in a torturous-looking submission hold and slowing him down enough for Del Rio to re-enter the match. A strong surge from Del Rio met a brick wall, though, after The Celtic Warrior felled The Essence of Excellence with the Irish Curse.
Two tags later and Cena and Punk re-entered the fray, with Cena unleashing his signature sequence of moves, countering Punk's counter into an STF before Del Rio broke up the hold … only to suffer a Brogue Kick that sent him into next week. Punk was next to strike, but his sneak attack on Sheamus left Cena just enough of an opportunity to send Punk flying with an AA and notch that long-elusive pin over the WWE Champion
But …
The victory, hard-earned as it was, did not come without controversy. As Cena finally secured that three-count, Punk placed his foot on the bottom rope, negating the pin. But the official didn't see Punk's foot on the ropes, and counted the pin anyway. And so, 24 hours after controversy favored CM Punk, the scales tilted back in Cena's favor. As Raw drew to a close, the final images were of Punk screaming at the official all the way up the ramp, with respect, peace of mind and a decisive victory over John Cena still eluding him.
________________________________________________________________________________
- It was announced during Raw that Jerry Lawler was back home in Memphis following his heart attack, and will be interviewed about the ordeal on next week's Raw. This will be a taped segment from his home, rather than live in the arena.
- During the Ryback / Miz TV segment, the powerhouse accidentally threw a live mic in to the crowd. The fan that grabbed it proceeded to yell "Goldberg" throughout the arena. Security soon recovered the mic to prevent further embarrassment.
- The dark match main event last night saw CM Punk beat John Cena in a steel cage, after interferences from Randy Orton, Sheamus, Alberto Del Rio and Dolph Ziggler.
Original Story:
http://wrestlingtruth.com/news/septem...
THE BACKYARD
BEST OF MAXIM
RELATED ARTICLES
Jerry "The King" Lawler admitted that receiving CPR backstage saved his life, and that his ribs are sore from it during a news conference this afternoon in Memphis, TN. Lawler said that he feels fine, and hasn't had any other chest pains since the heart attack. He also noted that the heart attack was probably hereditary since he's never drank or smoked, and that his father...
Jerry Lawler tweeted the following on Sunday afternoon, confirming an earlier report that JBL will be doing commentary tonight at Night of Champions. "Sorry I can't be at Night Of Champions tonight, but I understand JBL will be taking my place. I wish him the best of luck! I also want to thank the thousands of fans and friends for the outpouring of well wishes and concern for...
– Here is the video that aired on RAW featuring Jerry Lawler's return home to Memphis, TN: – Here is this week's "RAW Backstage Fallout":
- Former WWE talent Bill "The Goon" Irwin turns 58 years old today while former NWO member Masahiro Chono turns 49, Jim Cornette turns 51 and Gabe Sapolsky turns 40. - WWE's cameras caught up with JBL before Night of Champions hit the air last night. JBL put over Jerry Lawler and said he was proud to keep Lawler's seat warm until he returns. - "Goldust" Dustin Rhodes...
John "Bradshaw" Layfield posted the following on his Facebook page. Had a blast filling in for Jerry Lawler last night at Night of Champions, really rusty-but was wonderful to be back. I'm off to Africa Friday to climb the highest peak, Kilimanjaro, to raise money for the kids program I started in Bermuda-working with great folks there to make a difference. I was asked Thursday...
- WWE Intercontinental Champion The Miz spoke with WWE.com after retaining his title at Night of Champions. Miz announced earlier in the night that he would be filing a formal complaint against Booker T. Miz said he will no longer be filing the complaint because he defeated three main event Superstars blind-folded and he's happy with that. Miz dubbed himself the must most-see Intercontinental...
- The official WWE website announced Monday at 3:55 p.m. that Jerry "The King" Lawler has been released from a Montreal hospital and will be heading home in the next several days after suffering a heart attack last Monday. "We continue to wish Jerry all the best, and we look forward to him returning to WWE in the future," the sports-entertainment organization...
- A fan on Twitter asked Jim Ross if WWE will do anything to show support for Jerry Lawler on Monday's RAW. Ross replied: "Likely an update, well wishes, paycheck." - The match with Sin Cara vs. The Miz on Friday's SmackDown was heavily edited, as you probably could tell by watching the match. Fans in attendance noted to us that it was one of Cara's most-botched...
- Dustin Rhodes will be replacing Jerry Lawler for the big independent wrestling show on September 22nd from Dutchess Stadium in Fishkill, NY. Rhodes will team with former NY Yankees pitcher Joe Ausanio to take on Luke Robinson and Romeo Roselli.- CM Punk wrote on Twitter yesterday that his way was ruined by American Airlines. Apparently the WWE Champion had some flight troubles...
- John Cena vs. CM Punk in "Anything Goes" matches and Santino Marella vs. Antonio Cesaro are advertised as the main events of WWE's upcoming tour of Europe. Other stars advertised to appear are Kane, Daniel Bryan, Tensai, Brodus Clay, Zack Ryder, AJ Lee, Eve Torres and Layla. The advertised main events for the SmackDown tour of Europe are Sheamus vs. Alberto Del Rio vs. Big...
- Former WWE talent Bill "The Goon" Irwin turns 58 years old today while former NWO member Masahiro Chono turns 49, Jim Cornette turns 51 and Gabe Sapolsky turns 40.- WWE's cameras caught up with JBL before Night of Champions hit the air last night. JBL put over Jerry Lawler and said he was proud to keep Lawler's seat warm until he returns.- "Goldust" Dustin Rhodes says...
- WWE Legend The Honky Tonk Man wrote the following about filling in for Jerry Lawler on RAW commentary: "Who would want to see HTM do commentary just for one night only to fill in for The King and help #WWE out?" Roddy Piper doesn't agree that HTM would be a good fill-in and says he would take the job: "I would stand in for The King on commentary till he gets...
WWE News

Delivered to your inbox

You'll also receive Yardbarker's daily Top 10, featuring the best sports stories from around the web. Customize your newsletter to get articles on your favorite sports and teams. And the best part? It's free!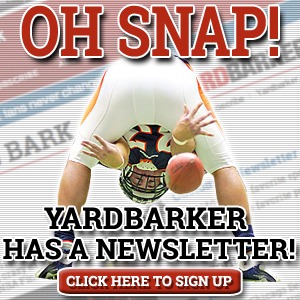 Latest Rumors
The Backyard

Today's Best Stuff

For Bloggers

Join the Yardbarker Network for more promotion, traffic, and money.

Company Info

Help

What is Yardbarker?

Yardbarker is the largest network of sports blogs and pro athlete blogs on the web. This site is the hub of the Yardbarker Network, where our editors and algorithms curate the best sports content from our network and beyond.