Elderly shooting victim more annoyed with Royal Rumble outcome: Tom Dotterer, a liquor store owner in New York who was shot during a robbery last week, told an ABC News Affiliate that The Rock beating CM Punk was a worse ordeal. "That's the worst thing that happened to me all week, the Rock beat Punk," Dotterer exclaimed. "Did you know that?" CM Punk responded to the story on Twitter, writing: "Tom Dotterer is amazing. He's got my respect. If he needs anything from me let me know." ___________________________________________________________ Headbanger Thrasher Interview: Former WWF Tag Team Champion Thrasher, of the Headbangers, recently spoke with Kayfabe Wrestling Radio about his run during the Attitude Era, among other topics. "It was a really good atmosphere. You had guys competing against the other company at that same timeslot; so if you were the first match on RAW, you wanted to outdo the first match on Nitro," says Thrasher. "It was a head-to-head, really and not too far-fetched from being a real competition. I mean, you wanted to have your ratings be better for that segment than Nitro's. So, it was a lot of fun back then because on Tuesday, you'd run up there and see what the ratings were and everything else and be like 'Oh, man. We almost had them.' or 'Oh, man. We got them this week!' It was a lot of fun. Now, I always tell people 'Why didn't you like WWF back then, because you didn't like WCW? Why do you like WWE now?'; because there's nothing else to watch. Mark my words, TNA is up-and-coming and I can see them, in the next two years, rivaling WWE for ratings. I absolutely love what TNA is doing now, more so that what WWE is doing." How the team was formed: "We actually got together, I was the head trainer for the world famous Monster Factory Wrestling School in New Jersey; which was owned by 'Prett Boy' Larry Sharp, and I was the head trainer there. I trained Chaz (Headbanger Mosh), D-Lo Brown, the Big Show among others, and me and Chaz just really hit it off and we jumped in the car and headed out on the road. We did our round in Memphis, we did our round for Smokey Mountain Wrestling where we actually became the Headbangers; Jim Cornette gave us the name 'The Headbangers' and when Smokey Mountain was closing, that when Cornette was trying to get all of his guys from Smokey Mountain into WWE/WWF. At that time, they were doing the part-time contracts and we were hired, just for TV, on a part-time basis. So we came into WWF as the Headbangers; that wasn't a Vince McMahon made gimmick or anything else, and frankly, it's not really a gimmick. That's how we are, we've always had the tattoos, the piercings and everything else; I just don't walk around my house in a skirt." Lack of scripting: "Probably about 90% of it was 'Hey guys, go out there and be yourself'. So, I'd have to say at that time, in that era and stuff, it was about characters and it was about being how you are and stuff like that; not everyone tried to go out there and be Stone Cold Steve Austin. We had colorful characters that people could get emotionally attached to and plainly I think that's what's missing from Today's wrestling." Being 'ribbed' by Owen Hart and Davey Boy Smith: "It was funny, because Owen used to do fully, silly stuff where the rib would last two days. I can remember him being in the locker room and taking someone's wrestling bag and taking a padlock and padlocking it to a chair, just a steel chair. Or he take two guys bags; he did that to me and Chaz, he took a padlock and locked our two bags together and we were just like; we walk in and catch the end of it. We're like 'Oh, hey. What are you doing?' and he's like 'Oh, your bags are locked together. I don't know who did that; I just came over and saw it.' We knew who did it, because it was just Owen. Just to see what would happen tomorrow, is what he would do. Me and Chaz, we lived in the same hotel room, so the bags went together. We played along with it and lasted until Tuesday when we came to do TV and when we got there, we'd break the lock open. "It was harmless stuff but it was just so funny and it happened so often. One time, when Mark Henry first started wrestling, he broke his ankle or his leg. So, we're in the arena and Davey takes his crutches because he was sitting down. So he steals the crutches without Mark Henry even knowing and then Owen comes up to Mark and say 'Hey, Vince wants you and he's on the other side of the arena.' So, Mark is looking around and going 'Oh my god' and can't find his crutches. So, Mark Henry gets up and he starts hopping, on one leg, all the way across the arena and no Vince McMahon. It was things like that and once you know it was a joke, it was so funny." ___________________________________________________________ January 30, 2013, WWE Main Event Results: The featured match on this week's WWE Main Event saw Ryback defeat US Champion Antonio Cesaro via countout. The show kicked off with Ryback a guest on Miz TV. Just as The Miz and Ryback touched on their mutual animosity toward Cesaro, the Swiss-born Superstar made his way to the ring, screaming at his rivals about how they are "typical Americans" and conspiring against him. The U.S. Champion's tirade only enraged Ryback, who followed Cesaro to the squared circle, hungry for a battle. The match would not last long however, as Cesaro was much too distracted by his Royal Rumble opponent. He kicked the Miz in the face and retreated through the crowd to give Ryback the victory via count out. Also on tonight's show Tensai def. Titus O'Neil, with a running senton. Following the contest, Clay and The Funkadactyls congratulated Tensai before all four individuals broke down and danced. The Monster seems to have morphed in to a comedy character.
Original Story:
http://wrestlingtruth.com/news/shooti...
MORE FROM YARDBARKER
WWE News

Delivered to your inbox

You'll also receive Yardbarker's daily Top 10, featuring the best sports stories from around the web. Customize your newsletter to get articles on your favorite sports and teams. And the best part? It's free!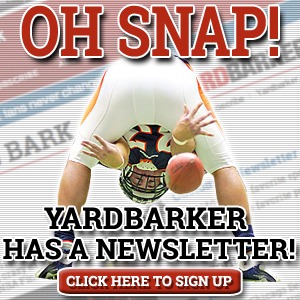 Latest Rumors
Best of Yardbarker

Today's Best Stuff

For Bloggers

Join the Yardbarker Network for more promotion, traffic, and money.

Company Info

Help

What is Yardbarker?

Yardbarker is the largest network of sports blogs and pro athlete blogs on the web. This site is the hub of the Yardbarker Network, where our editors and algorithms curate the best sports content from our network and beyond.