Found May 06, 2012 on Wrestlechat.net:
Credit – BloodyElbow
Bobby Lashley vs. James Thompson
Lashley with a straight and drags him to the ground. Thompson tries to wall walk, and gets back up to the feet. Lashley drops to a double leg by the fence and Thompson defends. They clinch and Lashley lands a few punches before getting another takedown. Lashley lands a few punches before Thompson gets back up. Lashley with good dirty boxing, and yet another takedown to side control. Thompson gets back up. Lashley looks to have slowed a bit already. They clinch on the fence, and Thompson lands a good knee then another that hits low. Looks like Lashley is wisely using most of the 5 minutes given to recover a bit and get his second wind. They go back at it. Lashley lands a left hook, Thompson clinches and tries to takedown Lashley. They're clinching in the fence and as they separate, Lashley lands a big punch and flurries. Bell rings as Thompson looked like he was still hurt. 10-9 Lashley
Round 2. Let's see how much these guys have in the tank. Thompson clinches in the fence. Lashley eats a knee to the belt and pretends it was a low blow. Ref has nothing of it. More knees to the midsection from Thompson and Lashley seems to be wearing down. More knees. Lashley returns the favor with a big knee. Lashley tries for a takedown, More clinch work in the fence and they get restarted in the cetnter. Lashley throws haymakers and shoots but gets stuffed. Lashley looks tired. Dirty boxing in the fence from Thompson. Another knee to the body. Lashley lands a big punch, but they're back in the fence. Lashley turns, and lands in the clinch. Lashley pushing him to the fence, and flurries, but misses most of it. Both of them are slolwing down. Mostly cage work this round. Round ends and Lashley looks to be worn out. Very close round which could go either way, but I'll score it 10-9 Thompson I guess.
Round 3. Lashley's hands are low, and looks tried as hell. He still lands a good combination though. Thompson with another low blow. Lashley is still on the floor. He's using up most of the 5 minutes again. Not sure how much of this is him being tired, cause that illegal knee did look to have landed hard. Baroni calls out Lashley says it wasn't that hard and he should get up. Now that he gets up, it kinda looks like he's just using the time to recover cause he looked gassed a while ago. Thompson stuffs a shoot from Lashley. They clinch and Thompson lands an elbow and a few punches from the clinch. Another elbow from Thompson, and Lashley has been constantly pinned to the fence. Elbow again from Thompson. Lashley looks bad here. He's got to get off the fence. Lashley lands a big knee from a Muay Thai clinch that backs up Thompson. Both look tired. They're back in the fence. Few dirty boxing from Thompson. Lashley is able to separate and lands a good jab and left hook. Can he steal the round? Both guys slug it out and flurry until the bell ends. Lashley got the better of that exchange, but I still have it 10-9 Thompson. Close fight on the last 2 rounds, but on my card it should go to Thompson 29-28.
Judges score it 29-28 to James Thompson.
FOLLOW US on FACEBOOK using key word "WrestleChat" and on TWITTER at Twitter.com/WrestleChatNet

Also, follow me personally on twitter at Twitter.com/Brettley916!

Original Story:
http://wrestlechat.net/super-fight-le...
THE BACKYARD
BEST OF MAXIM
RELATED ARTICLES
- Once a highly touted professional wrestling convert, Bobby Lashley has fallen on hard times. After beginning his professional mixed martial arts career with five consecutive victories, he's lost two of his last four fights to "journeyman" fighters. This weekend Lashley's stock nosedived, as he was outworked by a man he was heavily favored to beat, James Thompson.Thompson...
If you were still recovering from last night's Cinco de Mayo festivities and missed Sunday morning's "Super Fight League 3″ extravaganza, no worries because we've got the show's results to get you up to speed. Former WWE and Strikeforce star Bobby Lashley (Pictured) dropped a unanimous decision defeat to James Thompson in the event's featured attraction. The up-start...
- The May 4 edition of WWE Smackdown scored a 1.94 rating with 2,709,000 viewers. This is up from last week's 1.74 rating with 2,680,000 viewers. - Triple H was all over the mainstream media for his appearance at the Floyd Mayweather fight in Las Vegas Saturday night. Mainly due to the fact there was a ton of media covering Justin Bieber's appearance. - Bobby Lashley will be...
WWE News

Delivered to your inbox

You'll also receive Yardbarker's daily Top 10, featuring the best sports stories from around the web. Customize your newsletter to get articles on your favorite sports and teams. And the best part? It's free!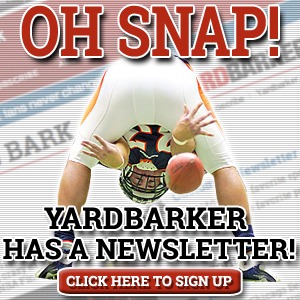 Latest Rumors
Best of Yardbarker

Today's Best Stuff

For Bloggers

Join the Yardbarker Network for more promotion, traffic, and money.

Company Info

Help

What is Yardbarker?

Yardbarker is the largest network of sports blogs and pro athlete blogs on the web. This site is the hub of the Yardbarker Network, where our editors and algorithms curate the best sports content from our network and beyond.