Found April 01, 2012 on Wrestlechat.net:
The Rock recently was interviewed by BetweenTheRopes.com. Here are a few highlights from the interview. On John Cena saying the build up has been stressful and whether or not he agrees: "No. It hasn't been stressing or stressful in any way. I know what John's talking about, though. For me, it's been challenging. It's been challenging for both of us because we set the main event a year in advance. I had to go away to film a few movies. So, the balance was to try and make sure that we kept interest but not in a way that fans got tired of it. "So, it was trying to find that balance of keep a little bit of interest. Whether it was through social media or whether it was through me doing a quick promo that I was able to send in. Once the last pay-per-view ended and I was able to come back and spend six weeks back, that's when we were able to ramp things up. It's been challenging but it's been fun as well." On the pressure of living up to the hype with John Cena:"The pressure was there. We set the goal over a year ago: We want to create the biggest match of all-time. That's saying a lot because there have been massive, massive matches at WrestleMania. So, there's a little bit of pressure there. The challenge is there. "Here's the thing: The variables are that I've prepared. I've prepared better for any match that I've ever prepared for. Even though I wasn't in the ring wrestling every night like I was in the past, I still had my training camps. I was able to have rings in every city that I was shooting at. New Orleans, Hawaii, North Carolina. I had all my guys come in. The wrestlers came in. So, I prepared. "The WWE does an incredible job at marketing. John's been working his ass off. We're all set." On the possibility of potentially ending The Undertaker's streak: "Undertaker don't want no part of me. I can tell you right now. He don't want none of this. I'll kick his — wait. He's not looking, is he? [Laughs.] Maybe. Look — I've wrestled The Undertaker a whole bunch of times. The guy's amazing. What he's been able to do over the years and all the injuries that he battles back from. I just saw him last night. He looks fantastic. He's ready for his match. … I wouldn't rule anything out." On the comments John Cena made leading up to their inevitable match: "I was surprised at the comments but, I know John. I don't know him that well but I knew him when he came in. We talked for a little bit and then I left. But, I knew what his intentions were with his comments. "They weren't malicious in any way. The guy loves the business of professional wrestling and he's a fan of mine. He wanted to see me back. Plus, I know he's been vying for this match for many, many years. He would tell Vince. He would see my mom and he'd tell my mom, 'I gotta wrestle your son.' So, he's been trying for this match for a long time. "He said some things that he shouldn't have said but I didn't take them personally. I knew what he meant by that. Now, I utilized that was my opportunity to come back and kick his ass. That's what happens." On the reception of some wrestlers in the locker room:"Some guys have said [that I'm taking their spot]. Some guys have voiced their displeasure with me coming back and me being in the main event at WrestleMania. It's very, very simple; it's just business. "So, for the guys that understand how our business works and understand the value of me coming back and helping create the biggest match of all time, the biggest WrestleMania of all time… I mean, we're on track to break records. That's a good thing. If it's a good thing for the company, if it's a good thing for the business, then it's a great thing for all the boys. "The ones who understand that get it. The ones that don't — don't. Will they ever get it? I don't know."   Follow me on Twitter: www.twitter.com/therealjeffpeckDownload my wrestling podcast "The Still Real to Us Show" every Thursday at www.wheelhouseradio.com & www.wrestlechat.net
Original Story:
http://wrestlechat.net/the-rock-talks...
THE BACKYARD
BEST OF MAXIM
RELATED ARTICLES
Former WWE Superstar Jake "The Snake" Roberts appeared on Busted Open with Doug Mortman and Dave LaGreca, which airs Mondays, Wednesdays and Fridays from 2:00 to 4:00 p.m. on Sirius 92 and XM 207. Highlights from his interview are as follows:Alice Cooper: It was a real hoot, man! I remember going to do a photo shoot at some hotel in New York City with Alice Cooper getting ready...
– John Cena recently spoke with Washington DC's CBS affiliate and explained why he called out the rock for having promo notes written on his arm, saying that he simply couldn't ignore them. "That was something I saw right there. I wouldn't have even said anything if I didn't see it," Cena said. "When I watch TV and I'm in the 'Gorilla position,' which is right...
John Cena called The Rock out to the ring at the conclusion of Monday's Raw SuperShow, but was instead greeted with a brutal F5 courtesy of Brock Lesnar. WWE Hall of Famer Jim Ross addressed the recently-retired mixed martial artist's shocking return to sports entertainment."Why's Brock Lesnar back? I'd suggest 2 earn BIG money. He's done w/ UFC & still young. He's...
Jim Ross returned to the announcers tale tonight and called Hell in a Cell between Triple H and The Undertaker. Ross wrote the following about John Cena vs. The Rock: "@TheRock and @JohnCena working their asses off. I'm calling it in my head. Is that sick or what?"   Follow me on Twitter: www.twitter.com/therealjeffpeckDownload my wrestling podcast "The Still Real to...
- Below is video of John Cena, Layla and Sheamus at the Make-A-Wish Pizza Party in Miami yesterday: - "#ThankYouEdge" was trending worldwide last night on Twitter during the WWE Hall of Fame ceremony and Edge's induction. - Joey Styles wrote the following on Twitter last night about Mike Tyson's induction speech: "OMF'NG! Best #WWEHOF speech ever by @MikeTyson! Too bad...
John Cena says that he's turned down movie roles in order to stay full-time with WWE. Cena told the Toronto Sun that he has passed on "a lot of stuff" with the goal of being WWE champion again. "I don't want to be an actor, I want to be a WWE champion and I want to be the best that I can be," he said. "If a part comes up and I have to make a choice between that and...
This one is slightly clearer, but the volume is a bit low. FOLLOW US on FACEBOOK using key word "WrestleChat" and on TWITTER at Twitter.com/WrestleChatNetAlso, follow me personally on twitter at Twitter.com/Brettley916!
- Brian Fritz of BetweenTheRopes.com conducted interesting interviews with several WWE Superstars this weekend. You can watch below: Daniel Bryan: Chris Jericho: The Rock: John Cena: Edge: DIRECT LINK: Must See Personal Beach Pic of Maryse in Miami – Busty!
- WWE announced the following:"Stay on WWE's official Facebook page beginning at 7 PM TONIGHT for live coverage of the WWE Hall of Fame Induction Ceremony, featuring Edge, Mike Tyson & more!"We will have live, detailed coverage from our correspondents at the Hall of Fame beginning at 7pm EST tonight. Stay tuned for full coverage.- The Rock reportedly has several backstage...
- Steve Austin wrote the following about the Hell in a Cell match at WrestleMania 28: "Well that was damn sure worth $65 bucks. Great F'n story. Brutality personified. HBK tremendous addition to drama. Hats off to Taker/HHH." - WWE has released new WrestleMania Champion t-shirts for CM Punk and Sheamus. Also released is a new Hall of Fame t-shirt for Edge, commemorative plaques...
(source feed provided no summary content for this entry)
WWE News

Delivered to your inbox

You'll also receive Yardbarker's daily Top 10, featuring the best sports stories from around the web. Customize your newsletter to get articles on your favorite sports and teams. And the best part? It's free!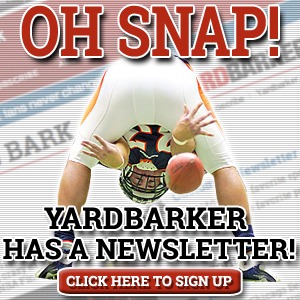 Latest Rumors
Best of Yardbarker

Today's Best Stuff

For Bloggers

Join the Yardbarker Network for more promotion, traffic, and money.

Company Info

Help

What is Yardbarker?

Yardbarker is the largest network of sports blogs and pro athlete blogs on the web. This site is the hub of the Yardbarker Network, where our editors and algorithms curate the best sports content from our network and beyond.