Good evening TWNP'ers! We're live here from Mick's dungeon, in attendance we have a syringe full of Heroin and a half ounce of crack, so sit back relax, and please call the paramedic service if anyone OD's. I'm here to talk about WWE. First up……. "FINALLY, THYA ROCK, HYAS CYUM BYACK, TO THE DUBLE-EW DUBLE-EW EEEEEEEE!" So far, we've been granted a one-on-one microphone battle between CM Punk and the Rock, a Damien Sandow/Cody "Touche" Rhodes bash-a-thon and a 'Rock' concert. Dwayne has such a hectic schedule I'm so grateful for these appearances. Classic Rock, too – he totally schooled Punk. No way did he come across as an aging gimmicky throwback who delivered nothing more than kiddy rhymes and schoolboy singalongs. No way! He was a breath of fresh air. Punk on the other hand, came across as a total amateur. When going one-on-one with the Great One in a duel of the mic's – you need a large arsenal of catchphrases and remedial toilet humuor, or you just don't stand a chance, brotha! CM Punk's clever dialogue and blurring of the fourth wall was like watching a total rookie. Quite clearly Punk is not WWE Title material, and if there is any justice in this world the Rock will win at the Royal Rumble and put Ryback over by dropping the title to him at Wrestlemania. CM Punk has almost single-handedly destroyed WWE programming in recent months – everyone else on the rostor has been keeping me intrigued and interested in what they have to say next – and that's the only reason I keep watching. Punk, however, is the total opposite. Whatever he says is banal, stale and completely out of touch with what today's fans want to see. Going back to the Brahma Bull – it was pleasing to see the fans get so into his routines. Even though he's been using the same catchphrases for almost 15 years, the fans still sang along at the top of their voices! It's not getting repetitive or boring at all. Not at all. In fact, I thought the speakers on Television were about to explode when I heard the fans chanting for him and singing along. They were so loud. Vagina 'jokes' – they work on everyone and always stay fresh. CM Punk's intelligent and manipulative work on the microphone is not the future – not in the slightest. No one enjoys it and we would all prefer to hear the Rock consistently talk in the third-person-tense about things that "don't matter" and about "finally" coming back to cities he had previously visited. Am I right, gang? Or am I right? *Chuckles* Well, that's all from me for now. If you smell what Mick is cooking! (note: if you actually do smell strange odours coming from my home please consult me (unarmed and preferably drunk) before making any phone calls to the local police or any government officials) Bonjéúr! Mick Mack-Daddy The post Turning Round On Lex Luger Is Not Good appeared first on TWNP - Wrestling News & Information. Related posts: Journey's Success at the Box Office, Stanford Comments on Borash, Ryder, More Lex Luger Comments on WWE Hall of Fame, The Rock Introducing NFL Game, RAW Update on CM Punk's WWE DVD, Austin Confirmed for Grown Ups 2, RAW Delayed Viewers
Original Story:
http://www.twnpnews.com/2013/01/turni...
MORE FROM YARDBARKER
WWE News

Delivered to your inbox

You'll also receive Yardbarker's daily Top 10, featuring the best sports stories from around the web. Customize your newsletter to get articles on your favorite sports and teams. And the best part? It's free!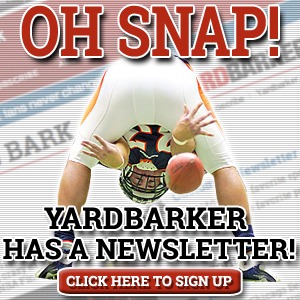 Latest Rumors
Best of Yardbarker

Today's Best Stuff

For Bloggers

Join the Yardbarker Network for more promotion, traffic, and money.

Company Info

Help

What is Yardbarker?

Yardbarker is the largest network of sports blogs and pro athlete blogs on the web. This site is the hub of the Yardbarker Network, where our editors and algorithms curate the best sports content from our network and beyond.