Found October 10, 2012 on cheap-heat:
- After Monday's big creative shake-up at RAW, one source told F4Wonline.com that the stress of RAW being three hours has finally hit Vince McMahon. The entire weekend built up and imploded on the WWE flight to the West Coast for this week's TV tapings. Vince had been in a bad mood for several weeks and something happened on that flight that pushed him over the edge. We noted before that a major blow-up with a top WWE star backstage was a major factor. Brian Gewirtz, who has been demoted to a consultant role, was the Senior Vice President of Creative and had been reporting directly to Vince and Stephanie McMahon. He was recently demoted to the "home team" that stays at WWE headquarters and works on scripts. It's said he had only showed up to the Stamford offices three or four days a week for the past year. This got him major heat with others. The head writer for RAW is currently Dave Kapoor, the former Ranjin Singh. Ed Koskey is likely still the head SmackDown writer for now while Eric Pankowski is the overall head writer. Many others have creative input including Michael Hayes. One source put some of the blame on Stephanie McMahon. He told F4Wonline.com: "The reality is Brian isn't the real issue or even a band-aid. Stephanie has run this dysfunctionally toxic division for the entire duration of its ratings decline. Her horrendous structure from the committee dynamic to who she fast-tracks and how rigidly the shows are structured are why this product isn't gangbusters. Plus, three hours is a [disaster]." Source: F4Wonline.com
Original Story:
http://www.cheap-heat.com/wrestling/n...
THE BACKYARD
BEST OF MAXIM
RELATED ARTICLES
Credit: Pwinsider.comOver the last few weeks, a number of top talents have approached Vince McMahon voicing their concern over WWE's current product.One top talent had a verbal back and forth with McMahon in front of everyone at last night's RAW. During the exchange, the talent (unnamed at this time) basically told Vince the writing sucks and that McMahon doesn't have...
Vince McMahon blows up on the creative team:WWE Charmian Vince McMahon was said to have been livid backstage on Monday due to Raw's recent low ratings, and has put creative on notice to turn the show around. To show that he was not messing around he removed Senior Vice President of Creative Writing Brian Gewirtz from his position and replaced him with Eric Pankowski. The job involves...
- As we have noted, Vince McMahon was upset at last night's RAW and told the writers that he needs results now or he needs resignations. The scene was described as frightening in terms of Vince's tone and demeanor. Besides pressure from NBC Universal to fix the ratings, it's said that last week's 2.5 rating was a big slap in the face to Vince after a number of top talents...
WWE Hall of Famer Jim Ross has published a new blog on JrsBarBq.com. Here are some highlights.CM Punk vs. Vince McMahon: Closing moments of Raw felt like some of the great moments during the Attitude Era. Table destroyed, monitors out, bodies hitting the floor, stiff shots, and a crazed crowd. Great nite at the office.Mr McMahon was amazing especially at his age and lack of recent...
CM Punk attacked a fan at the conclusion of Monday's WWE RAW. It's unknown at this time what prompted Punk to strike a male fan in the face twice, but Vince McMahon appeared to be in shock at the exchange. DivaMASH: Compare and Vote Who the HOTTEST Divas in Wrestling Are - New Must See Diva Voting Site! Tons of Hot Babes
- As noted before, there was major heat backstage at last night's RAW and Brian Gewirtz has been dismissed from his duties writing RAW. Gewirtz will remain with the company as a consultant but there's talk that these changes may be the beginning of the end for Gewirtz and even SmackDown writer Ed Koskey. WWE keeping him as a consultant may be their way of working out what's...
As reported earlier, Brian Gewirtz was removed from his position as the Senior Vice President of Creative Writing but remains employed. He will be replaced by Eric Pankowski, who was hired in February, and previously worked as a senior executive at Reveille and Warner Bros.The head writer for Raw is David Kapoor who also goes by Ranjin Singh. The head writer for Smackdown is Ed Koskey...
Jim Ross has published a new blog on his official website, www.jrsbarbq.com, previewing tonight's Raw. "RAW should be an unpredictable ride tonight w/ not only the return of WWE Chairman Vince McMahon who's been noticeably absent from the Monday night flagship, WWE broadcast," he wrote. "I have no idea what to expect but Mr. McMahon will make a needed impact without question...
Join us tonight at 8pm EST for live coverage of WWE RAW from Sacramento, California with the return of Vince McMahon, an appearance by John Cena and lots more. Coverage begins at 8pm EST when RAW hits the air so stay tuned…Huge Backstage News from Tonight's RAW, Live RAW Photos In Progress, Vince Makes Rule About Ryback, New WWE Tag Team, Busty Kelly Candids and More…
As reported earlier, WWE Champion CM Punk twice struck a fan while he was in the stands at the conclusion of Monday's Raw in Sacramento, California. According to a ringside source, a fan shoved Punk, prompting the attack. Punk retaliated by backhanding a male, who may not have actually been the perpetrator. He then moved toward the person and lunged. WWE's cameras were cutting...
WWE News

Delivered to your inbox

You'll also receive Yardbarker's daily Top 10, featuring the best sports stories from around the web. Customize your newsletter to get articles on your favorite sports and teams. And the best part? It's free!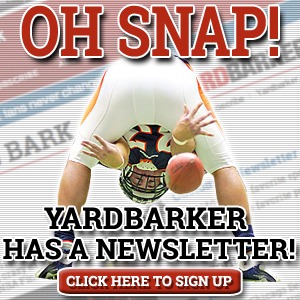 Latest Rumors
Best of Yardbarker

Today's Best Stuff

For Bloggers

Join the Yardbarker Network for more promotion, traffic, and money.

Company Info

Help

What is Yardbarker?

Yardbarker is the largest network of sports blogs and pro athlete blogs on the web. This site is the hub of the Yardbarker Network, where our editors and algorithms curate the best sports content from our network and beyond.