Found February 17, 2012 on Wrestling Truth:
When facing a formidable enemy in a grand battle, it is important to first carefully inspect your enemy's forces and determine from where the source of its power comes. If it's possible to attack this source of power and weaken your enemy, then your enemy will invariably be weaker once the time for actual battle takes place and the situations of battle unfold. Kane sets up John Cena, and steals the source of his power For all of 2012, Kane and John Cena have been embroiled in a prolonged war that is allowing Cena to bide his time until his confrontation with The Rock at Wrestlemania. Kane's "embrace the hate" mantra and attacks on Zach Ryder have been chipping away at Cena's noble "rise above hate" exterior, despite Cena's assertions to the contrary. Kane, however, obviously knew something that we all did not know, since Kane's attacks on Ryder have had the effect of putting Cena and Eve in close contact and has led to Cena's betrayal of Ryder…a betrayal that, among men, is the worst kind of betrayal…Cena stole Ryder's woman. And all of this happened on the day before Valentine's Day…a day when Ryder wanted to tell Eve that he loved her and Cena encouraged him to do so.
Six days prior to their "ambulance match" at the Elimination Chamber, Kane attempted to kidnap Eve in an ambulance from the back of the arena in San Diego…possibly to bring her to Phil's Barbecue up the street. With Ryder injured, it was up to Cena to make the save…which he did. Eve jumped off the ambulance in the nick of time before Kane sped away, thinking Eve was still in the back. With Cena and Eve standing alone in the back, they embraced and kissed passionately in a manner that suggested that it was not their first time doing that. The jig was up, however, as Ryder rolled up in his wheelchair and saw the whole thing, leaving Cena standing there embarrassed and nonplussed. Eve desperately tried to explain to Ryder that all along she just wanted to be friends with him.
Later on in the episode, when Cena was in the center of the ring, Ryder rolled out and then limped into the ring and confronted Cena. Ryder yelled at Cena, and Cena absorbed the verbal blows, but when Ryder justifiably slapped him, Cena de-shirted and was ready for a fight against his injured, betrayed friend. We'll never know if Cena was actually going to hit Ryder because Ryder fell back when Cena cocked his fist. Ryder then scurried out of the ring and limped back up the entrance ramp…only to be greeted by Kane and rolled off the top of the entrance ramp. Cena did run to Ryder's aid, when the paramedics got there, Cena kept his distance once Eve arrived on the scene…even though the two treacherous lovers exchanged glances.
What makes this strategy a "fu di chou xin" is that the source of Cena's power is his integrity and his work ethic…which he calls Hustle, Loyalty, and Respect. This has made him the leader of Cenation and an inspiration to this generations Hulkamaniacs. Kane's set-up of Cena has really exposed the Cena character as a fraud. Cena stole Ryder's girl. Sayonara, Loyalty. Even if Eve did not think she was Ryder's girl, the wrestling fan world thought of her as Ryder's girl. Even if she was not Ryder's girl, Cena knew that Ryder loved her and should have backed off. Then, when confronted, Cena was about to strike the injured Ryder. Sayonara, Respect. Cena as a character is more evil than Shane from "The Walking Dead" because at least Shane thought that his best friend Rick had died prior to starting a relationship with Rick's wife…and then later contemplated putting Rick down when they were hunting in the woods.
Hustle, loyalty, and respect drove Cenation. Integrity for a wrestler is a powerful force, and it can be measured in two statistics: whether or not you have ever submitted or tapped out, and win-loss record in I-Quit matches. Cena has a spotless record in both of those categories. Without any integrity, the source of Cena's power has been irrevocably depleted. Cena's work ethic, which he calls "hustle," is also affected in this Eve situation because Cena took the easy road and stole his friend's girlfriend rather than go out and find his own.
All of this is something that Kane seems to have known. Kane seems to have set all of these situations up so that a weakened Cena could fall for Eve…or Kane knew that Cena and Eve were together and was just setting up situations that would facilitate Ryder and the fans discovering it. Either way, Cena is substantially weaker than he was before all of this was discovered. Cena may win the battle in the Ambulance Match at the Elimination Chamber, but it looks like Kane has already won the war by stealing Cena's hustle, loyalty, and respect from out from under him. Triple H kidnapped Stephanie McMahon and married her In late 1999, Triple H was involved in a war with WWE CEO Vince McMahon. Triple H had an ingenious plan for striking McMahon in his very heart. For Vince McMahon, family was the most important thing, and this became the target of Triple H. In the late 1990s and early 2000s, it was clear that he was grooming the television personalities of son Shane and daughter Stephanie to oversee the next generation of the WWE. Thus, they were fair game.
On the November 19, 1999 episode of RAW, Stephanie and Andrew "Test" Martin were set to have their wedding in the center of the ring on RAW, despite Stephanie's recent concussion and short-term memory loss. The ceremony began; Test and Stephanie looked lovingly at each other; and Vince, Linda, and Shane stood by Stephanie's side, consensually giving her away in matrimony to Test. Then, the officiant asked if anyone had cause as to why the two of them should not get married. At this point, Triple H's older (and better) intro music hit, and he came out and said that there was something that Vince needed to see. At this point, Triple H showed the video footage from after Stephanie's bachelorette party in Vegas, when Triple H had her drugged and then brought the unconscious Stephanie to a drive-through wedding chapel, mouthed Stephanie's words for her, and was legally married to Stephanie McMahon, joining the McMahon family.
This led to a no holds barred match at the following December pay-per-view between Vince McMahon and Triple H. After Triple H administered a beating on McMahon and left him lying unconscious in the center of the ring, Stephanie came in to try to see if Vince was all right. Triple H, sledgehammer in hand, readied to strike, and it looked like he was going to hit Stephanie. Stephanie got up and turned around, taking Triple H by surprise. Triple H dropped the sledgehammer when she confronted him. At this point, Stephanie smiled at Triple H, hugged him, and celebrated his victory in the center of the ring, without McMahon even being aware of it.
This was a complete and utter defeat of Vince McMahon by Triple H. He compromised Vince's family, then defeated Vince physically in a brutal match, and then stole the loyalty and affection of Vince's only daughter. Conclusion In conclusion, wherever an opponent's source of strength lies, take it or neutralize it. If an opponent is stronger, then be more nimble. If an opponent is a high-flyer, then take out a leg or a knee. If their strength is their loyalty, then show their disloyalty. If it's integrity, then soil their name. If it's family, then attack or enlist the help of their family members. Follow me on Twitter @VanillaMandarin
Original Story:
http://wrestlingtruth.com/news/wwe-36...
THE BACKYARD
BEST OF MAXIM
RELATED ARTICLES
- Alberto Del Rio let rip on The Miz during an interview with 95.7 FM The Game. He said: "This is not part of the show. I really dislike that guy. I've tried to punch him in the face several times, not in the ring I mean outside the ring, but he's just like a little girl, he's always running away from me. There's a big difference between The Miz and I, I'm a real athlete...
Here we are with part two of Know Your Role! I wrote the first piece back in December and trashed Kevin Nash pretty heavily. Since that time, Nash lost at TLC and has disappeared from WWE tv. I like to pretend that I had something to do with that. For part two, I've got a few names I want to toss out there for discussion. These are men that are a part of that dying breed that...
– R-Truth appearing more animated in recent weeks has to do with Triple H. The WWE executive wants him performing "silly comedy" as opposed to dancing and rapping.– Lilian Garcia stated on Twitter that she will be releasing a music video for her latest single, Ur Girl (Til the End of the World), on March 1.– Saturday's SmackDown live event at the Cow Palace in San Francisco...
– R-Truth appearing more animated in recent weeks has to do with Triple H. The WWE executive wants him performing "silly comedy" as opposed to dancing and rapping. – Lilian Garcia stated on Twitter that she will be releasing a music video for her latest single, Ur Girl (Til the End of the World), on March 1. – Saturday's SmackDown live event at the Cow Palace in San Francisco...
R-Truth appearing more animated in recent weeks has to do with Triple H. The WWE executive wants him performing "silly comedy" as opposed to dancing and rapping.   Follow me on Twitter: www.twitter.com/therealjeffpeckDownload my wrestling podcast "The Still Real to Us Show" every Thursday at www.wheelhouseradio.com & www.wrestlechat.net
Today, during the Wrestlemania press conference at GIANTS Stadium (Metlife Stadium), NY Giants Offensive Lineman David Diehl was given a championship belt by Triple H.  Metlife Stadium will be the host to next year's Wrestlemania featuring Triple H and The Rock.  We are not sure why David Diehl was given a belt since The Giants beat the packers and took Aaron Rodgers' belt.
Hey Paisanos! It's the Super Mar— uhh.. It's another, randomly placed edition of the Furious Five! I took some time off from denying people's medical bill payments in order to toss a column onto the TWNPNews.com board. It's been ages, but if there's one thing that can inspire me to write, it's TERRIBLE WRESTLING TELEVISION, and boy is there a lot of that going around...
While Monday's February 13 WWE RAW was certainly a polarizing episode, one thing most critics could agree on was the excellent segment between Triple H and Shawn Michaels. Love him or hate him, Triple H showed once again why he is the best all-around in the pro wrestling business. Related posts: Triple H: King of Kings – There is Only One – WWE DVD Review State of the Business...
WWE News

Delivered to your inbox

You'll also receive Yardbarker's daily Top 10, featuring the best sports stories from around the web. Customize your newsletter to get articles on your favorite sports and teams. And the best part? It's free!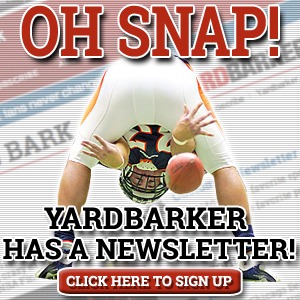 Latest Rumors
Best of Yardbarker

Today's Best Stuff

For Bloggers

Join the Yardbarker Network for more promotion, traffic, and money.

Company Info

Help

What is Yardbarker?

Yardbarker is the largest network of sports blogs and pro athlete blogs on the web. This site is the hub of the Yardbarker Network, where our editors and algorithms curate the best sports content from our network and beyond.