Found September 18, 2013 on Ring Side News:
PLAYERS:
Dolph Ziggler
,
Alex Riley
,
Randy Orton
,
Paul Heyman
,
Triple H
,
Daniel Bryan
,
Kofi Kingston
,
The Miz
,
Dusty Rhodes
,
Damien Sandow
,
Justin Gabriel
Dolph Ziggler starts us off tonight by making his way to the ring for singles competition. Alex Riley is filling in for Miz on commentary as Miz was brutally attacked by Randy Orton on Raw. The Intercontinental Champion Curtis Axel enters. Heyman and Axel beat CM Punk by DQ at Night of Champions after Ryback interfered. Dolph Ziggler vs. Curtis Axel (w/ Ryback and Paul Heyman) Lock up, headlock on Dolph. Ziggler gets out, arm drag. Ziggler with a headlock take-over, Axel gets out only for Ziggler tackle him back down. Curtis steps out onto the apron to get a break. Back in, they lock up again. Axel sends several elbows to the back of Dolph, and then throws him into the turnbuckle chest-first. Chin lock in place on Ziggler. Axel nails an elbow, cover. Axel puts in a headlock. Ziggler nails a great dropkick, sends several punches. Axel throws Dolph out of the ring as they go to commercial. -Commercials Axel has a headlock in place on Dolph. Curtis dodges Ziggler's splash in the corner, cover for a two. Axel drops Ziggler to his knee, two. Ziggler gets out of an arm lock, Axel throws Dolph up in the air. Cover and another kickout. Ziggler unloads with punches, dropkick from Axel, two. Clothesline from behind, two-count on Dolph. Axel hits the ring post and rolls out. Another dropkick from Ziggler, nails the splash in the corner. Multiple punches throw, neckbreaker. Big clothesline, two. Axel dodges Famouser, and slams Ziggler with a back drop. Axel goes for his neckbreaker, Ziggler rolls him up. Famouser connects, two. Ziggler plants Axel with a DDT, nearfall. Ryback distracts Ziggler, Axel kicks him off the apron. The ref is distracted and Ryback hits the Meat Hook. Back in the ring, Axel hits his finisher for the win. Winner: Curtis Axel – by pinfall (15:04) Up next, we will see an interview with Triple H conducted by Michael Cole. After commercial, Riley and Mathews talk about Triple H. Exclusive Interview: Triple H asks Cole what would he do if he found a senior referee screwing other superstars out of retaining a title. Hunter says he will continue to look in to this. He announces Daniel Bryan vs. Randy Orton for the vacated WWE Championship at Battleground on October 6th. Kofi Kingston makes his way to the ring for the next match. Kofi will be facing Fandango. Kofi lost to Curtis Axel for the IC Championship in an impromptu match at Night of Champions, and Fandango lost to The Miz. Kofi Kingston vs. Fandango (w/ Summer Rae) Fandango starts to dance, they lock up. Fandango trips Kofi, and they work on each other's arms. Lock up again. Shoulder block, Fandango monkey-flips Kingston, and Kofi lands it to hit one of his own. Headlock locked in on Kofi. Shoulder block by Fandango, Kofi hits a couple dropkicks and attempts Trouble in Paradise. Outside the ring, Kofi jumps out onto Fandango. -Commercials Kingston is tripped by Fandango on the turnbuckle. Kofi spills to the outside. Back in the ring, Kofi is pinned for a two. Headlock applied. Kofi powers out, tries for a roll-up. "You Can't Dance" chants break out as Fandango sends Kofi into the turnbuckle. Kingston is hit with a suplex, two. Headlock back in place, Kofi back-drops Fandango. Dropkick and clothesline from Kofi, followed by the Boom Drop. Sets up for TIP, Fandango counters. Kofi hits a spring-board clothesline, two. Fandango connects with a kick to the head, nearfall. They trade punches, Kofi hits a dropkick. SOS connects, close kickout. Kingston hits Trouble in Paradise for the victory. Winner: Kofi Kingston – by pinfall (13:41) Raw Rebound: Dusty Rhodes wanted Cody to get his job back. He talks about Goldust fighting Randy Orton, and being proud of his kids. He wants to talk to Stephanie who says Dusty has to pick whether Cody or Dustyn gets their job back. He won't pick. The Shield comes down, and then Big Show. Now, Rhodes has to pick whether to be destroyed by The Shield, or KO'ed by Show. No answer, so Stephanie orders the KO. Show eventually delivers. Dusty is stretchered out of the arena. The latest on his condition, Dusty is sore. Mr. Money in the Bank, Damien Sandow, enters for the last match of the evening. After commercial, Justin Gabriel comes out to face the uncrowned World Champion Damien Sandow vs. Justin Gabriel Gabriel goes after the left arm. Justin hits a dropkick, backslide. Another cover, two. Sandow throws Gabriel out of the ring. Cover, one. Sandow takes Justin down, another one. Elbow of Disdain connects from Sandow, two. Justin dodges the knee drop. Gabriel sends several kicks, two. Crossbody from Gabriel, another two. Justin trips Damien, goes for 450. Sandow moves, and trips Justin into the turnbuckle. Sandow hits the Silencer for the three. Winner: Damien Sandow – by pinfall (3:35) Source: WrestlingNewsWorld.com
Original Story:
http://www.ringsidenews.com/article/1...
THE BACKYARD
BEST OF MAXIM
RELATED ARTICLES
Triple H recently spoke with New Hampshire Magazine to promote his upcoming DVD The Kingdom Come. Check out the highlights: On what put him on the path to the executive level: "I've enjoyed the creative process [of pro wrestling] almost as much as I enjoy going out there and doing it. Vince [McMahon, WWE head] used to joke with me and say, 'When are you going to stop rolling...
Daniel Bryan kicks off Raw with the WWE Title. Triple H interrupts him and calls out referee Scott Armstrong for his fast count when Dbry won the gold. Armstrong eventually "gives up Dbry" and admits to a collusion on helping Dbry win. Hunter strips Dbry of the gold and declares the title held up. Randy Orton comes out and is furious. Hunter takes the WWE Title from Dbry and...
Credit – PWTorch WWE Raw TV Results September 16, 2013 – Episode #1,059 Live in Cleveland, Ohio Aired on USA Network Report by James Caldwell (@JCTorch), PWTorch assistant editor WWE Raw opened with a video package recapping the low (Paul Heyman "pinning" C.M. Punk) and high (Daniel Bryan capturing the WWE Title) last night at Night of Champions. Live in the arena, Justin...
Dolph Ziggler starts us off tonight by making his way to the ring for singles competition. Alex Riley is filling in for Miz on commentary as Miz was brutally attacked by Randy Orton on Raw. The Intercontinental Champion Curtis Axel enters. Heyman and Axel beat CM Punk by DQ at Night of Champions after Ryback interfered. Dolph Ziggler vs. Curtis Axel (w/ Ryback and Paul Heyman) Lock...
While wrestlers like CM Punk are great at speaking their mind and pontificating about how the current state of professional wrestling ticks them off or they feel "disrespected" or that no one understands them, the "sell" job of professional wrestling is a lost art form, a true ballet never to be heard from again.
It was announced by the WWE last night at the Smackdown tapings that Daniel Bryan will battle Randy Orton for the vacant WWE title at the new WWE pay-per-view, Battleground. The event takes place on Sunday, October 6 in Buffalo, New York. The Bryan and Orton feud started at Summerslam last month when Bryan defeated John Cena to capture the WWE title. Orton who had won the Money in...
Monday night was not the night for John Cena to appear on a Raw program and furthermore, it would be best that Cena, who is rehabilitating from elbow surgery, stay away from an arena near you for some time.
WWE Creative has had its up and downs the last few years but right now they are writing its biggest hit in ages. The booking of Daniel Bryan is the best effort to get a new guy over in many years and for once the patience of creative has paid off.
After seeing Edge and Goldust on TV this past week it got me thinking about Wrestler "franchises" that need to stay on the shelf. Doc Brown warned us about using the past to mess up the future; here are a few names that could potentially disrupt the space time continuum.
Brian and Steve look back at last night's Raw including Daniel Bryan being stripped of the WWE Championship, Stephanie and her wicked ways involving with Dusty Rhodes, Paul Heyman and his starry eyes for Ryback, the good guys finally stepping up and helping and more.  Plus, they talk about the report that Hulk Hogan's TNA contract expiring in two weeks and the company possibly...
Modern wrestling struggles with reaching both in-ring enthusiasts, and story lovers. No company has been able to successfully bridge that canyon. Some people say the wrestling itself is an art-form, that all the "entertainment" around the product is glitzy hot air.
People got a refund from their television provider for NOC due to the main event finish being overturned on RAW. The Internet is reporting that Cox Cable has issued refunds to people disappointed with WWE's latest pay-per-view offering, "Night of Champions.
WWE News

Delivered to your inbox

You'll also receive Yardbarker's daily Top 10, featuring the best sports stories from around the web. Customize your newsletter to get articles on your favorite sports and teams. And the best part? It's free!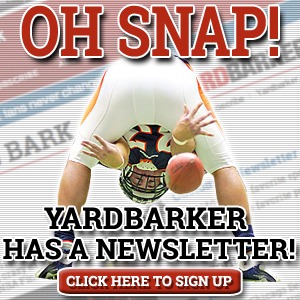 Latest Rumors
The Backyard

Today's Best Stuff

For Bloggers

Join the Yardbarker Network for more promotion, traffic, and money.

Company Info

Help

What is Yardbarker?

Yardbarker is the largest network of sports blogs and pro athlete blogs on the web. This site is the hub of the Yardbarker Network, where our editors and algorithms curate the best sports content from our network and beyond.