WWE scouting amateur wrestlers: WWE's Gerald Brisco has been scouting amateur wrestlers Tony Nelson of Minnesota and Alan Gelogaev of Oklahoma, who wrestled this past weekend. They are considered two of the best heavyweight wrestlers in the country and Nelson is the current NCAA Champion. This year WWE adopted an athlete first policy, meaning they scout legitimate athletes over independent wrestlers, bodybuilders and models. The company sent representatives to the Olympics in London to take a look at a number of sports. Brisco who has an amateur background from Oklahoma himself, is usually the one scouting athletes. ________________________________________________________________________________ Daniel Bryan likes working with Sheamus: Daniel Bryan put Sheamus over in a recent Q&A with Brian Soscia. "Even though I dislike him, I like wrestling Sheamus," says the Tag Team Champion. "He hits hard, he doesn't mind being hit hard back. We go out there and we just fight. It's nice, it's fun." On being trained by Shawn Michaels and wanting to wrestling him: "I want to wrestle Shawn Michaels at WrestleMania. Shawn Michaels is the man. Yeah. "It never ocurred to me that he would come back because at the time, his back was so bad. You could tell how passionate he was about wrestling because he wasn't supposed to be doing anything. All of a sudden, he would be showing us how to do something and he'd get so excited and he'd get in there, take a big back body drop. His feet would hit the ceiling — and it was a boxing ring, which are really hard. Then, he'd come in the next day and he could barely walk but he kept doing it. That was the thing." On if he's ever felt in over his head when in against any wrestlers: "Absolutely. There's two guys: The Big Show and Mark Henry. So, I don't know if you guys know this, but when Mark Henry grabs you, it's not like somebody normally grabbing you. It's almost be like if I had four hands and I grabbed you with my four hands as hard as I could. That's how Mark Henry grabs you. You just feel completely helpless, almost like a child. "…Do you know what also is not fair? When I was the World Champion, I was wrestling Mark Henry and The Big Show. So, Big Show's close to 500 pounds, Mark Henry's over 400 pounds. I am closer in weight to Hornswoggle than I am to either of those guys. And they would never give Hornswoggle a WWE championship match. … He's 165 pounds." You can listen to the interview, which was filmed in Philadelphia below: ________________________________________________________________________________ JR doing Q&A tour in England: Jim Ross revealed his plans to do a tour of England next Summer in a recent Twitter update: "Working on details on a possible 3 city tour next summer in England," wrote the WWE Hall of Famer." He described the concept as: "'An Evening With…'. 2 hrs of stories, motivation & Q&A'S. stay tuned." This appears to be a gig outside of the WWE. ________________________________________________________________________________ Three options for WWE Network: WWE's Chief Financial Officer George Barrios discussed the three possible platforms that the planned WWE Network could take, during the UBS 40th Annual Global Media and Communications Conference in New York City on Monday. "We have talked about us going to market a network in one of three models," said Barrios. "A dual-stream network, fully distributed, advertising and affiliate fee. A pay network, similar to an HBO model where the consumer would bear all the economic burden, no advertising primarily and then over-the-top. So the willingness to pay is both an indicator of the intensity to watch the show and that's applicable to all three that willingness to pay also is applicable for the second and third one where it would be more of a direct-to-consumer economic model." Barrios said the company feels there's definitely money to be made: "As we looked at all three of them and this is the underpinning for all three models in the other data that I just mentioned. We just believe there is too much there potentially not to keep pushing at it. The drag on earnings is painful. It's painful to investors. It's painful to us but we just believe payoff could be too large so we are going to continue to push on that." ________________________________________________________________________________ Shaul Guerrero says she'll return to WWE: Former WWE developmental Diva Shaul Guerrero (who wrestled as Raquel Diaz in FCW) says she'd be up for returning to the company when the time is right. "Hey everyone I'm back! I got a whole new life and feel amazing!" she wrote on Twitter. "Wanna reconnect and catch up? Tweet me! I defiantly want to return to WWE but I have a couple of things to accomplish. My life is in Gods hands now! I'm dancing and off to college" Shaul is the daughter of Eddie & Vickie Guerrero and was close to a main roster promotion, but quit WWE earlier this year to pursue other options.
Original Story:
http://wrestlingtruth.com/news/wwe-sc...
MORE FROM YARDBARKER
WWE News

Delivered to your inbox

You'll also receive Yardbarker's daily Top 10, featuring the best sports stories from around the web. Customize your newsletter to get articles on your favorite sports and teams. And the best part? It's free!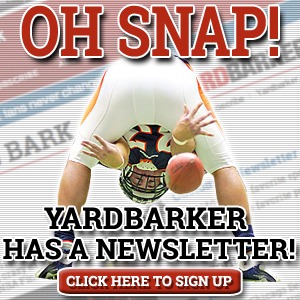 Latest Rumors
Best of Yardbarker

Today's Best Stuff

For Bloggers

Join the Yardbarker Network for more promotion, traffic, and money.

Company Info

Help

What is Yardbarker?

Yardbarker is the largest network of sports blogs and pro athlete blogs on the web. This site is the hub of the Yardbarker Network, where our editors and algorithms curate the best sports content from our network and beyond.