Found November 22, 2012 on Wrestling Truth:
PLAYERS:
Dolph Ziggler
,
Mike Mondo
,
Spirit Squad
,
Vickie Guerrero
,
John Cena
,
Randy Orton
,
Mark Cuban
,
Shawn Michaels
,
Santino Marella
,
Marty Jannetty
,
Hugh Jackman
,
Bret Hart
,
Kofi Kingston
,
Donald Trump
,
The Miz
,
Ric Flair
,
Trish Stratus
,
Chris Jericho
,
Dude Love
,
Kevin Federline
,
Gorilla Monsoon
,
Jeff Hardy
,
Mae Young
,
Razor Ramon
,
Rey Mysterio
,
Sin Cara
,
Jack Swagger
,
Daniel Bryan
,
Heath Slater
,
Zack Ryder
,
Christian York
,
Joey Matthews
,
Samoa Joe
,
Joey Ryan
,
Alberto Del Rio
,
SoCal Val
TEAMS:
Dallas Mavericks
Dolph Ziggler says TNA & WWE stars watch both products: Dolph Ziggler said that he watches Impact Wrestling and that a lot of wrestlers from WWE and TNA watch each others stuff. The Survivor Series survivor told Chris Van Vliet: "Me, personally as a wrestling fan, it's something I've said before where I study movies, I study comedians, why they are getting these reactions; I watch all wrestling." The showoff continued: "Lots of us, because of the ever-changing roster for both sides, we're friends with half of those guys anyway because we were wrestling with them a few months ago. So that community, we all kind of follow each other. A lot of us watch it just because we love wrestling. We'll watch TNA. We'll watch Ring of Honor. I watch everything just to see what's going on and know where I need to be. "Even a good friend of mine, Mike Mondo, who was with me in the Spirit Squad, he's in Ring of Honor tearing it up. Everyone's always saying how great he's doing." Ziggler also discussed breaking away from Vickie Guerrero, how he would have been pushed sooner if he was bigger and his thoughts on John Cena and CM Punk. You can listen to the full interview below: ________________________________________________________________________________ WWE Top 100 RAW Moments DVD listing: Here is the full listing for WWE's upcoming Top 100 RAW Moments, scheduled for DVD and Blu-ray release on December 11th: 100. Silent Stare • Feb 21, 2011 99. Tea Time with Santino • Nov 8, 2010 98. Evolution Kicks Out Randy Orton • Aug 16, 2004 97. WrestleMania XIV Challenge • Mar 2, 1998 96. Mouth-To-Mouth • May 27, 1996 95. Sheamus puts Mark Cuban through a table • Dec 7, 2009 94. Are You Ready For Some Wrestling? • Nov 22, 2004 93. DX mocks the McMahons • Jun 26, 2006 92. Tuxedo Match • Jan 9, 1995 91. Seth Green is the first Celebrity Host • Jul 13, 2009 90. Snitsky punts Kane and Lita's 'baby' • Nov 8, 2004 89. Shawn Michaels superkicks Hulk Hogan • Jul 4, 2005 88. Mr. McMahon trains for the Royal Rumble • Jan 11, 1999 87. Loser-Leaves-Raw Ladder Match • Oct 3, 2005 86. Mr McMahon is Bald • Apr 2, 2007 85. The Rock's Eulogy for Stone Cold • Apr 19, 1999 84. Santino Marella: Milan Miracle • Apr 16, 2007 83. Mr. McMahon's Birthday Bash with DX • Aug 24, 2009 82. Marty Jannetty vs. Shawn Michaels • May 17, 1993 81. Edge's Retirement Speech • Apr 11, 2011 80. Triple H takes over DX • Mar 30, 1998 79. Hugh Jackman punches Dolph Ziggler • Sept 19, 2011 78. Musical Chairs • Jul 5, 2004 77. Big Shows First Match • Mar 22, 1999 76. An Hour in England • Apr 23, 2007 75. Loser-Leaves-Town Match • Jan 25, 1993 74. Triple H and Shawn Michaels reunite DX • Jul 22, 2002 73. CM Punk cashes in Money in the Bank • Jun 30, 2008 72. Stephanie Announces Her Pregnancy • Feb 4, 2002 71. Bret Hart vs. Stone Cold, Street Fight • April 21, 1997 70. Floyd "Money" Mayweather Confronts Big Show • Mar 10, 2008 69. Kofi Kingston… Boom! Boom! Boom! • Nov 16, 2009 68. Hornswoggle is Mr. McMahon's Son • Sept 10, 2007 67. Y2J Throws HBK into Jeritron 5000 • Jun 9, 2008 66. Cemented Corvette • Oct 12, 1998 65. Donald Trump – New Chairman of WWE • Jun 15, 2009 64. Shawn Michaels Farewell Speech • Mar 29, 2010 63. The Rock makes fun of Toronto • Feb 24, 2003 62. Bob Barker Hosts Raw • Sept 7, 2009 61. The Greater Power Revealed • Jun 7, 1999 60. Intercontinental Title Over A Bridge • Dec 15, 1997 59. Dumpster Incident • Feb 2, 1998 58. The Miz cashes in Money in the Bank • Nov 22, 2010 57. US vs. Canada Flag Match • Jul 21, 1997 56. Ric Flair's Retirement Celebration • Mar 31, 2008 55. Lita vs. Trish Stratus • Dec 6, 2004 54. Chris Jericho "Wins" The WWE Championship • Apr 17, 2000 53. Dude Love Debuts • Jul 14, 1997 52. John Cena vs. Kevin Federline • Jan 1, 2007 51. Goldberg Debuts • Mar 31, 2003 50. Brock Lesnar Returns To Raw • Apr 2, 2012 49. Formation of Evolution • Feb 3, 2003 48. DX Reunion at Raw 1000 • Jul 23, 2012 47. Shaq Attacks Big Show • Jul 27, 2009 46. Mankind Attacks Jim Ross • Jun 9, 1997 45. Rock vs. Cena – One Year Away • Apr 4, 2011 44. Bret Hart Shoves Mr. McMahon • Mar 17, 1997 43. Vader Attacks Gorilla Monsoon • Jan 22, 1996 42. Jeff Hardy's Swanton off the Tron • Jan 14, 2008 41. Stone Cold Drives Zamboni • Sept 28, 1998 40. Choppy Choppy Pee Pee • Aug 3, 1998 39. Mike Tyson Joins DX • Mar 2, 1998 38. Batista Quits WWE • May 24, 2010 37. "Bret Screwed Bret" • Nov 17, 1997 36. D-Generation X Forms • Aug 11, 1997 35. Nexus Wreaks Havoc • Jun 7, 2010 34. Live Sex Celebration • Jan 9, 2006 33. Mr. McMahon vs. Stone Cold • Apr 13, 1998 32. The Rock Challenges Hulk Hogan • Feb 18, 2002 31. Stone Cold Stuns Mr. McMahon • Sept 22, 1997 30. DX Invades The Norfolk Scope • Apr 27, 1998 29. Debut of Monday Night Raw • Jan 11, 1993 28. Mae Young Powerbombed • Mar 13, 2000 27. WCW/ECW Alliance • Jul 9, 2001 26. The Rock Returns • Feb 14, 2011 25. Bedpan McMahon • Oct 5, 1998 24. Bret Hart Returns To Raw • Jan 4, 2011 23. Triple H Returns To Raw • Jan 7, 2002 22. Undertaker vs. Jeff Hardy • July 1, 2002 21. Kurt Angle Milk Truck • Aug 20, 2001 20. 1-2-3 Kid Upsets Razor Ramon • May 17, 1993 19. Batista Turns on Evolution • Feb 21, 2005 18. Foley Wins the WWE Championship • Jan 4, 1999 17. Bischoff – New Raw GM • July 15, 2002 16. Shawn Michaels Loses His Smile • Feb 13, 1997 15. Sable Wears A Potato Sack • Dec 8, 1997 14. Mr. McMahon Appreciation Night • Jul 11, 2007 13. Pillman's Got a Gun • Nov 4, 1996 12. Vegas Wedding • Nov 29, 1999 11. Kane Unmasks • Jun 23, 2003 10. WrestleMania XXVI Challenge• Feb 22, 2010 9. Raw/Nitro Simulcast • Mar 26, 2001 8. Rock Concert • Mar 24, 2003 7. DX Mocks the Nation • Jul 6, 1998 6. #1 Draft Pick • Jun 6, 2005 5. Pipe Bomb • Jun 27, 2011 4. Tyson and Austin • Jan 19, 1998 3. Millennium Man • Aug 9, 1999 2. This Is Your Life • Sept 27, 1999 1. Beer Bath • Mar 22, 1999 Bonus Moments * Rocky Waters * WCW on Raw * One Man Band * Piven Hosts Raw * Sheamus wins King of The Ring * Shawn Michaels Mocks Montreal Disc 3 Raw 1000 • July 23, 2012 – St. Louis, MO * Mr. McMahon Introduces D-Generation X * Rey Mysterio, Sin Cara & Sheamus vs. Chris Jericho, Dolph Ziggler & Alberto Del Rio * AJ prepares for her wedding * Jack Swagger vs. Brodus Clay * Trish Stratus gives a Yoga lesson to Triple H * Daniel Bryan & AJs Wedding * CM Punk confronts Daniel Bryan * Intercontinental Championship Match: Christian vs. The Miz with Special Guest Referee: Bret "Hitman" Hart * Triple H wants an answer * The Saga of Stone Cold Steve Austin & Mr. McMahon * Heath Slater vs. Lita * Sean Mooney interviews Daniel Bryan * Catchphrases of WWE * Zack Ryder accuses "Mean" Gene Okerlund * The Brothers of Destruction reunite * WWE Championship Match: CM Punk vs. John Cena * The Making of Raw 1000 Blu-ray Exclusives The Legends of Wrestling – The History of Raw ________________________________________________________________________________ Christian York Interview: New TNA star Christian York suggested the Impact Wrestling Gut Check segments are less scripted than most people realize, during an interview with the Shining Wizards podcast. "They told me it's all a shoot, it's all real. It's not scripted stuff or anything like that," said the ECW Original. "I was working in MCW (Maryland Championship Wrestling) and TNA was doing a house show in Bowie, Maryland, and the agents asked for a list of 10 guys, and I was one of the 10. I was eating breakfast with my wife,and they gave me call saying, we want to use you on some house shows and get a look at you. So I did that, and they called me back about doing this Gut Check. "We went from there, they did the profile thing with me, and then the match with Zema (Ion), which was pretty wild. All day long you don't know anything, its just like a rehearsal type thing. Just stand in the ring and we will go from there. Its all a shoot, they want raw emotion." York also discussed how a boy band gimmick he, Joey Matthews, Shannon Moore and Shane Helms used in the Hardy's OMEGA promotion became 3 Count in WCW: "We started that in '99. We weren't really on board with the boy band thing. We were like, man, that's gay. We were trying to be edgy, like every indy wrestler, trying to be cool as hell. We wanted to be called Fourplay, but we ended up being the Badstreet Boys. It worked, we had tons of girls as fans. Kanyon had seen the gimmick and had the idea of getting Shane Helms and Shannon Moore a tryout. Myself and Joey didn't have any idea about this. Then Shane called and said, hey, man, we just got signed, and I was like, did we get signed? And he was like, no, they are gonna give you a tryout, we are gonna do the boy band gimmick with Evan (Karagias). " ________________________________________________________________________________ November 21, TNA Xplosion match: This week's episode of TNA Xplosion taped for overseas, featured Samoa Joe defeating Kazarian in an exclusive match. The TV title was on the line. Also on the show was this week's TNA Spin Cycle, featuring Zema Ion, Robbie E & T, Joey Ryan, and Magnus, in a Thanksgiving special. Robbie E was thankful for Robbie T, Zema Ion was thankful for his curly hair, Joey Ryan gave thanks for So Cal Val coming over to his this year, and Magnus gave thanks for his birthday, which was on the 6th, and his many accomplishments of 2012.
Original Story:
http://wrestlingtruth.com/news/ziggle...
THE BACKYARD
BEST OF MAXIM
RELATED ARTICLES
Christian York appeared on the Shining Wizards podcast (available at ShiningWizards.com). Highlights from the interview are as follows:On how he got involved on Gut Check: "I was working in MCW (Maryland Championship Wrestling) and TNA was doing a house show in Bowie, Maryland, and the agents asked for a list of 10 guys, and I was one of the 10. I was eating breakfast with my wife...
- Below is the new trailer for Snitch starring The Rock: - Below is an interview with Dolph Ziggler talking about Curt Hennig, Shawn Michaels, his size and lots more: - WWE Hall of Famer Dusty Rhodes is now on Twitter at @WWEDustyRhodes. - Ryback wrote the following on Twitter about Seth Rollins, Dean Ambrose and Roman Reigns: "Food Chain about to grow. Pain is weakness...
Christian York had an interview with the Shining Wizards podcast in which he talked about TNA's Gut Check challenge, working in WCW and more. On how he got involved on Gut Check: "I was working in MCW (Maryland Championship Wrestling) and TNA was doing a house show in Bowie, Maryland, and the agents asked for a list of 10 guys, and I was one of the 10. I was eating breakfast...
TLC is right around the corner and tonight some of the pieces fall in to place. Coming off his victory at Survivor Series the ever cocky Dolph Ziggler thinks he's one up on John Cena, but after stealing a victory from Randy Orton, Cena made sure he had nothing to celebrate about. Sheamus still raging after being screwed out of his World title shot is given a second chance at TLC...
- Here's the video from WWE Main Event looking at the feud between Dolph Ziggler and The Miz: - CM Punk vs. Ryback plus tag team action with Sheamus and John Cena vs. Dolph Ziggler and Big Show is advertised for the December 10th RAW from Newark, New Jersey. - Former WWE star Lance Storm is coming out of retirement on February 6th, 2013 for the Pro Wrestling Syndicate promotion...
Anything can happen on a Gut Check Open Fight Night! Christian York calls out Jeff Hardy and finally makes a name for himself on TV, Eric Young is the next victim of Aces & Eights, and Austin Aries bitter of Jeff Hardy's perceived special treatment from the Hulkster, calls out Hogan, but not Hulk Hogan! Wes Brsico def. Garrett Bischoff: After Kurt Angle pleaded with management...
Embedded in the videos below are several highlights from the November 21st episode of WWE Main Event. Justin Gabriel vs. Wade Barrett Damien Sandow addresses the WWE Universe The Miz vs. Dolph Ziggler A look back at the rivalry between The Miz and Dolph Ziggler
Tonight is once again TNA Impact Wrestling Open Fight Night and we're starting the show off with Gut Check. Wes Brisco is the Gut Check contestant for the evening, and his opponent is...Garett Bischoff.
Here are tonight's confirmed TNA iMPACT! matches: * Chavo Guerrero vs. Joey Ryan * Alex Silva vs. Sam Shaw * Non-Title Match: Jeff Hardy © vs. Christian York * Taeler Hendrix vs. Tara * Turkey Suit Match: Eric Young vs. Robbie E vs. Jessie Godderz * Kazarian vs. AJ Styles ImpactWrestling.com has released the official preview Thursday's Thanksgiving edition of Impact Wrestling...
Mavericks News

Delivered to your inbox

You'll also receive Yardbarker's daily Top 10, featuring the best sports stories from around the web. Customize your newsletter to get articles on your favorite sports and teams. And the best part? It's free!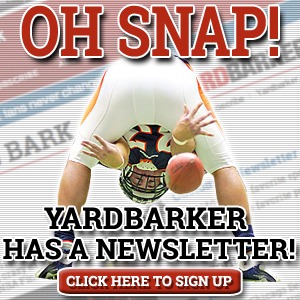 Latest Rumors
Best of Yardbarker

Today's Best Stuff

For Bloggers

Join the Yardbarker Network for more promotion, traffic, and money.

Company Info

Help

What is Yardbarker?

Yardbarker is the largest network of sports blogs and pro athlete blogs on the web. This site is the hub of the Yardbarker Network, where our editors and algorithms curate the best sports content from our network and beyond.