One week after defeating Bo Dallas, Finn Bálor takes on Dallas' Miztourage associate. Get your first month of WWE Network for FREE: http://wwenetwork.com Subscribe to WWE on YouTube: http://bit.ly/1i64OdT Visit WWE.com: http://goo.gl/akf0J4 Must-See WWE videos on YouTube: https://goo.gl/QmhBof
Raw Women's Champion Alexa Bliss, Intercontinental Champion The Miz and Curtis Axel play a gross game of Toilet Trouble on WWE Game Night. Get your first month of WWE Network for FREE: http://wwenetwork.com Subscribe to WWE on YouTube: http://bit.ly/1i64OdT Visit WWE.com: http://goo.gl/akf0J4 Must-See WWE videos on YouTube: https://goo.gl/QmhBof
Eager to join Miz, Cesaro, Sheamus & Braun Strowman as their team's fifth member against The Shield at WWE TLC, Curtis Axel confronts The Hounds of Justice. Get your first month of WWE Network for FREE: http://wwenetwork.com Subscribe to WWE on YouTube: http://bit.ly/1i64OdT Visit WWE.com: http://goo.gl/akf0J4 Must-See WWE videos on YouTube: https://goo.gl/QmhBof
Curtis Axel tries to cut Team Red's resident redwood down to size. #RAW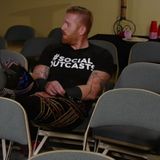 Tuesday night's WWE Draft saw the current WWE Champion go to SmackDown and NXT phenom Finn Balor selected by Raw, but one name never came off the draft board. Heath Slater, a member of the Social Outcasts who suffered a nasty injury in a match just a few days ago, went undrafted by either show and was left sitting alone in the green room waiting for his name to be called. Slater...
Heath Slater and the Social Outcasts look to become stars after the One-Man Rock Band took a cake to the face courtesy of The New Day, as seen on Facebook Live during Raw.
The Big Guy takes on his former tag team partner as the rest of The Social Outcasts look on.
We don't have to repeat what he said. Anyone capable of typing words into a search engine can find the disappointing words from Hulk Hogan. The same man who urged kids to say their prayers and eat their vitamins mouthed some pretty despicable words that went viral within the last 24 hours. WWE has been one step ahead of the story, already cutting ties with Hogan. He will no longer...
MORE STORIES >>
WWE News

Delivered to your inbox

You'll also receive Yardbarker's daily Top 10, featuring the best sports stories from around the web. Customize your newsletter to get articles on your favorite sports and teams. And the best part? It's free!