Dolph Ziggler is the definition of a good talent not utilized to his full potential. Besides his early career success, winning the World Heavyweight Championship on SmackDown. Dolph hasn't really tasted the highs he has had in the past. His current gimmick or lack thereof is very frustrating to watch. Dolph clearly has the mic skills to pull off good promos and the in-ring talent...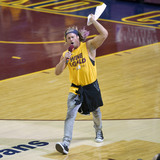 Over the past few months, Dolph Ziggler has been one of the many Smackdown wrestlers who had seemingly disappeared from television. Ziggler had been a major part of Smackdown over the past year due to a feud with The Miz and a run as Intercontinental Champion. He was even the person selected to wrestle Shinsuke Nakamura in his Smackdown debut. Despite Ziggler's reputation of being...
Dolph Ziggler reveals how he feels about his days in The Spirit Squad and how he's changed over his career in the WWE digital series Then & Now. Get your first month of WWE Network for FREE: http://wwenetwork.com Subscribe to WWE on YouTube: http://bit.ly/1i64OdT Visit WWE.com: http://goo.gl/akf0J4 Must-See WWE videos on YouTube: https://goo.gl/QmhBof
Brooklyn heats up before WWE SummerSlam while The Showoff gives his summer tips and answers fan questions in a LIVE Q&A sponsored by Cricket Wireless. Learn more about Cricket: http://mycrk.it/CricketDolph.
Dolph Ziggler has been on the WWE roster longer than a majority of the other wrestlers. Ziggler's first appearance on WWE was in 2005 as a caddy for Kerwin White, a white face Chavo Guerrero. From there Ziggler's WWE career would be full of ups and downs. From being a male cheerleader to being the world champion, Ziggler has done it all. Over the past ten plus years, Ziggler has...
If WWE World Heavyweight Champion Edge uses the spear, he loses his title to Dolph Ziggler: Courtesy of the award-winning WWE Network.
Fresh off his brutal chair assault on SmackDown LIVE, The Showoff looks to open a new door by entering the Royal Rumble Match, courtesy of the award-winning WWE Network. #TalkingSmack
MORE STORIES >>
WWE News

Delivered to your inbox

You'll also receive Yardbarker's daily Top 10, featuring the best sports stories from around the web. Customize your newsletter to get articles on your favorite sports and teams. And the best part? It's free!