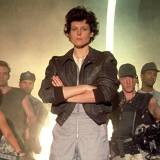 When it comes to science fiction movies and television shows, the genre is almost entirely a boys' club. That's especially true when it comes to being behind the camera (I dare you to name me a genre female director without first looking it up). But women have always played a prominent role in the genre, portraying heroines and villains in futuristic dystopian worlds, in galaxies...
There are two kinds of people in this world. There are those who adore Stan Lee, former Editor in Chief of Marvel Comics. And there are those who don't understand what all the fuss is about. Tampa Bay Buccaneers defensive tackle is clearly a member of the former.McCoy posted a picture of himself sitting next to Lee on a couch Friday, and the big man was clearly excited about it....
Comic Book Guy says: "Worst. Cross. Marketing. Idea. Ever." But he's always such a naysayer so forget about him. Give heed, True Believers: the National Hockey League and SLG Entertainment LLC, led by Spider-Man, Iron Man and a multitude of other Marvel superheroes, have teamed up to form Guardian Media Entertainment LLC, a joint business [...]
MORE STORIES >>
WWE News

Delivered to your inbox

You'll also receive Yardbarker's daily Top 10, featuring the best sports stories from around the web. Customize your newsletter to get articles on your favorite sports and teams. And the best part? It's free!