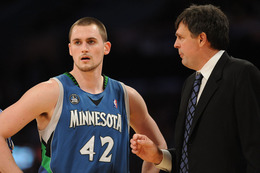 The Minnesota Timberwolves got their franchise player back ahead of schedule, and he certainly didn't disappoint. His team did once again. Minnesota looks for a similar performance from Kevin Love but a different result Friday, trying to avoid a fourth consecutive loss as it travels to face the Portland Trail Blazers. Love was a surprise activation prior to Wednesday's game against Denver, though his return didn't immediately change the Timberwolves' recent fortune as they lost 101-94. The two-time All-Star came back much earlier than expected - he was supposed to miss six to eight weeks when he broke his right hand Oct. 18 - and gave Minnesota (5-5) a boost with 34 points and 14 rebounds. "I didn't want to make a big deal about it," Love said. "I told my teammates, and they didn't really believe me. Once they saw a jersey in my locker, they believed it was true." After missing his team's first nine games, Love wasn't at full strength though he started strong with 16 points on 7-for-12 shooting in the first quarter. He missed six free throws, shot 2 of 9 from 3-point range and often was seen flexing his injured hand. "I haven't even practiced, so I just kind of threw myself into the game hoping something good was going to happen," Love said. "I missed some free throws, missed some 3s that I don't usually miss." Still, his scoring and rebounding totals were more than any teammate tallied in either category all season as the Timberwolves lost their third straight - all at home - following a 5-2 start. J.J. Barea and Nikola Pekovic both returned from more minor injuries and were Love's only teammates to score in double figures with 12 and 10, respectively. Pekovic (14.6 per game) and Andrei Kirilenko (13.4) have been the leading scorers for Minnesota, which is still missing Ricky Rubio, Brandon Roy and Chase Budinger due to knee problems. "You've got to be able to go to other players rather than just him (Love)," coach Rick Adelman said. Portland (5-6) had won three straight before committing a season-high 22 turnovers in a 114-87 loss at Phoenix on Wednesday. The Trail Blazers let the Suns hit 59.7 percent from the field and are allowing a league-worst 50.1 for the season. That's far from the only area in which they've had trouble. Their bench is the worst in the NBA at 12.8 points per game, and no team in the last 25 years has averaged fewer than 18.0 in a season. Portland has been outscored in the paint in all but one game, including 54-24 by the Suns. "That is a strength of theirs and not necessarily our strength so I did probably anticipate a differential but not 30," coach Terry Stotts said. "It's not all effort. It's being mentally engaged." The Trail Blazers had won 16 in a row in this series before losing the first two meetings last season. They did win the most recent matchup, 119-106 on April 1 as LaMarcus Aldridge and Nicolas Batum combined for 50 points. That duo was held to a total of 25 in Wednesday's loss. Love averaged 32.3 points in last season's three meetings. His 42 points in Portland on March 3 helped give Minnesota its only win in its last 13 trips there.

Read the rest of this story...
MORE FROM YARDBARKER
All Sports News

Delivered to your inbox

You'll also receive Yardbarker's daily Top 10, featuring the best sports stories from around the web. Customize your newsletter to get articles on your favorite sports and teams. And the best part? It's free!