Sports & Politics Intersect: Jerry putting Roger out of commission?
Front Five: The top stories that shaped both sports & politics this week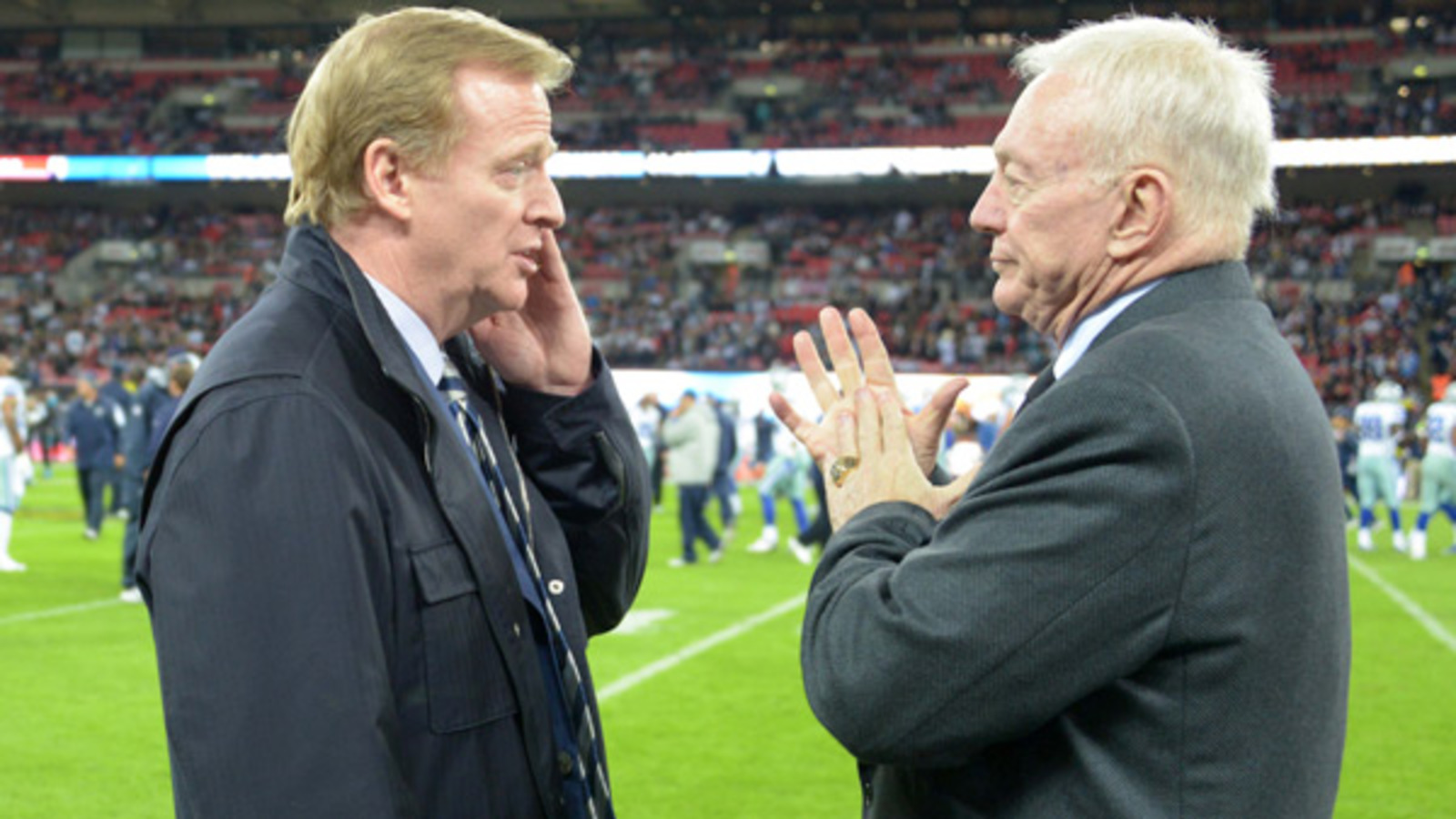 Kirby Lee/USA Today Images
"I've been dealing with this commissioner for almost 28 years, as an employee of the NFL. Zeke's been involved here a year, a year-and-a-half. Those are really separate issues as to Zeke. The policy that we have that has impacted Zeke is more of my issue with the commissioner, more so than Zeke's particular circumstance." - Jerry Jones, Dallas Cowboys owner
Jerry Jones owner appears to be at war with Roger Goodell. Over the course of this week, it's been reported that the Dallas Cowboys owner is doing everything he can to prevent the NFL commissioner from getting a lucrative contract extension, going so far as to threaten the league and his fellow owners with a lawsuit. 
Jones' beef with Goodell likely stems from at least two issues: the ongoing protests against police brutality and racial inequality by multiple players during the national anthem, and the pending six game suspension of Cowboys running back Ezekiel Elliott for alleged domestic violence. Jones has been vehemently opposed to the protests, going so far as to threatening to bench any player who kneeled. Goodell, for his part, has served as a mediator between players and owners in hopes that both sides can see each other's points of view so that the movement can move from demonstrations on the field to action outside of it (Goodell even co-authored a letter with Seattle Seahawks wide receiver Doug Baldwin to legislators in favor of sentencing reform).
Jones has downplayed the Zeke Elliot motive, saying in a radio interview that it was only part of a larger problem with Goodell.
"This is simply about making sure that all clubs have input into not only the commissioner [and] his extension, but also in future years, his decision," Jones said in a radio interview.
"We all see how impactful a commissioner's decisions can be in many areas. We've given him a lot of power. I think we need the checks and balances of ownership having to actually be in a position to not just suggest but approve of his decisions. So that's what this is about."
It's unclear if Jones will actually follow through on his threat – he's done it in the past – but the league is suffering from the conflict nonetheless. At the very least, the ongoing discord is making it harder for the Tennessee Titans to be sold. Should he actually do it though, Sports Illustrated has a great breakdown on what that lawsuit could look like. 
- Fidel Martinez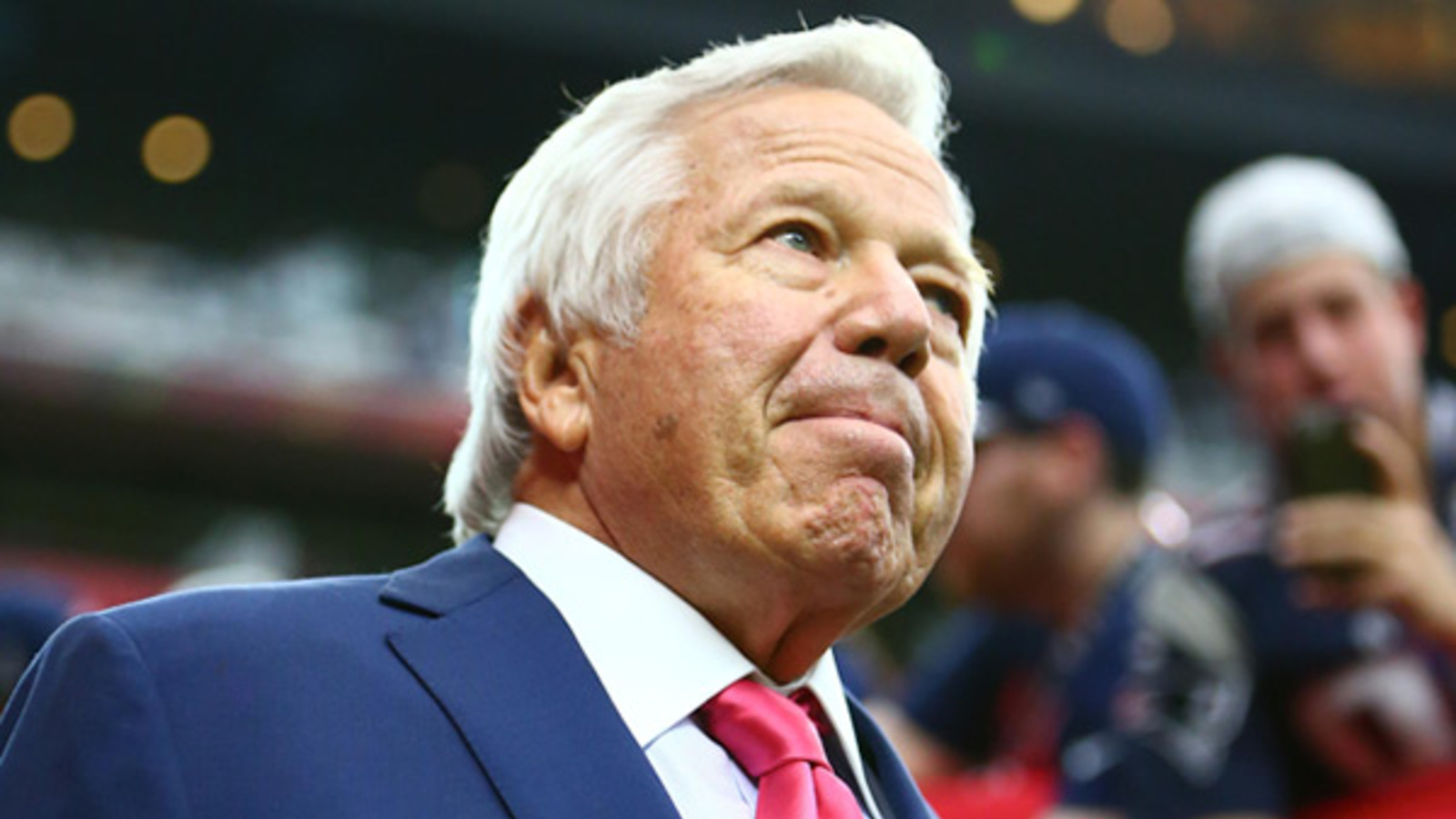 Mark J. Rebilas/USA Today Images
"These entities are not organized or maintained for any reason other than to facilitate doing business in any particular location and decisions are not income tax motivated." - Spokesperson for Robert Kraft, owner of the New England Patriots 
This week, the International Consortium of Investigative Journalists, in coordination with various media outlets worldwide, published the Paradise Papers, a massive leak of more than 13.4 million documents belonging to Appleby, a law firm that helps its clients set up offshore accounts and companies so as to shield their money from taxation as much as possible. The data dump, which Appleby says was an illegal hack, has revealed that several prominent figures in the sports world were among Appleby's clients. 
Named in the initial round of revelations were Robert Kraft and Stephen Pagliuca, New England Patriots owner and Boston Celtics co-owner, respectively. A spokesperson for Kraft denied any wrongdoing to the Boston Globe, while Pagliuca has yet to issue a statement. Also implicated was Formula One driver Lewis Hamilton, who among other things avoided paying taxes on a private jet. 
Given the amount of documents journalists are sifting through, don't be surprised if more sports figures are revealed to be Appleby clients. 
The Paradise Papers publication isn't the first time the ICIJ has revealed the great lengths wealthy individuals go to hide their money. The organization was also behind last year's Panama Papers, which like the this current data dump, also exposed athletes who engaged in this behavior. The most prominent of them? Lionel Messi, Barcelona striker and the arguably the greatest soccer player ever.
- Fidel Martinez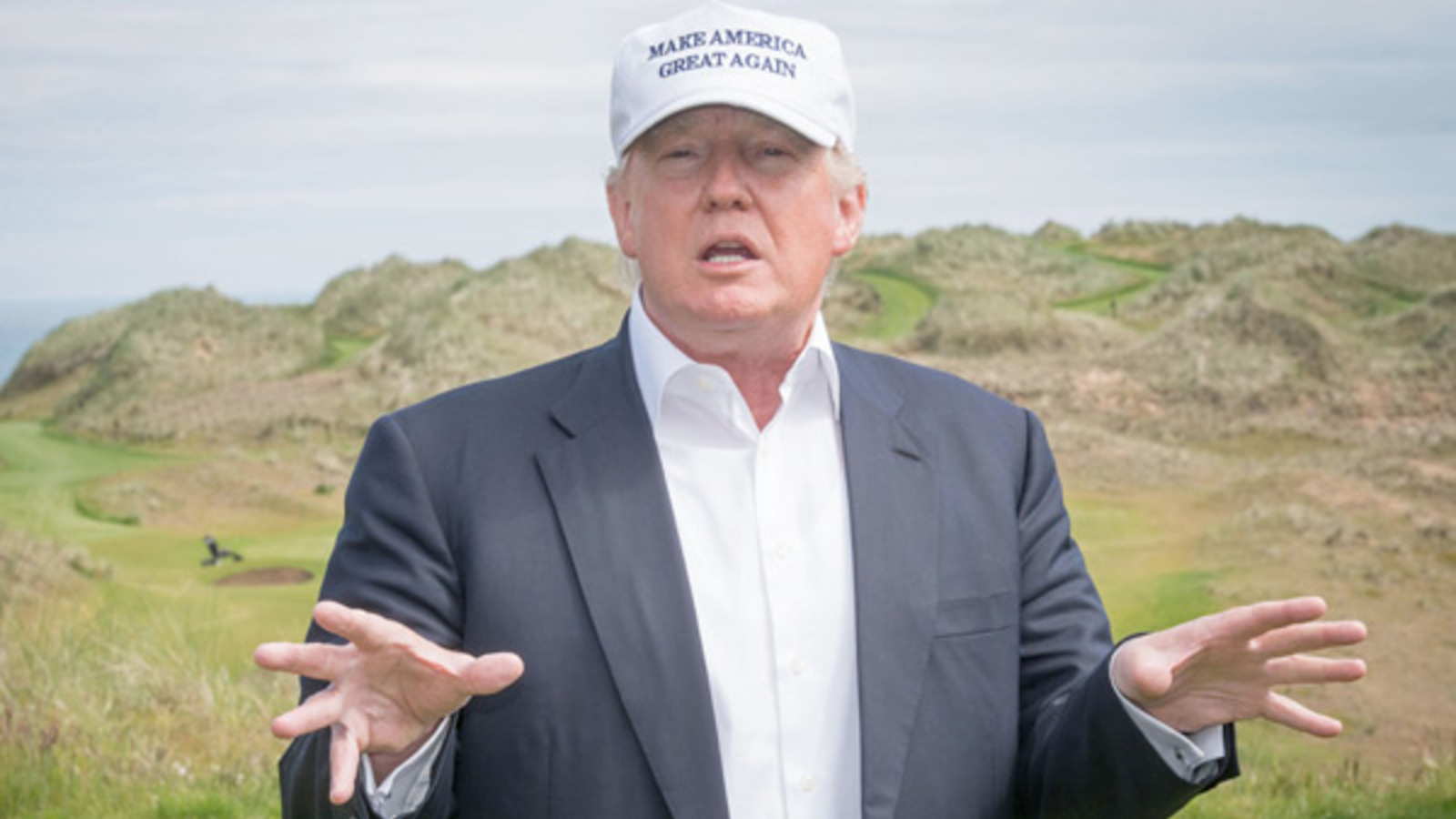 Michal Wachucik/Getty Images
"President Trump's comments were disappointing, but what we've come to expect from his administration." - Jordan Libowitz, communications director of CREW (Citizens for Responsibility and Ethics in Washington) 
President Donald J. Trump's twelve-day trip to Asia has reached its halfway point, and the commander-in-chief has predictably made mention of his luxury country clubs in what are ostensibly political speeches. 
The big head turner came on Tuesday, when Trump congratulated the South Korean National Assembly for representing a populace that has produced a significant number of champion golfers. He specifically cited Park Sung-hyun, who won the Women's U.S. Open at the Trump National Golf Club in Bedminster, New Jersey. "Congratulations," he enthused. "That's something. That is really something." 
Whether these plugs represent a violation of the U.S. Constitution is still up for debate, but according to Libowitz, it's still concerning. "The reason presidents divest and place their assets in a blind trust is so that Americans would never question whether they're working for the American people or for their own personal profits," says Libowitz. 
In other links news related to the White House, Golf Digest earned a bevy of clicks this week for its examination of Trump's frequent golf trips (as many as seventy-three) during his time in office. In their estimation, the president plays approximately four times as much as the average golfer, which is much more often than he'd promised to play before being elected.
Meanwhile, Trump's golf course in Aberdeenshire, Scotland is under fire for having destroyed a moving dunes system protected by the Scottish National Heritage agency. This reportedly breaks a promise made by Trump in 2008 when construction on the resort was given a go-ahead. A final decision on the Aberdeenshire dunes' status will be made in December. Scottish conservationists expect it to be delisted.
- Jeremy Smith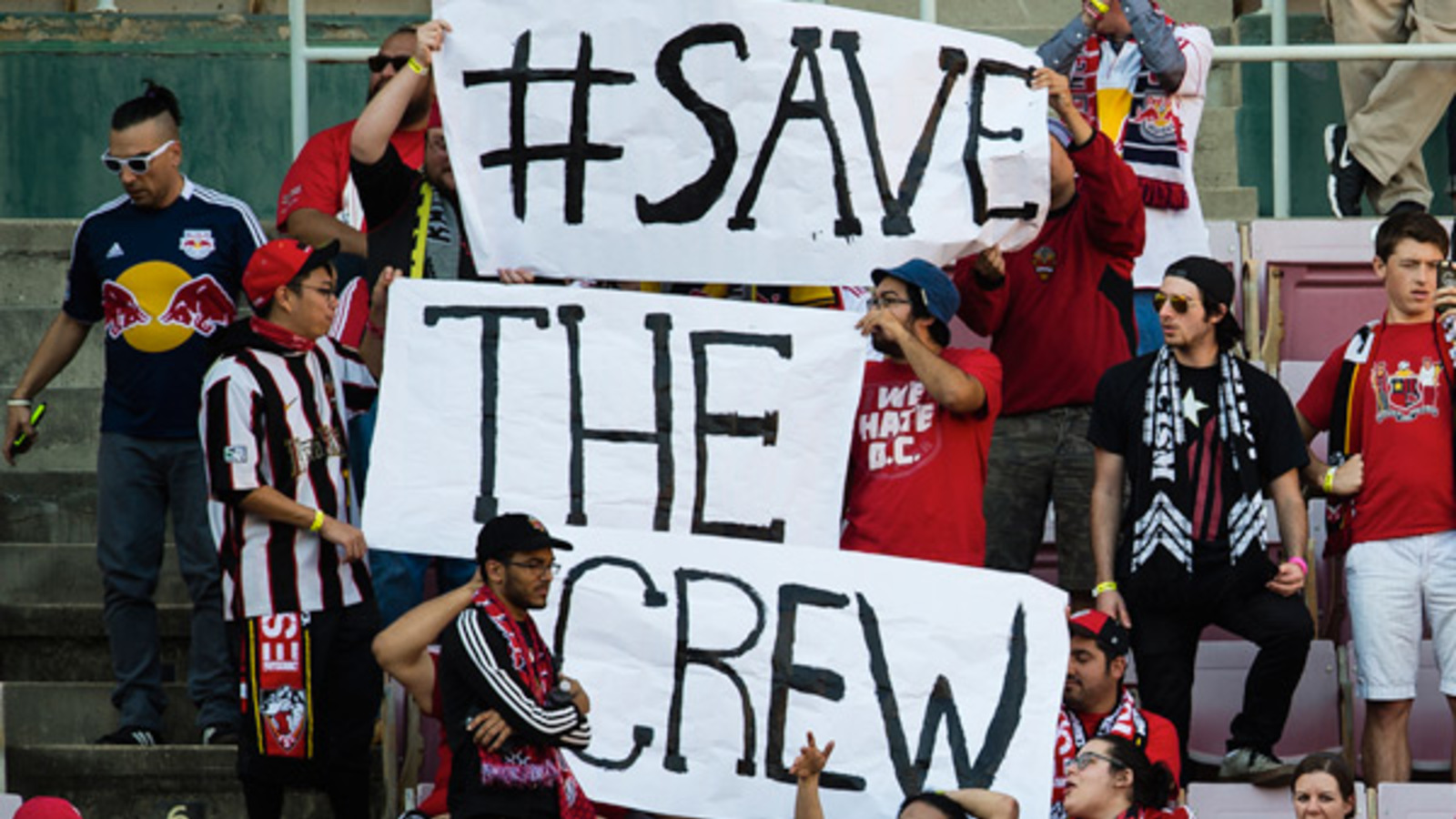 Patrick McDermott/Getty Images
"There are twelve other cities in the country competing to get an expansion team and get exactly what we're doing offered here tonight, and not have to go through the expansion process." - Richard Suttle, attorney for Precourt Sports Ventures 
The #SaveTheCrew contingent suffered another setback Thursday night, as the Austin, Texas city council approved a resolution allowing the city to "identify" sites that could house a Major League Soccer team. 
Richard Suttle, a lawyer for Precourt Sports Ventures, which owns the Columbus Crew, was present at the meeting to ask the council to add language that would not lock Austin into the twelve-city competition for four soon-to-be-awarded MLS expansion franchises. The resolution was amended in Precourt's favor, leaving open the possibility of the Crew bolting to Austin in 2019. 
Precourt's desire to move the team stems from Columbus's refusal to fund construction for a new stadium, as the owner has deemed eighteen-year-old MAPFRE Stadium inadequate. Presently, the Austin city council has stipulated that no city money will be spent on a new stadium for the Crew. 
This political victory comes a week after the Columbus-based Wendy's yanked its Crew sponsorship for the 2018 season, which strengthened Precourt's claim that local businesses have failed to support the team. The results of Austin's site exploration are due for council consideration on December 7.
Not everything is a battle on the MLS expansion front. The Metro Council in Nashville approved a $275 million stadium proposal on Tuesday, with the potential venue being funded with a combination of public and private funds. 
- Jeremy Smith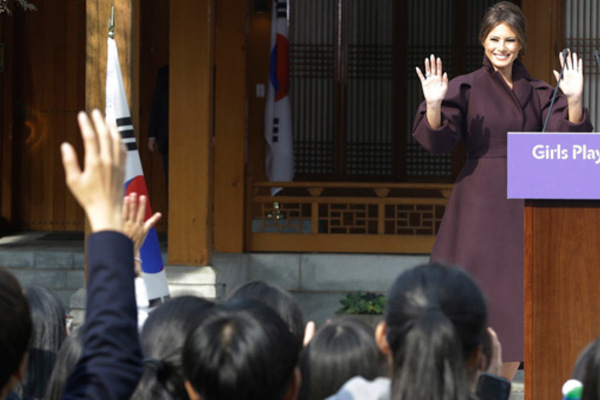 Ahn Young-joon/Getty Images
"As we look forward to the Olympics, I call on all of us to encourage even more girls to play sports." - First Lady Melania Trump 
As part of the Trump's 12-day Asian tour, First Lady Melania Trump attended an event at the home of the U.S. ambassador in Seoul, South Korea, to promote the Girls Play 2! campaign. 
"Let's give boys and girls equal access to sports facilities, equipment and to coaches," she said in a speech. "Let's remind the world that girls play, too." 
The visit was also an attempt to promote the upcoming 2018 Winter Olympics in PyeongChang, an event that could prove to be disastrous for organizers if they continue to struggle to sell tickets for it. Arguably the biggest reason why people aren't buying tickets is the rising geopolitical tensions between North Korea and the United States – a big item on Trump's agenda for his trip. 
Event organizers and the International Olympic Committees are trying desperately to assuage people's fears by convincing North Korea to participate, going so far as to make special concessions like inviting athletes to participate in events they didn't qualify for. The thinking is that a participatory Kim Jong-Un will make people feel more comfortable flying to South Korea. It's a tactic that might actually work given the North Korean dictator's love of sports, but it needs to happen sooner rather than later. The games are less than 100 days away.
- Fidel Martinez 
For the record books: This week in sports politics history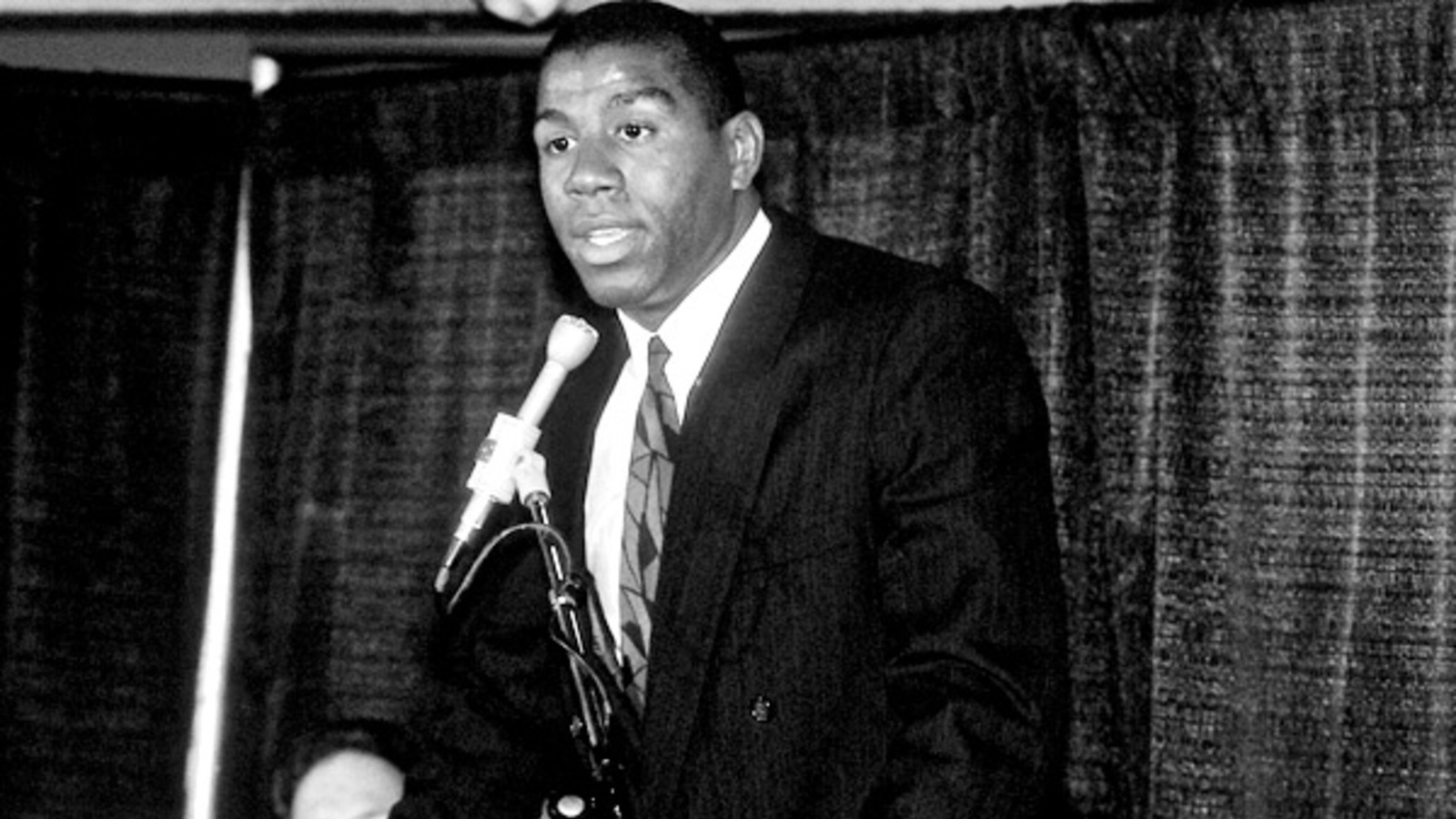 Jon Soohoo/Getty Images
"Whatever the reason, how he got it, none of that mattered. We thought he was going to die. We closed ranks with Magic." - NBA Commissioner David Stern on Earvin "Magic" Johnson contracting the HIV virus 
Contracting AIDS in the early-1990s was considered a death sentence. There was no effective long-term treatment for the disease. People were dying at a rapidly increasing rate with each passing year, and there seemed to be no end, no hope in sight. 
When Magic Johnson announced on November 7, 1991 that he was retiring from professional basketball after testing positive for the HIV virus, the whole world fell into a state of mourning. Not Magic. No one played the game with more joy or heart than the 6'9" point guard from Lansing, Michigan. Those no-look passes, the baby sky-hook, that blindingly bright smile… it had all been taken from us in one press conference. 
This fatalistic attitude didn't sit well with Magic or Commissioner Stern. Magic was HIV-positive, but he wasn't sick. He'd only retired to preemptively assuage the concerns of his colleagues, who had no concrete idea how the virus was spread. So when fans voted for Magic to start in that season's All-Star Game, he asked Stern if he could honor their request and play. 
Stern said "yes," and, to put the players' fears to rest, he dispatched doctors to every team in the league to educate them on HIV transmission. On February 9, 1992, the league welcomed Magic back to the court, and fans watched the game through tears as the Lakers great turned in a game-winning MVP performance that defied his death sentence. Twenty-six years later, Magic is still with us, and remains one of the world's leading voices on HIV and AIDS awareness. 
- Jeremy Smith 
All Sports News

Delivered to your inbox

You'll also receive Yardbarker's daily Top 10, featuring the best sports stories from around the web. Customize your newsletter to get articles on your favorite sports and teams. And the best part? It's free!
PLAYERS:
Roger Goodell
,
Robert Kraft
,
Lewis Hamilton
,
Lionel Messi
,
Stephen Ross
,
Steve Ballmer
,
Vin Scully
,
Robbie Rogers
,
Glen Taylor
,
Mark Cuban
,
Aaron Hernandez
,
George Weah
,
Aly Raisman
,
David Stern
,
Magic Johnson
TEAMS:
New England Patriots
,
Los Angeles Clippers
,
Minnesota Timberwolves
,
Dallas Mavericks
,
Dallas Cowboys
,
Tennessee Titans
,
Boston Celtics
,
Columbus Crew SC
,
Miami Dolphins
,
Houston Astros
,
Texas Rangers
,
Oakland Raiders
,
Golden State Warriors
,
Tampa Bay Rays
MORE FROM YARDBARKER
All Sports News

Delivered to your inbox

You'll also receive Yardbarker's daily Top 10, featuring the best sports stories from around the web. Customize your newsletter to get articles on your favorite sports and teams. And the best part? It's free!