For the first time in 50 years, all 30 teams will be in action on Opening Day. To help spread the word, Kingsford Charcoal...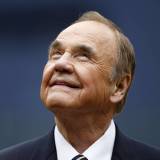 Famed sportscaster Dick Enberg died at his home on Thursday at the age of 82, according to a report.San Diego Union-Tribune columnist Bryce Miller shared the news on Twitter and says Enberg's wife thinks he died of a heart attack. Enberg's broadcasting career spanned around 60 years. He gained notoriety in the Los Angeles area calling UCLA basketball, Los Angeles Rams football, and...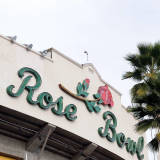 While Pasadena's Rose Bowl has been around since 1922, Wednesday was a first in the great venue's history. For the first time in its history, the Rose Bowl unveiled a commemorative statue. Fittingly, the statue is of Jackie Robinson, who went to high school in Pasadena and was a three-sport athlete at UCLA.Even better, the ceremony was MC'd by longtime (and now retired) announcer...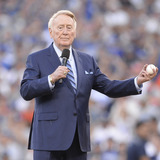 Happy 90th birthday to one of the greatest broadcasters ever. Vin Scully served as the iconic voice of sports spanning multiple generations. Sons, fathers and grandfathers have all sat around and enjoyed the smooth tones and youthful exuberance of Scully for his 67-year career. From perfect games to incredible firsts, the red-headed kid from the Bronx had a knack for being part of...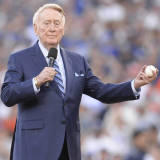 Count Vin Scully among those who are boycotting NFL games over the national anthem protests.Speaking at "An Evening with Vin Scully" in Pasadena, Calif. on Saturday night, the longtime Dodgers broadcaster shred with the audience why he no longer watches NFL games. The 89-year-old retired broadcaster used to call NFL games for CBS and even was on the call for the legendary Dwight...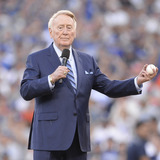 Dodgers fans no longer have Vin Scully serenading them with his soothing voice and amazing calls, but one particular man is essentially bringing the play-by-play legend with him everywhere he goes.A fan was spotted at Dodger Stadium during Game 7 of the World Series, and on his forearm was a prominent tattoo of Scully.Check out the attention to detail on this beauty. That silhouette...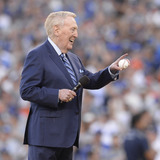 Los Angeles Dodgers fans wanted long-time announcer Vin Scully to return to the booth for the World Series after he retired last year. That never came to fruition.But Scully was on hand for Game 2 against the Houston Astros at Dodger Stadium on Wednesday. In fact, he was there to throw the first pitch.And it was a thing of beauty to hear his voice once more. "It's time for Dodger...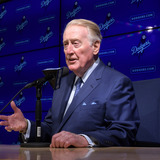 Famed broadcaster Vin Scully returned to Dodger Stadium for Game 1 of the World Series on Tuesday.It had been 29 years since the Dodgers last played in the World Series, so it wasn't a surprise that Scully was there, even with him saying that he didn't want to call the game.What also wasn't surprising was the warm reception that Scully received.  And it started before Scully even...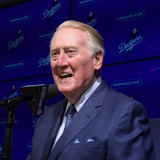 As the Los Angeles Dodgers march toward the conclusion of a historic season, there has been some quiet talk of bringing legendary broadcaster Vin Scully back for a guest appearance so he can at least have a small role in their story. Scully's successor, Joe Davis, has been particularly enthusiastic about the idea.The Dodgers may well offer, but Scully himself has no intention of...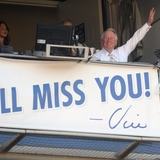 While quoting Dr. Seuss, Vin Scully delivered his final call ever as a broadcaster. Sunday marked the final game Scully would call in his legendary career as he has decided to retire at the age of 88. The Dodgers lost the game to the Giants 7-1, and as the 9th inning was coming to a close, Scully quoted Dr. Seuss and urged fans not to cry because it's over, but to smile because...
MORE STORIES >>
MLB News

Delivered to your inbox

You'll also receive Yardbarker's daily Top 10, featuring the best sports stories from around the web. Customize your newsletter to get articles on your favorite sports and teams. And the best part? It's free!