Paris Saint-Germain's Timothy Weah has received his first call-up to the United States national team, as caretaker manager Dave Sarachan continues his youth movement by naming a 22-player squad for the March 27 friendly against Paraguay. Weah is the son of one-time World Player of the Year and current president of Liberia George Weah. After scoring a hat trick against Paraguay at...
The African football legend is optimistic that the Super Eagles can go all the way to win the coveted trophy provided they put their house in order
PSG breezed by relegation-threatened Troyes in a 2-0 win, punctuated by U.S. youth international Timothy Weah coming on for his first-team debut. After Tim Weah's impressive display at the U-17 World Cup, PSG correspondent Jonathan Johnson evaluates the American's promising future with the French giants. Paris Saint-Germain handed a debut to U.S youth international Timothy...
The France international joined the African legends for a vital discussion on development in Africa through sports
PSG head coach Unai Emery believes beating Strasbourg at home was integral following his side's defeat to Real Madrid in the Champions League. Neymar and Edinson Cavani led the charge as PSG shook off their midweek defeat at Real Madrid with a 5-2 win over Strasbourg. Shaka Hislop feels everyone at PSG is bending over backward to appease Neymar and agrees with Walter...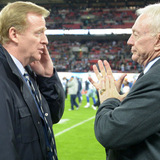 Front Five: The top stories that shaped both sports & politics this week "I've been dealing with this commissioner for almost 28 years, as an employee of the NFL. Zeke's been involved here a year, a year-and-a-half. Those are really separate issues as to Zeke. The policy that we have that has impacted Zeke is more of my issue with the commissioner, more so than Zeke's particular...
From FIFA.com: The youngest son of African footballing legend George Weah, USA U-17 forward Tim Weah is seeking to make history with the Stars and Stripes at the FIFA U-17 World Cup in India this October.The post Weah and USA seeking glory in India appeared first on TheSoccerDaily.com.
When 16-year-old Justin Kluivert scored a wonderful solo goal for the Ajax U-17s a few weeks back, we chewed over the father-son duos with the most potential to succeed in world football.From Cesare Maldini to Cristiano Ronaldo Jr., a handful of pairings subsist worldwide, but it's perhaps the hidden gem in the French capital that deserves more recognition.Timothy Weah, son of 1995...
MORE STORIES >>
Soccer News

Delivered to your inbox

You'll also receive Yardbarker's daily Top 10, featuring the best sports stories from around the web. Customize your newsletter to get articles on your favorite sports and teams. And the best part? It's free!