We've updated our Privacy Policy.
By continuing to use this site, you are agreeing to the new Privacy Policy.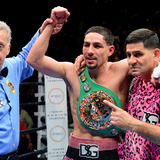 It's not a Danny Garcia fight unless he scrambles up "unimpressive" with "victory." And Saturday on Fox, Garcia spent the first half of his bout with Robert Guerrero being unimpressive, only to take over thereafter and remind folk why we once viewed the welterweight as a potential top 10 pound-for-pound fighter. He came away with his now-customary decision victory, although this...
Boxing is picking up in 2016 where it left off in 2015 — with fights of questionable quality and possible hidden gems. The "biggest" fight of the week, Danny Garcia vs Robert Guerrero on "Premier Boxing Champions" on Fox, definitely falls into the former category, but there's a few of the latter to read on about too. Danny Garcia vs Robert Guerrero, Saturday, Fox/Fox Deportes, Los...
Robert "The Ghost" Guerrero and wife Casey joined Arkansas Tech and BeTheMatch.org for an incredible bone marrow drive yesterday on the University's campus. The event kicked off on Tuesday night at 9:00 pm and continued for a 24-hour period, as the group attempted to break the world record for bone marrow registries. In the first hour, Arkansas Tech, along with their student body...
LIKE WHAT YOU SEE?
GET THE DAILY NEWSLETTER:
Thurman vs. Guerrero Fight Preview: NBC is bringing boxing action back to regular broadcast television in style, and a prime example of their high quality matchmaking is March 7th's Las Vegas fight card, headlined by Keith Thurman vs. Robert Guerrero. The bout pits the division's #6 boxer, Thurman, against its #9, so the winner will leave the bottom half of the Top 10 for the top...
LOS ANGELES, CA- Robert Guerrero lost his first legal battle to annul his contract with Golden Boy Promotions, as the California State Athletic Commission denied his request for an arbitration hearing. Citing the Muhammad Ali Act (2000) in his suit, Guerrero argued that the contract he signed last year in order to obtain a 2013 pay-per-view fight with Floyd Mayweather was unlawful...
LOS ANGELES, CA - Robert Guerrero made headlines yesterday when he announced he would be seeking a California arbitrator to end his current agreement with promoter Golden Boy Promotions. His lawyer states the promotional violated the Ali act. The Muhammad Ali Act, (an amended version of the Professional Boxing Safety Act of 1996), was enacted in May 26, 2000, after former champion...
The Floyd Mayweather vs. Robert Guerrero fight has came and went, of course. Mayweather cruised to a typical decision victory. But here, you'll get a special behind the scenes look at fight night, and the aftermath of the battle in the ring, with a video preview of the All Access Mayweather vs. Guerrero epilogue show. Take a look. Go behind the scenes of fight night at the MGM Grand...
Floyd Mayweather made his Showtime deal debut a successful one, taking a clear unanimous decision over Robert Guerrero, who got off to a hot start but succumbed to Mayweather's superior skills Saturday. The consensus top boxer in the world fought like it after Guerrero had some early success, and we'll find out later whether his past pay-per-view golden touch kissed this promotion...
Floyd Mayweather Jr. cruised to victory over Robert Guerrero on Saturday night at the MGM in Las Vegas, winning the fight by unanimous decision. All three judges had it 117-111 in favor of Mayweather, who is now 44-0. Mayweather said he was looking for a knockout but a right hand injury sustained during the fight prevented him from doing so. "I feel bad that I didn't the knockout...
This Floyd Mayweather-Robert Guerrero undercard is on the upper end of pay-per-view undercards, so keep coming back here Saturday for continually updated results right after each bout ends. We've got action stars Abner Mares, Leo Santa Cruz and Gabriel Rosado in action. For a full preview, click here. Mayweather-Guerrero fight time is probably closer to midnight, but if you're coming...
MORE STORIES >>
Boxing News

Delivered to your inbox

You'll also receive Yardbarker's daily Top 10, featuring the best sports stories from around the web. Customize your newsletter to get articles on your favorite sports and teams. And the best part? It's free!