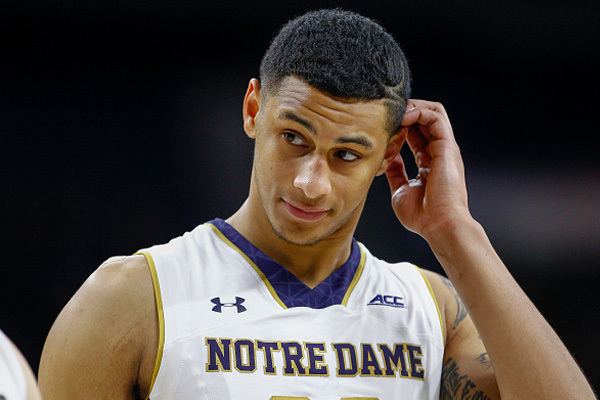 Without forward Zach Auguste and the rest of their top six, Notre Dame would be lost on the court.
Michael Hickey/Getty Images
By Joe Diglio
Let's face it: college basketball polls are pretty meaningless. They're essentially hype machines, having no bearing on the season. So to poke fun at college basketball's incessant need to rank things, we'll re-rank the AP top 25 according to other criteria.
When preparing for a particular opponent, any strategies you develop basically fall into one of two categories: maximizing your strengths or minimizing your weaknesses. Today I'd like to focus on the latter of those two. Every team has its flaws, some bigger than others. With the teams discussed here — this week's AP top 25 teams — the weaknesses are relatively small compared to those of other teams across the country. So for some of these it may seem like I'm grasping at straws because these teams are just that good, but don't be surprised if they lose a game or two down the road for the reasons mentioned below.
Teams are grouped by the type of weakness they have and listed in order of how troubling their weakness is from least problematic to most:
It's All in Your Head
25. Kentucky
24. Villanova
23. Oklahoma
These three teams have the least worrisome problems because they're essentially mental issues that they can overcome with some focus to go along with their elite talent. Kentucky just needs to avoid sleepwalking through the rest of the regular season. Oklahoma needs to start games better; the Sooners' opponents have outscored them by 41 points in the first 10 minutes of their four conference losses. And Villanova needs to maintain its flow throughout games. The Wildcats' two losses featured 61 and 68 free throws, respectively. That's a lot of starting and stopping, which likely threw them out of their rhythm, allowing their less talented opponents to stay in the game.
Toughen Up
22. Gonzaga
21. Wichita State
20. Miami
VCU is the only other team here besides Miami that has a negative rebounding margin, and at least the Rams make up for it with turnovers. The Hurricanes have to be stronger on the glass going forward, especially when they face teams like Louisville and North Carolina.
Gonzaga and Wichita State are both extremely talented, but they're also both susceptible against bigger teams. The Bulldogs certainly have height, but that doesn't mean they have strength. They competed well against a physical Arizona team, but Kevin Pangos, Byron Wesley, Domantas Sabonis and Kyle Dranginis all came within one foul of disqualification.
The Shockers on the other hand don't have nearly as much size, and outside of Tekele Cotton, they don't have much athleticism either. Obviously it'd be interesting to see any top team take on Kentucky or Virginia just to see if they could win, but I'd be especially interested to see Gonzaga and Wichita State play either of them simply for the physical matchup problems they'd pose.
Please, Stop Scoring
19. West Virginia
18. Maryland
17. Georgetown
16. Duke
15. Iowa State
It may seem odd to see West Virginia here in a section on bad defense, because the Mountaineers make a living off of turning their aggressive defense into points at the other end. You might blame them for their excessive fouling, but that's a byproduct of their aggression; you can live with that considering how many turnovers they force. No, the problem I have with the Mountaineers is that when they don't force turnovers, they allow buckets far too easily. It's not like they lack size on the interior either; sure they often play a three-guard lineup, but they also rotate four guys who are 6'9". That being said, the 49.6 percent shooting they allow on two-pointers has to improve.
The Hoyas, however, do have a problem with fouling. They allow their opponents to shoot 22.6 free throws per game, and it doesn't help that they're knocking down 74.7 percent of those. Georgetown has lost five games by a combined 34 points. In those contests, their opponents have outscored them from the line by 40.
Maryland has some good defenders of its own in Jake Layman and Dez Wells, and even freshman Melo Trimble has proven his worth on that end of the floor with a team-high 32 steals. But if you look at the Terrapins' losses and even some of their close wins, they tend to allow opposing wing players to go off against them. I'm looking at you, Jared Nickens.
Duke and Iowa State are pretty familiar faces here. The Cyclones have a laissez-faire approach to defense, one the Blue Devils have adopted for stretches throughout the season. A zone defense of all things may have been Mike Krzyzewski's quick fix, but Fred Hoiberg's guys are just going to have to keep shooting the rock if they want to win. They were up 62–44 on Texas last night with ten minutes to go before allowing 42 points(!) over the final quarter of the contest, only to hang on for a three-point win.
We Have the Ball, Now What do We do with It?
14. Virginia
13. Kansas
12. Northern Iowa
11. Texas
10. Utah
There are a variety of issues here, but the common thread is that they're all on the offensive end. For Texas, it's turnovers. Isaiah Taylor is solid and Javan Felix has a reputation of being one of the better bench guards in the country, but they aren't particularly adept at holding on to the ball. If you combined the two of them, Javiah Fellor would average 3.1 turnovers per 40 minutes. That's not horrible, but it's not great either, especially for a team that has guys like Jonathan Holmes, Cameron Ridley, and Demarcus Holland who together have already committed 108 turnovers.
Northern Iowa's weakness comes on the offensive glass, where the Panthers grab only 28.2 percent of their misses. Never was this more damaging than in their disappointing game at Evansville, when the Panthers managed only three rebounds on 25 missed shots in a three-point loss.
The Jayhawks' issue isn't as big of a deal, but it's a bit peculiar. Their opponents' block percentage is 14.2 percent, which ranks the Jayhawks 342nd in the country. This is despite the fact that they're 54th in average height. That difference between height and block percentage is the worst in the country.
Utah and Virginia's questions stem from the point guard position, but in totally different ways. The Utes can't compete with the best teams in the country unless Delon Wright is playing well — we saw that against Arizona — but they also have to manage against lesser competition when he has the occasional off night. They may have found an answer Sunday against Washington, when Wright and second leading scorer Jordan Loveridge combined for just 14 points and the Utes still won by 21. Sure, you could say Wright was still a big factor on offense because he had nine assists to only one turnover, but he wouldn't have gotten those assists unless his teammates hit shots, which is exactly what they need to do when he isn't.
It's the opposite case for the Cavaliers, who are probably asking for a little more from their point guard, London Perrantes. To be fair, Perrantes really doesn't have to do much. The Cavs' defense is so good, if they scored as many points as the worst team in the country (Grambling State at 49.8 per game) every night, they'd still have eight wins. But what else am I going to complain about, Justin Anderson's goatee?
Perrantes' turnovers are up a tick from last season (1.1 to 1.4 per game) and his shooting is down, well, quite a few ticks. After shooting 38.4 percent as a freshman (including 43.7 percent from three), he's now down to 30.2 percent. If you take out his 26-point outburst against Miami, Perrantes is averaging just 3.8 points per game. If he could at least keep defenses honest with the threat of hitting a shot every now and then, Virginia's already hyper efficient offense would take another leap.
Not So "Free" Throws
9. Arizona
8. Butler
7. VCU
Arizona, Butler, and VCU's free throw percentages are 68.3 percent, 65.9 percent, and 62.8 percent, respectively. The Wildcats' number of missed free throws was greater than the margin of defeat in both of their losses so far this season. Butler lost two such games, while VCU lost one.
There's a Lid on the Hoop
6. North Carolina
5. Louisville
4. Baylor
The Bears have the best offensive rebounding rate in the country, but at some point you have to wonder how much of that is due to the tenacity of guys like Rico Gathers and how much is due to the fact that they miss close shots. Baylor doesn't shoot a ton of threes and is hitting only 45.2 percent of its twos, meaning its players are mostly already in close when shots go up, and plenty of them aren't falling.
Louisville and North Carolina's problem comes from beyond the arc. The Cardinals are just consistently "meh" from three. Meanwhile the Tar Heels can't rely on anyone except Marcus Paige to hit triples, but if Nate Britt continues to play like he did last night when he hit 4-of-5 against Syracuse, that could change.
In Search of a Living, Breathing Scholarship Player
3. Indiana
2. Wisconsin
1. Notre Dame
These teams' problem is a lack of depth, which, unless the NCAA allows trades (don't rule it out), won't be solved anytime soon. The Hoosiers play 10 guys at least nine minutes per game, but only one of their measures above 6'8": Hanner Mosquera-Perea. With the big man out due to a knee injury, Tom Crean has had to get creative with his lineup. Interestingly enough, Thad Matta responded with a smaller lineup of his own on Sunday as Ohio State took care of Indiana at home. Not a good sign for the Hoosiers.
I discussed Wisconsin's issue with Traevon Jackson's injury last week; as long as his return coincides with the Badgers' tougher games, they'll be fine.
Notre Dame, however, isn't in the same boat as the Big Ten pair. The Fighting Irish's lack of depth isn't due to injury; it's just that their main core only goes six deep. Center Zach Auguste is particularly important. They nearly lost to Georgia Tech when he was suspended, allowing the Yellow Jackets to grab 12 offensive rebounds and big man Demarco Cox to score 17 points. Without Auguste—or any one of Notre Dame's top six players—this team will be in big trouble.
Advanced stats courtesy of KenPom.com.
MORE FROM YARDBARKER
College Basketball News

Delivered to your inbox

You'll also receive Yardbarker's daily Top 10, featuring the best sports stories from around the web. Customize your newsletter to get articles on your favorite sports and teams. And the best part? It's free!