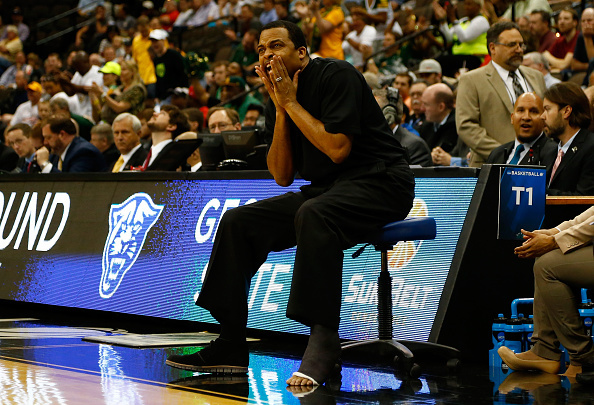 The 2015 NCAA Tournament started with some incredible drama.
Kevin C. Cox/Getty Images
By Joe Diglio
On Friday, we discussed UAB's upset of Iowa State and touched upon Notre Dame's win over Northeastern. However, there were 30 other games that made up the NCAA Tournament Round of 64, and there was plenty to note over the last two days of action.
There were game-winning shots and the rare game-winning miss. There were smash-mouth plays and smashed mouths. And, of course, there were plenty of upsets. Sort of. Let's go through the most memorable moments of the Round of 64.
R.J. Hunter nearly injures his father
Well, not exactly. But for a second it looked like R.J. Hunter's deep three to beat Baylor sent his coach and father, Ron Hunter, sprawling to the floor:
Ron wasn't able to move much, of course, because of the torn Achilles he suffered while celebrating Georgia State's Sun Belt Conference Tournament championship. He was confined to a rolling stool for the game, wearing a cast on his left foot. Although he managed to stay upright for most of the game, the injured Hunter got up for big moments throughout, hobbling off his stool to encourage his players.
The shot was the culmination of a strong finish by R.J., who scored 12 of his 16 points in the final 2:39 of the game. The Panthers scored 13 points as a team during that stretch, which was just enough as they erased a 12-point deficit while holding Baylor scoreless.
It was a devastating ending for the Bears, who literally gave the game away by committing 21 turnovers, including four during that fateful 13–0 run by the Panthers to close the game.
Bryce Alford's game-winning miss
This … this was just weird. The play-by-play for this game lists the last made basket of the game as a made three-pointer by Bryce Alford to give UCLA a one-point lead, but the ball never went in the hoop. How could that be? Easy - goaltending:
The difficult part is determining whether or not SMU's Yanick Moreira did anything wrong. According to the rules, "Goaltending occurs when a defensive player touches the ball during a field-goal try and each of the following conditions is met: the ball is on the downward flight; an the ball is above the level of the ring and has a possibility of entering the basket."
The ball was clearly on the way down, and it was entirely above the rim when Moreira touched it; what's debatable is whether or not the shot had a possibility of entering the basket. Although I don't believe the shot would have gone in if left untouched, it was too close to the hoop to say that it had no possibility of going in. Announcer Verne Lundquist thought Moreira touching the ball was the shot hitting off the rim; that's how close it was (that's not saying much, but you get my point).
Verne Lundquist eulogizes Hampton on national television
Speaking of Lundquist, he was getting a little too excited in his coronation of Kentucky in its win over Hampton. When the Pirates grabbed an early, meaningless lead, he essentially decreed the moment as the greatest in all of the Hampton players' lives:
Lundquist calmed down as the game wore on, but that didn't stop him from belittling the Pirates even further:
"I'm sure they've enjoyed the benefits of participating..." Verne makes Hampton getting stomped sound like continental breakfast

— netw3rk (@netw3rk) March 20, 2015
It's easy to run out of things to say in an expected blowout between teams of such different talent levels, I get that. Not even four minutes into the game we saw Marcus Lee dunk with his go-go gadget arms and Verne barely blinked an eye:
But Lundquist was calling this night the best ever for the Pirates one minute and then confirming they were dead the next. It made for a very odd viewing experience.
D'Angelo Russell straight schoolin' fools
The Ohio State freshman has been a one-man show at times, and that was the case once again on Thursday. Russell led all scorers with 28 points in the Buckeyes' 75–72 overtime win against VCU, and had quite a moment when the Rams' Doug Brooks went in for a steal on him:
Russell missed the ensuing shot, but we can just forget about that part. The move will live on, filed under "you reach, I teach."
Moss, Carter hang tough
Not every play was as pretty as Russell's, though. Yesterday afternoon, Buffalo's Justin Moss took a shot to the face and appeared to suffer some dental damage against West Virginia:
Moss spit out a tooth there?

— Raphielle Johnson (@raphiellej) March 20, 2015
It turned out he was fine. But just minutes later in the Wichita State-Indiana game, the Shockers' Darius Carter got hit in the mouth and actually lost a tooth. He described the process after the game:
Darius Carter: "When they pushed my tooth back in place, I let out a big scream and I felt a release." Fun times.

— Brian Hamilton (@BrianHamiltonSI) March 20, 2015
Carter may have suffered some, but his Shockers moved on to the next round, beating Indiana. If only Moss had his tooth knocked out, maybe the Bulls could've upset the Mountaineers …
A Round of two days
If there was an overall theme to the Round of 64 this year, it was that it came in strong but faded quickly. Half of the first six games of the round were upsets (UAB, Georgia State, UCLA), and four of them were decided by no more than four points. The rest of Thursday's action saw only one more upset by seed, but we did get two overtime games (the aforementioned Ohio State-VCU game and Cincinnati-Purdue) and a furious comeback by North Carolina State over LSU (or rather, LSU collapsed).
But as the round continued, David wasted more and more chances to slay Goliath. Yesterday's games featured only one lower-seeded team winning - Dayton over Providence. And if you want to get technical, the game didn't end until Saturday, so we had a stretch from Thursday night into early Saturday morning without a single upset. Harvard and Wofford couldn't convert late, Stephen F. Austin and Albany got close but never led in the closing moments, Buffalo couldn't get stops, an untimely foul cost UC Irvine, Bryce Drew missed an opportunity to run the Bryce Drew play when Valparaiso was down three at the end, and that was that. Belmont and North Dakota State kept things interesting, but there would be no 15-seed magic this year.
Had the Flyers not beaten the Friars, the East region would've joined the Midwest with no upsets in the Round of 64. Instead we have five double-digit seeds playing this weekend. Two of them - UCLA and UAB - are playing each other, which guarantees one will make the Sweet 16, but also ensures at least one won't. Upsets in the later rounds aren't the true spirit of March Madness - the difference in seed is usually much smaller -but that's all we can hope for now after that 30-hour stretch of chalk.
MORE FROM YARDBARKER
College Basketball News

Delivered to your inbox

You'll also receive Yardbarker's daily Top 10, featuring the best sports stories from around the web. Customize your newsletter to get articles on your favorite sports and teams. And the best part? It's free!