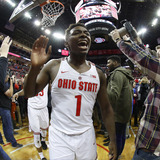 Now that conference play is fully in swing, college basketball's season is starting to make a little more sense. Every game is like another piece added to the puzzle that makes the landscape of the sport make a little more sense. With most teams having played half their games now, including a few tough ones in their league, it's easier to see which teams hot or slow starts aren't...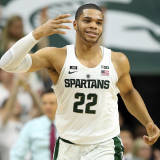 College football's best players were just in New York and Atlanta to receiver their honors, while their basketball counterparts are just getting started the race to be the nation's best. With about a quarter of the season done, and barely any conference games having been played, some players have already showcased the kinds of performances worthy of end of season awards. The college...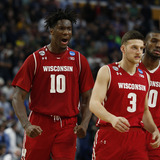 A predictable first round of the NCAA Tournament has one direct result: better teams and more juice in the second round. College basketball fans would be treated to match-ups that they dreamed about when the brackets were revealed. Top seeds, previously unscathed, would be faced with tough tests in order to reach the Sweet Sixteen next weekend. Even if Cinderella didn't show up to...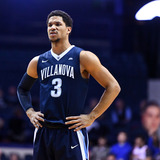 The NCAA Tournament earns its "March Madness" nickname every single year. With wild finishes and crazy upsets, the tourney never disappoints. Navigating through that "madness" to the Final Four or even a championship is no easy feat. Teams are not accustomed to playing twice in one weekend, especially not with an escalating spotlight and such difficult opponents awaiting at every...
MADISON, Wis. -- Bronson Koenig scored 19 points, and Ethan Happ helped trigger a second-half surge with clutch plays on both ends of the floor in Wisconsin's 68-57 victory Sunday over Michigan.Happ finished with 12 points and six rebounds for the Badgers (19-10, 11-5 Big Ten), who have won 10 of their last 11 games.Wisconsin opened some breathing room in a spirited game with an...
Ethan Happ may or may not have an NBA future, but he certainly showcased why he has a lot of potential all on one play in Tuesday night's tussle with the Indiana Hoosiers. As the two teams traded turnovers to start the second half, Happ made sure it was back-to-back possessions with turnovers for the Hoosiers. He then took it all on his own for the lay-in on a 2-on-1 situation. Pretty...
STATE COLLEGE, Pa. (AP) Ethan Happ had 20 points and 11 rebounds and Wisconsin held off Penn State for a 66-60 win on Thursday night. Nigel Hayes added 15 points for the Badgers who won their second straight Big Ten game. Brandon Taylor scored 13 for Penn State. Wisconsin (11-9, 3-4 Big Ten) led by as many as 17 in the middle of the second half but Taylor came alive late. Although...
MADISON, Wis. – Fresh off scoring the game-winning layup against No. 4 Michigan State on Sunday, Ethan Happ of the Wisconsin men's basketball team was named Big Ten Co-Freshman of the Week by the league office on Monday. Not only did the forward from Milan, Illinois, score the go-ahead basket with 10 seconds remaining to complete the Badgers' comeback victory over the Spartans, but...
The consensus was that the 2015-16 Wisconsin Badgers basketball team would go as juniors Nigel Hayes and Bronson Koenig went. It's been true to some extent, but there's a third piece to the puzzle that is becoming equally important for the Badgers — redshirt freshman Ethan Happ. After a slow debut, complete with head coach Bo Ryan calling him out following the loss to Western Illinois...
Redshirt freshman Ethan Happ came in to the 2015-16 season with a lot of hype. Most of it surrounded his ability to work defenders with a wide array of low post moves. No one told the general public or media that Happ also had some pretty sweet ball-handling tricks up his sleeve as well. On Tuesday, he put them to good use by going behind the back and rising for a slam dunk in the...
MORE STORIES >>
College Basketball News

Delivered to your inbox

You'll also receive Yardbarker's daily Top 10, featuring the best sports stories from around the web. Customize your newsletter to get articles on your favorite sports and teams. And the best part? It's free!
THE COLLEGE BASKETBALL HOT 10