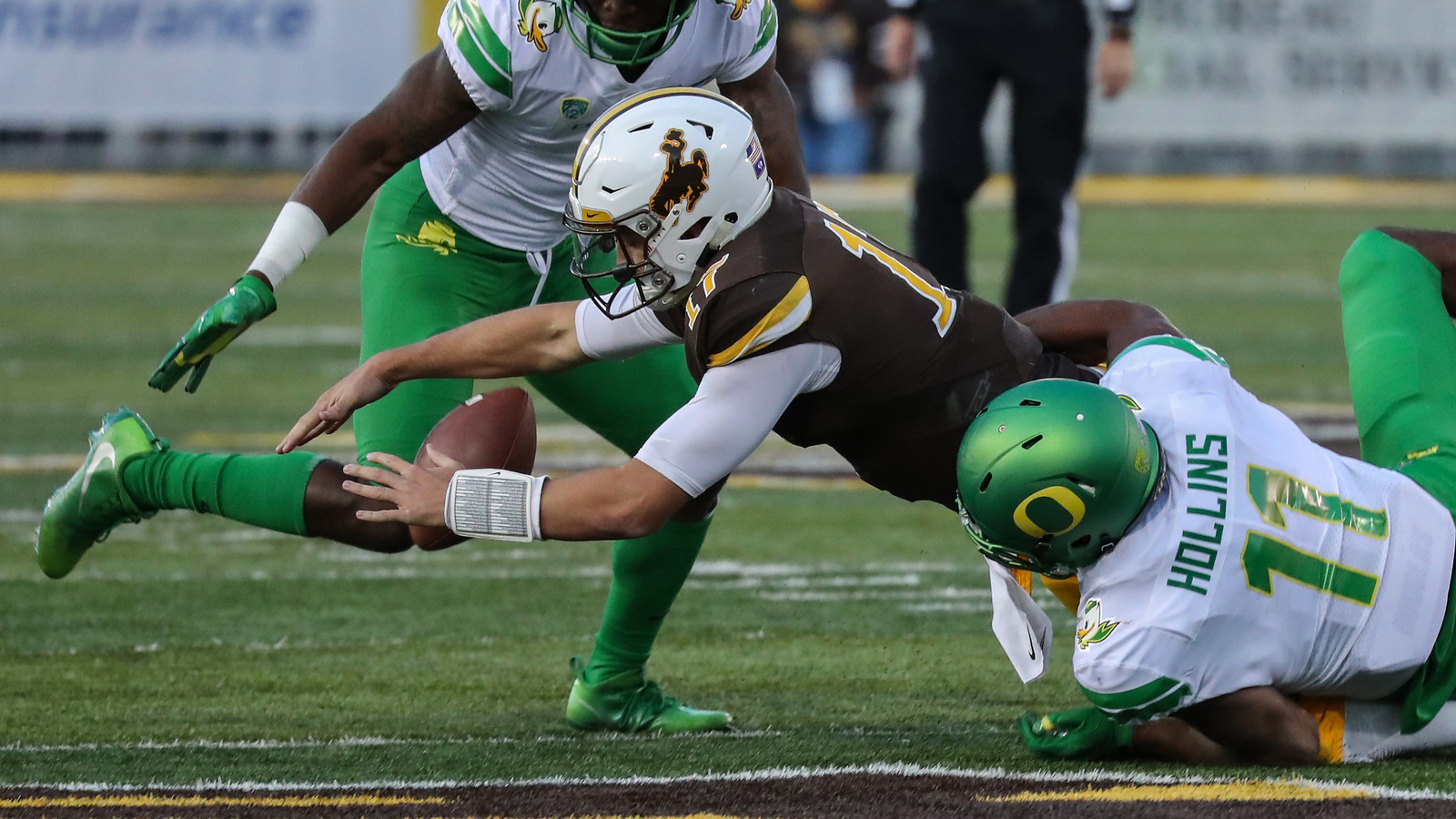 Maybe we can pump the brakes on the Josh Allen train for a bit.
Troy Babbitt-USA TODAY Sports
Week 3 of the college football season didn't feature too many surprises. Sure, we had Nebraska lose to a MAC team, but for the most part, teams that were expected to win took care of business. Still, that doesn't mean some teams, units, coaches, or players didn't disappoint us.
Here's a look at the 15 biggest disappointments from college football Week 3.
Nebraska Cornhuskers
Perhaps no college football loss this weekend was worse than the one suffered by Nebraska. The Huskers looked pathetic in a 21-17 defeat to Northern Illinois in Lincoln for the program's first loss to a non-Power 5 team since 2004. They got down early 14-0, regained the lead 17-14 in the fourth quarter, but surrendered a touchdown to the Huskies to lose. It's hard not to point the finger at Tanner Lee after this one. The junior QB threw three interceptions, including two pick-sixes in the first quarter he was unable to make up for. The first one was particularly bad as it happened in the red zone and changed the game. In the first half, Nebraska had three three-and-outs, two pick-sixes, and a missed field goal. This was not Mike Riley's finest game.
Josh Allen, QB, Wyoming
Thud. That's the sound of Josh Allen's draft stock currently. Allen entered the season in the conversation to be the first QB taken in the 2018 NFL Draft. After the way he's performed against two Power 5 teams, you have to wonder whether he'll even be a first-round pick next year. Allen went just 9 of 24 for 64 yards, no touchdowns, and an ugly interception. He rushed for 25 yards and a score, but lost a fumble. If you thought Allen's game in the opener against Iowa was bad, this was even worse. He passed for 174 yards and two interceptions against the Hawkeyes. Against the Ducks, he couldn't even crack 100 yards.
Bo Pelini, HC, Youngstown State
Bo Pelini has been a part of headlines all week, which are sure to continue. The Youngstown State head coach decided to play Ma'lik Richmond during the team's blowout win over Central Connecticut State Saturday. The defender even recorded two tackles in the game. This is significant because Richmond sued the school for telling him he couldn't play for the team after previously allowing him to walk on to the program. Richmond was convicted of rape when he was in high school and served 10 months in a juvenile prison.
UCLA's defense
The frustrating, disappointing thing about UCLA's defense is that the is talent there, but the consistency isn't. That's demonstrated by the fact that the defense did make big plays and forced Memphis to turn the ball over three times. They still gave up 560 total yards to the underdogs and could not get quite enough stops where necessary. They gave Josh Rosen a chance to win them the game late, sure, but they did it only after giving up 48 points, which is far too many for any defense.
LSU's offense
We knew that Ed Orgeron was a defensive-oriented coach whose offenses tend to be lacking at times, but there is no excuse for putting up as putrid of a performance as they did on Saturday. The Tigers were held to 270 yards and only seven points in their 37-7 loss to Mississippi State. Their passing game was non-existent as Danny Etling was just 13 of 29 for 137 yards. They failed to sustain drives and went just 3 of 13 on third downs. They also were called for nine penalties, resulting in 111 yards. Two penalties erased touchdowns.
Wilton Speight, QB, Michigan
Michigan ended up defeating Air Force by two touchdowns, but it betrayed how close the game was well into the fourth quarter. Speight led Michigan's offense into the red zone four times and came away with four field goals, turning what could have been a rout into a game that saw Air Force within nine points in the fourth quarter. Michigan is an exceptionally talented team, but Speight is more of a game manager at quarterback. It would be unfair to put all of Michigan's offensive issues on him, but he doesn't have the high-powered arm to take them as far as they could go.
Auburn Tigers
They say at the end of the day that a win is a win, but it sure didn't seem that way for Auburn. The Tigers barely beat Mercer 24-10 — a far too close of a margin for a game they dominated. Auburn racked up 510 yards compared to 246 for Mercer. The big issue was five turnovers by Auburn. They lost four fumbles and threw one interception. A big reason why they were only up 10-3 in the first half is because of three fumbles. That wasn't the only way they shot themselves in the foot; they were also penalized six times for 65 yards in the game. The Tigers have a lot to clean up before getting into the really tough part of their schedule in two weeks.
Quinten Dormady, QB, Tennessee
The Tennessee quarterback ended up getting the Vols offense going in the fourth — sort of — but he simply wasn't good enough. Three interceptions tell the story of the day for Dormady, and you have to wonder just how close the junior came to getting benched during the lower points of the day. The Tennessee offense had mustered one measly field goal in the first three quarters of action, and the only saving grace was that Florida struggled just as much for a lot of the game. In the end, Dormady couldn't do enough, and he can't inspire a lot of confidence right now.
Pitt's defense
Pitt's defense is going to have nightmares about Mason Rudolph and Oklahoma State all week. They simply were unable to stop the Cowboys, especially in the first half. The Panthers allowed points on the Cowboys' first seven possessions of the game. They surrendered 516 yards in the first half, which was an Oklahoma State record. Watching OSU put up 59 points against Tulsa was one thing, but you would expect an ACC team like Pitt to have a more respectable showing than they did, especially after keeping it somewhat reasonable in a 33-14 loss to Penn State the previous week. The only team to beat last year's national champions didn't even look like they belonged on the same field as Oklahoma State.
Lamar Jackson, QB, Louisville
It would be completely unfair to pin all the blame for Louisville's loss to Clemson on Saturday on Lamar Jackson. Unfortunately, the reality is he did not play up to his Heisman Trophy level in the game. Jackson's final numbers look good: He had 317 yards and three touchdowns, as well as 64 yards on the ground. But two of the passing touchdowns didn't come until the fourth quarter when the Cardinals were already down 33-7, meaning Clemson kept him in check most of the game. Louisville needed a huge performance from Jackson to compete with Clemson. They simply didn't get enough.
Missouri Tigers
Missouri got their hats handed to them in a shellacking at the hands of Purdue 35-3 on Saturday. In their first game after firing their defensive coordinator, the Tigers gave up 477 yards and 35 points. They were absolutely dominated in time of possession nearly 3:1 (43:43 to 16:17). About the only positive for the Tigers is that their punter was great. Corey Fatoney averaged 48.2 yards per punt. If your punter is the highlight of the game, you're in bad shape.
South Carolina Gamecocks
Just when it looked like South Carolina might contend in the SEC East, they go out and lose to Kentucky at home. The Gamecocks were handled by Kentucky and trailed most of the game, including a 14-point deficit in the fourth quarter. The total yardage from both teams was pretty even. The big difference was that Kentucky controlled the game on the ground and therefore the clock. They won time of possession 36:49 to 23:11 and rushed for 184 yards Compare that to South Carolina, which only ran for 54 yards a week after putting up 172 rushing yards on Mizzou. Adding insult to injury, star Deebo Samuel broke his leg in the game and is out for the season.
USC's 4th-down offense
USC escaped with a 27-24 double-overtime win over Texas, and getting the victory is the bottom line. Still, USC's inability to convert 4th downs in the game was a major problem. The Trojans turned the ball over on downs three times in the game and went 0-for-3 on 4th-down conversions. They were able to move the ball well on their first two drives of the game but got stopped on a 4th and 4 at the 37 on their first drive; on 4th and goal from the 1 on their second drive; and they were stopped on 4th and 3 at the 36 in the third quarter. Had USC been able to convert on any of those, the game probably wouldn't have been as close as it was.
SMU's second half performance
SMU was looking like they had finally arrived during an excellent first half against TCU on Saturday. That was until the Horned Frogs showed them who was boss in the second half. The Mustangs opened up the game scoring on their first four possessions: two touchdowns and two field goals. They were even leading 19-7 in the second quarter and had some thinking upset. That lead evaporated quickly as Kenny Hill threw for three second-quarter touchdowns. The game was close at the half, with TCU up 28-22. TCU then blew away SMU in the second half with four touchdowns to win 56-36.
Keller Chryst, QB, Stanford
Chryst had a forgettable game against San Diego State late on Saturday night. The senior QB was 9 of 20 for just 72 yards, no touchdowns, and two interceptions in a 20-17 loss to the Aztecs. The two interceptions were really bad. The first came close to halftime when he threw one deep in Stanford territory. That translated to seven points for SDSU, which went into halftime up 10-7. The second came at the very end of the game. The Cardinal needed to drive into field goal range to have a chance to tie the game. On their first play, Chryst threw up a 50-50 ball that was intercepted, giving the game to the Aztecs. Chryst also lost a fumble before halftime too, giving him three turnovers in the game.
College Football News

Delivered to your inbox

You'll also receive Yardbarker's daily Top 10, featuring the best sports stories from around the web. Customize your newsletter to get articles on your favorite sports and teams. And the best part? It's free!
PLAYERS:
Mike Riley
,
Danny Etling
,
Wilton Speight
,
Mason Rudolph
,
Deebo Samuel
,
Keller Chryst
TEAMS:
Nebraska Cornhuskers
,
Purdue Boilermakers
,
Michigan Wolverines
,
Oklahoma State Cowboys
,
South Carolina Gamecocks
,
Stanford Cardinal
,
Wyoming Cowboys
,
Louisville Cardinals
MORE FROM YARDBARKER
College Football News

Delivered to your inbox

You'll also receive Yardbarker's daily Top 10, featuring the best sports stories from around the web. Customize your newsletter to get articles on your favorite sports and teams. And the best part? It's free!