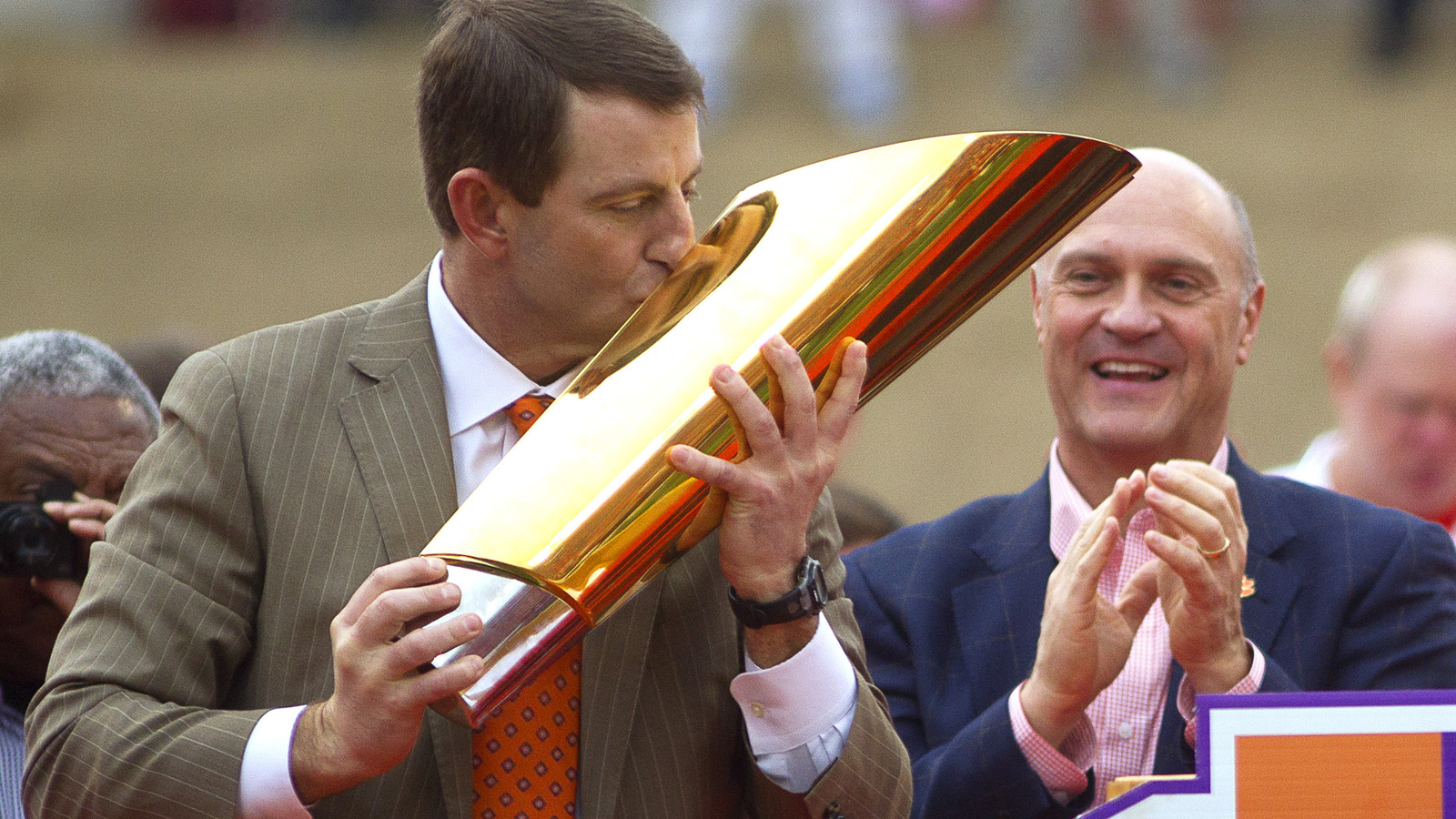 Jan 14, 2017; Clemson, SC, USA; Clemson Tigers head coach Dabo Swinney kisses the College Football Playoff National Championship trophy during a celebration in Memorial Stadium. 
Joshua S. Kelly-USA TODAY Sports
Even before the preseason rankings emerge, it's fun to take a peek ahead at the 2017 college football schedule to figure out which games hold the most interest.
That's what we're doing today. The season is fluid and some of the teams we think will be hot will not hit the spot. But generally speaking we can get a good handle on which games will provide excitement to the masses while providing meaningful context in the standings.
With that in mind, these are our picks for best games every week on the 2017 college football schedule.
Note: We're not including Weeks 14-15, as they only feature the Sun Belt and the Army-Navy Game.
Week 1: Alabama vs. Florida State
A no-brainer here, this will likely be No. 1 vs. No. 2 in the nation, with either team being fit to take that No. 1 spot. Though, if you ask Nick Saban, it'll be the Seminoles.
This game will feature two of the most exciting young quarterbacks in the nation. Both teams featured freshmen last year — Jalen Hurts for Alabama and Deondre Francois for FSU — who were phenomenal in their first seasons. Both programs feature head coaches who are the best in the business, defenses capable of shutting down opponents and running games that can bulldoze their way to the end zone.
On top of it all, it puts both programs in immediate danger of falling into an immediate hole that could prove impossible to emerge from as it pertains to national championship aspirations.
It really doesn't get much better than that to get the season kicked off.
Week 2: Auburn vs. Clemson
This was a tough one to choose, as Stanford visits USC and Oklahoma visits Ohio State in Week 2. In the end, we went with Auburn heading into Death Valley because both teams will have so much yet to answer at this point in their seasons with so much on the line. Additionally, we'll be getting our first peek at a couple of new quarterbacks under the spotlight of a big game.
Auburn will likely be rolling with Jarrett Stidham this year behind center. The former Baylor transfer should beat out Sean White to run Gus Malzahn's offense, and we're excited to see what he can do. It's still unknown who will be behind center for Clemson (junior Kelly Bryant, redshirt freshman Zerrick Cooper and true freshman Hunter Johnson all have a legit chance to start), which has the tall task of replacing Deshaun Watson.
Clemson's defense is a force, with sophomore Dexter Lawrence — one of the most dangerous defenders in the nation — leading the way.
How Auburn comes out of this one will tell us a lot about the Tigers' chances of living up to Malzahn's expectations they can contend for a title this season.
Week 3: Texas vs. USC
For the first time in the 2017 season, we'll get to see if Tom Herman really was the magic pill Texas needed to get back on track after Charlie Strong failed in his quest to turn things around. This game represents the first real test of the season for the Longhorns after a couple of easier opponents to ease into the season.
USC has national title aspirations. And it's hard to argue the Trojans don't deserve some big-time hype after the way they finished last year with nine straight wins, including their Rose Bowl win over Penn State.
We'll be treated to another battle of sophomore quarterbacks as well, with Sam Darnold leading the Trojans and Shane Buechele for the Longhorns. The big question we have is whether Texas' defense will have enough talent and fortitude to slow down USC's offensive assault.
It could be quite the offensive showdown if not. We already know Buechele can thrive in a shootout, and he might have to if the Longhorns have any hope of leaving with a win.
Week 4: UCLA vs. Stanford
We could have gone with a rematch of Washington and Colorado from the Pac 12 title game. But in reality, those programs aren't all that evenly matched and we expect the Huskies to romp again.
So instead we'll stay on the west coast and look at a couple of teams that were pretty evenly matched last year. The Cardinal were held in check until they emerged victorious in spectacular fashion at the end of the game.
There are many questions that need to be answered for both teams, and we'll get to find out at least a few of them in this contest.
Will Josh Rosen emerge as a top quarterback against a tough Stanford defense after missing a big chunk of last year with nerve damage to his throwing shoulder? Will Bryce Love prove a worthy successor to Christian McCaffrey? Will UCLA's defense be able to hold up against Stanford's bullish offensive line?
We can't wait to find out.
Week 5: Clemson vs. Virginia Tech
It's rematch time. These two met in the ACC Championship Game, with Clemson holding off a late charge by the Hokies to win by a touchdown.
As we mentioned discussing Week 2, the Tigers have plenty of questions that need to be answered on offense, not the least of which being who will throw the ball. But they also have Deon Cain, who might be one of the most dangerous offensive playmakers in college football this year.
The Hokies feature a very strong offensive line and running back in Travon McMillian, which should be a very fun matchup against crazy-good Clemson's defensive front.
That battle will likely have a lot to do with the outcome. If Virginia Tech can somehow control the line of scrimmage, then a win is certainly possible at home.
Week 6: Alabama vs. Texas A&M
Depending on how things go for Kevin Sumlin and Co. in the early goings, this could be a make-or-break game for the Aggies. If they fall to UCLA and/or Arkansas, then this becomes a must-win game for a coach who's already been placed on the hot seat by his athletic director.
If they come into this contest hot with no losses, then this game takes on special significance. Either way, College Station will be rocking when the Crimson Tide come to town.
The Aggies lost some key players to the NFL this past season, most significantly Myles Garrett and Trevor Knight. Without Garrett wreaking havoc on the edge, defensive coordinator John Chavis will need to have a rock-solid game plan in place to stop Bo Scarbrough and Co. from running them out of the stadium.
Without Knight behind center, it's going to fall to either senior Jake Hubenak or redshirt freshman Nick Starkel to take the baton and run with it.
Week 7: Oklahoma vs. Texas
The Red River Rivalry has produced some amazing games over the years, including last year's 45-40 barnburner, which the Sooners hung on to win.
Baker Mayfield is back for another go-round with Oklahoma after foregoing the NFL draft. While he won't have many of his favorite tools on offense, the Sooners do still feature one of the most exciting offensive weapons in the nation, tight end/receiver Mark Andrews.
We already know Buechele and Co. have the stones and the chops to hang with the Sooners, so this game will boil down to turnovers and big plays on special teams. The Sooners must be favored, but given Tom Herman's arrival it's anyone's guess how much better Texas can be.
One thing we do know is the volume gets turned up all the way when these two teams meet.
Week 8: Michigan vs. Penn State
Like we saw in Week 1, this is a no-brainer.
Jim Harbaugh, who has recently been heavily criticized by a former player and always finds a way to keep himself fired up, must be raring to dish out some punishment to James Franklin's gang. Remember, Michigan throttled its rival 49-10 last year. But it was the Nittany Lions who emerged as the Big Ten East champs and eventually the champions of the conference.
Michigan's defense is incredibly stout, though it is missing some key pieces from last year. One player that must step up to fill the void is five-star sophomore Rashan Gary — potentially one of the most disruptive players in the nation.
Trace McSorley had a frustrating game last year against the Wolverines. He and running back Saquon Barkley better have their track shoes on to avoid the relentless bodies flying their way this time around as well. One player that could be the difference for Penn State is speedster Saeed Blacknail.
Week 9: Georgia vs. Florida
Will this be the year that Georgia breaks through with a win over its SEC East rival? Florida has won three games straight, utilizing an unyielding run defense to lock up the Bulldogs' running game en route to winning those games by a combined 56 points.
In last year's 24-10 bludgeoning, the Bulldogs managed just 21 yards…on 19 carries. If Nick Chubb and Sony Michel are both healthy, then there is no excuse to let this domination happen for a fourth straight year. Of course, it helps that Jacob Eason is a year older, a year wiser and hopefully will be a whole lot more consistent as a sophomore than he was last year.
If Florida's defense yields some semblance of offense to the Bulldogs, then it could mean an end to the streak. It's hard to know exactly what Feleipe Franks is capable of doing to lead Florida's offense, which might end up leaning heavily on its very deep running back group.
We expect a very competitive contest this time around and are leaning towards giving the Bulldogs a very slight edge.
Week 10: Oklahoma vs. Oklahoma State
Bedlam is always fun, even though the rivalry has been rather one-sided for the past decade plus. However, even counting the past two wins for Oklahoma, the Cowboys have managed to win twice the past five times against their in-state rivals.
Also, while it's true the Sooners have romped the past couple of games, they are coming into the 2017 season without a few key offensive weapons that helped trigger those blowouts. Joe Mixon, Samaje Perine and Dede Westbrook are all in the NFL now, meaning Baker Mayfield will be mostly working with up-and-comers instead.
So the question is, do Mason Rudolph, Justice Hill, James Washington and Co. possess enough firepower to outscore the Sooners? That's something we can't wait to find out between these two teams.
It's also worth mentioning they are likely the two top teams to win the Big 12, meaning this game carries even more significance than a rivalry game.
Week 11: Florida State vs. Clemson
This ACC clash could very well determine which team wins the conference. Being so late in the year, the gravity of this is all the more significant.
Even with Deshaun Watson at the helm last year, the Tigers eked out a three-point win over their rival. This time around, the Seminoles might be better equipped to win the big game, if only because Clemson's quarterback situation is such an unknown at this time.
Deandre Francois will face plenty of pressure from Clemson's defensive front, but he acquitted him quite well as a freshman last year. Furthermore, he has a talented freshman running back to hand the ball to in Cam Akers, who totaled 102 total yards in the spring game.
It's going to likely be a very tight game that comes down to the wire unless defensive coordinator Brent Venables sees his unit absolutely dominate Florida State's offense.
Week 12: Michigan vs. Wisconsin
If you love slobberknockers (we do), then you're in for a late-season treat when the Wolverines head to Camp Randall to take on the Badgers. Last year, Michigan pulled out a 14-7 win after a spectacular pick-six by Jourdan Lewis led to a 46-yard touchdown by Amara Darboh in the fourth quarter.
However, things might be different this time around.
Wisconsin quarterback Alex Hornibrook took some big lumps in that loss last year but is undeniably entrenched as the starter for the Badgers going forward as a sophomore. Furthermore, the Badgers feature a tremendous run defense that should force Michigan's quarterback, whether it's Wilton Speight or Brandon Peters, to make plays through the air.
Oh, and the best part is both teams could be facing must-win scenarios. It should be great.
Week 13: Alabama vs. Auburn
Depending on how things shake out for Auburn, this game could determine which team gets to play in the SEC Championship Game. Also, at least one of two teams have been a part of the past eight national title games.
Yeah, it's kind of a big deal.
The Tigers were overmatched last year and lost by nearly three touchdowns thanks to Alabama's brick-wall defense and a very nice bounce-back performance from Jalen Hurts, who threw a couple early interceptions.
But Alabama lost some serious talent on defense to the NFL (especially up front), meaning there is a chance Stidham will be able to find some big plays over the top given time to throw.
With the nation watching, it's going to be a fantastic show that we sure hope comes down to the wire.
PLAYERS:
Nick Saban
,
Charlie Strong
,
Christian McCaffrey
,
Travon McMillian
,
Kevin Sumlin
,
Jake Hubenak
,
Mark Andrews
,
Jim Harbaugh
,
Trace McSorley
,
Nick Chubb
,
Sony Michel
,
Dede Westbrook
,
Mason Rudolph
,
James Washington
,
Wilton Speight
TEAMS:
Jacksonville Jaguars
,
Alabama Crimson Tide
,
Texas Longhorns
,
Stanford Cardinal
,
Virginia Tech Hokies
,
Texas A&M Aggies
,
Oklahoma State Cowboys
,
Oklahoma Sooners
,
Michigan Wolverines
,
Penn State Nittany Lions
,
Georgia Bulldogs
MORE FROM YARDBARKER
College Football News

Delivered to your inbox

You'll also receive Yardbarker's daily Top 10, featuring the best sports stories from around the web. Customize your newsletter to get articles on your favorite sports and teams. And the best part? It's free!