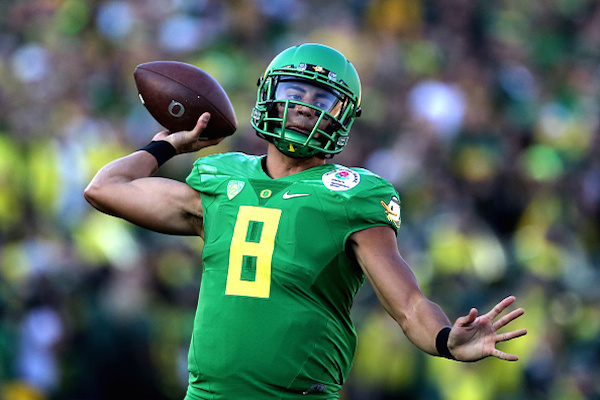 While some beg to differ, to hear it from UCLA head coach Jim Mora, Marcus Mariota will turn out to be "a spectacular NFL quarterback."
Joe Burbank/Orlando Sentinel/TNS via Getty Images
By Steve DelVecchio
Some have wondered if Marcus Mariota is simply a product of a phenomenal offensive system at Oregon and will struggle at the NFL level. Jim Mora thinks those people are insane.
During an appearance on "The Rich Eisen Show" on Tuesday, Mora praised Mariota for being one of the best college quarterbacks and pro prospects he has ever seen.
"I've played him twice, I've watched him a ton of times," the UCLA coach said. "He is going to be a spectacular NFL quarterback. He's poised, he's big, he's fast, he's physical.
"There are people who question his arm strength. … He has zero flaws. This is as great a quarterback as I've ever seen at this point in his career. I love the kid. I love his personality."
It has widely been assumed that the Tampa Bay Buccaneers will select Mariota with the first pick in the 2015 NFL Draft, and Mora says they might as well turn in their draft card for him now. Although, Mora did say he would not be surprised if Mariota decides to honor his commitment to Oregon and return for his senior season.
We don't see that happening. It would be incredibly difficult for Mariota to play another year of college ball when he is the consensus No. 1 overall pick and has people making comparisons like this for him. Regardless of what Rex Ryan thinks of Mariota's pro outlook, the Oregon star's stock can't get any higher.
MORE FROM YARDBARKER
College Football News

Delivered to your inbox

You'll also receive Yardbarker's daily Top 10, featuring the best sports stories from around the web. Customize your newsletter to get articles on your favorite sports and teams. And the best part? It's free!