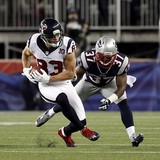 ProFootballTalk.com received a report from former Georgia linebacker Alec Ogletree's agent, that he was arrested earlier this month for DUI. "Last weekend, my client Alec Ogletree was pulled over for speeding and a lane violation in Arizona," agent Pat Dye told the website. "After the officers smelled alcohol, they conducted tests and also cited him for DUI. Although Alec regrets...
Declaring himself eligible for the 2013 NFL Draft with the conclusion of Georgia's Capital One Bowl victory over Nebraska (according to The Telegraph), Alec Ogletree is quite possibly the most athletic linebacker in the entire upcoming draft class. Ogletree, who's gifted with an elite combination of size and speed, has more range than most NFL inside backers. Possessing long...
Georgia linebacker Alec Ogletree is one of the Bulldogs' better tacklers, and he proved that with his WWE-style takedown of Georgia Tech wide receiver Robert Godhigh on Saturday. The expression "tossed like a rag doll" is one of the most overused in football, but Ogletree did just that with Godhigh after the receiver caught a pass over the middle with less than two minutes to play...
Given the current state of the football program, and by "state" I mean they really seem to be going through a series of unfortunate gut checks in Butts-Mehre right now, it doesn't surprise me that some of the guys on the roster are already thinking about the next chapter in their football lives—count linebacker Alec Ogletree among them. "I'm going to talk to my family and stuff about...
It was easy to spot Alec Ogletree in Georgia's first practice of the week. Just look for the most hyper inside linebacker. Linebacker Chase Vasser, who calls Ogletree ''a freak of nature,'' said Tuesday the sophomore's enthusiasm was obvious in No. 22 Georgia's workout for Saturday's game against Florida. Ogletree is returning this week after breaking his right foot in the Bulldogs...
MORE STORIES >>
College Football News

Delivered to your inbox

You'll also receive Yardbarker's daily Top 10, featuring the best sports stories from around the web. Customize your newsletter to get articles on your favorite sports and teams. And the best part? It's free!
THE COLLEGE FOOTBALL HOT 10