Jerry Jones spent a good part of the season taking public potshots at Brandon Weeden. Now, Weeden gets the last laugh. Weeden, filling in for injured quarterbacks Brian Hoyer and T.J. Yates, threw for two touchdowns and 200 yards on Sunday against the Titans, putting the Texans on the brink of a playoff berth. Weeden started the season in Dallas and, when Tony Romo was injured,...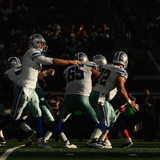 The Dallas Cowboys had to cut someone in order to activate Tony Romo, and Brandon Weeden took the fall. Weeden started three games for the Cowboys, losing all three. Just to pile on, Jerry Jones blasted the quarterback as he was on his way out the door in a radio appearance Friday. On @1053thefan, Jerry Jones says that Matt Cassel would have won the games that Brandon Weeden...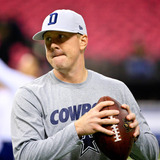 The Dallas Cowboys are making a change at quarterback, and Brandon Weeden is understandably upset about the choice. According to Desmond Purnell of NFL Media, Weeden said he'll handle the news like a veteran should, but that doesn't mean the 32-year-old is happy about it. Brandon Weeden not happy about the demotion saying "I'm pissed." Weeden said he will still be a pro in spite...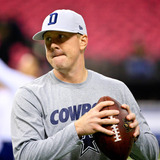 Twitter is the prime social media outlet for ranting and raving, as folks love to do, especially when it comes to trashing sports personalities who are struggling. Fed up to his eyeballs with Twitter haters, Dallas Cowboys quarterback Brandon Weeden reportedly has all but abandoned his account since he joined the NFL in 2012 as a member of the Cleveland Browns. "I was pretty...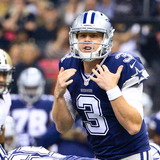 The Dallas Cowboys have had a lead in the first half in three out of their four games so far this season. Only one of those three were won. Even with that one win, they still had a poor second half to barely hold on to win that one and that has been the case for every game. Dallas has started each game red hot, but once the second half comes around they start to play down to their...
Dallas Cowboys backup quarterback Brandon Weeden isn't having a problem completing short passes. It's the longer passes that he's missing right now. Executive vice president Stephen Jones knows for the team to score more, Weeden is going to have to get the ball vertical to keep opposing cornerbacks from sitting on shorter routes. "I think Brandon is going to have to step up and...
All Brandon Weeden does is complete passes. In his first start with the Cowboys following Tony Romo's injury, Weeden opened up the game on Sunday completing nine straight passes. Combined with his 16 straight completions from Week 2, he set the franchise record with 21 straight completed passes. With 9 consecutive completions to start the game, Weeden has now completed 21 consecutive...
Dallas Cowboys owner Jerry Jones is not ready to hit the panic button now that Brandon Weeden will be his starting quarterback for roughly two months. While Weeden has not exactly had a tremendous amount of success at the NFL level, Jones believes he is better at throwing the football than the man he is replacing. During an appearance on 105.3 The Fan in Dallas Tuesday morning,...
Jerry Jones on Tuesday did his best to put a positive spin on Tony Romo's expected lengthy absence by glowingly singing the praises of Brandon Weeden. The Dallas Cowboys owner, never one to shun hyperbole, arguably went above and beyond in touting the skills of Weeden, who is expected to be starting under center for up to the next eight weeks as Romo recovers from a fractured...
Former Cleveland Browns CEO Joe Banner essentially threw the equivalent of an "LOL" in the direction of the Dallas Cowboys on Sunday. Banner heard somewhere that the Cowboys were confident in quarterback Brandon Weeden's ability to succeed against a team that blitzes a lot the way the Arizona Cardinals do.  "Cowboys confident in Weeden vs team that blitz's a lot. If they are right...
MORE STORIES >>
Chargers News

Delivered to your inbox

You'll also receive Yardbarker's daily Top 10, featuring the best sports stories from around the web. Customize your newsletter to get articles on your favorite sports and teams. And the best part? It's free!