We've updated our Privacy Policy.
By continuing to use this site, you are agreeing to the new Privacy Policy.
Clemson outlasted Louisville in a thriller on Saturday night in Death Valley 42-36, with the key play coming on a 4th-and-12 stop with 33 seconds left. On 4th-and-12, the Cardinals had one play to either take the lead or extend their drive. Lamar Jackson threw a pass to James Quick, who really seemed to give a shoddy effort as he got pushed out of bounds a yard shy of the first...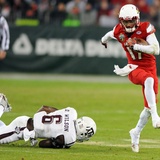 Who needs hands to haul in a long pass? Louisville receiver James Quick sure doesn't. He hauled in a pass Saturday against Florida State using his knees, taking it 44 yards. Just watch this magnificent reception. Lee Corso can't believe James Quick just made vs his Noles pic.twitter.com/gyvSrGEjmA — Greg Brookey (@bigbrook) September 17, 2016 The improbable grab set up the...
Less than five hours before kickoff, the University of Louisville has announced that James Quick has been suspended and will miss the Boston College game. James Quick Really have to question Quick's decisionmaking skills and the lack thereof. More harmful to the individual than his teammates but they feel the impact of his actions on and off the field. Getting in his own way, creating...
LIKE WHAT YOU SEE?
GET THE DAILY NEWSLETTER:
University of Louisville football fans will able to breathe easier on punt returns because James Quick has been relieved of those duties. Coach Bobby Petrino said during his Monday press conference that Eli Rogers will be handling those duties. James Quick Another step backward for Quick who has had more than his share of issues during his freshman and sophomore seasons at UofL...
Took a while, but James Quick may have arrived. Quick was not a quick study, making only six catches and some memorable drops during a disappointing freshman year last season. Disappointing because he was a five-star recruit, an elite propect, expected to be an immediate threat. Flash forward to the fourth game of his sophomore season, a week after he was involved in a muffed punt...
Jamie Rhodes | USA TODAY Sports According to WDRB.com, charges against Louisville sophomore wide receiver James Quick stemming from his marijuana related citation earlier this summer have been dismissed. On May, 29 Quick was cited for possession of marijuana at his campus apartment. According to the University of Louisville citations obtained by The Courier Journal, officers found...
Timothy D. Easley | Associated Press Louisville wide receiver James Quick is the highest rated recruit to ever sign with the Cardinal program. With Quick being a Louisville native, the Cardinal fan base has seen his name in the local headlines for years now. Unfortunately, Quick recently made headlines for the wrong reason. On May, 29 Quick was cited for possession of marijuana at...
Jamie Rhodes | USA TODAY Sports The Courier-Journal revealed some unfortunate news regarding one Louisville football player over the weekend. Sophomore wide receiver and Louisville native James Quick has been cited for possession of marijuana. According to the University of Louisville citations obtained by The Courier-Journal, the incident occurred at Quick's on campus apartment...
James Quick scores quickly on a Will Gardner pass play covering 62 yards.  A game day feel to this year's University of Louisville football spring game, the Green Lot already two-thirds full two hours before kickoff, many fans more than ready to tailgate again, hyped up, eager to experience Bobby Petrino-style football again. An estimated 27,500 of them showing up at Papa John's...
247Sports Believe it or not, of the over 100 players on the Louisville football roster, only two were five star recruits coming out of high school. Michael Dyer is one of them; of course he wasn't actually brought into the collegiate ranks by Louisville. The Arkansas native started his career at Auburn before transferring here over the summer. Freshman wide receiver James Quick is...
MORE STORIES >>
College Football News

Delivered to your inbox

You'll also receive Yardbarker's daily Top 10, featuring the best sports stories from around the web. Customize your newsletter to get articles on your favorite sports and teams. And the best part? It's free!
THE COLLEGE FOOTBALL HOT 10