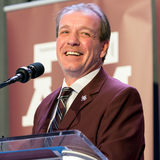 Texas A&M has made it quite clear what the expectations are for Jimbo Fisher.As if luring Fisher away from Florida State with a 10-year, $75 million contract didn't already say enough about what the Aggies want from their new head coach, the school system's chancellor made it clear with a recent gift.John Sharp, the chancellor for the A&M school system, gave Fisher a plaque...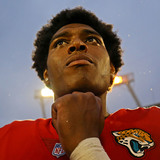 Florida State University is referred to "DB U" by Hall of Famer Deion Sanders for a reason.The football program has produced a number of stud defensive backs over the years — Jaguars All-Pro cornerback Jalen Ramsey among them.Former Seminoles tight end coach Tim Brewster made light of that with a graphic he shared on Twitter, which showed all the stars that have come out of the program...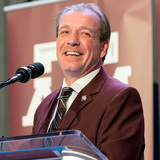 Perhaps no coach in college football is facing more pressure than Jimbo Fisher, who is getting paid a dump truck load of money to fix the broken program at Texas A&M. The school laid out a green carpet for the national title-winning coach after firing Kevin Sumlin, and now it's time to turn things around.One of the biggest reasons Sumlin got the ax is that his program was famous...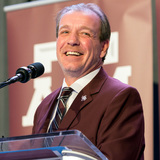 Texas A&M pried Jimbo Fisher from Florida State thanks in part to a fully guaranteed 10-year, $75 million contract, but Ohio State athletic director Gene Smith believes that agreement should be an outlier.Collin Hass-Hill of The Lantern, Ohio State's student newspaper, notes Smith said the school will not use Fisher's deal as a factor in eventual negotiations with Urban Meyer...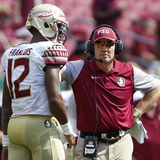 There is a new chapter in the disagreement between Jimbo Fisher and Deondre Francois.Francois, the Florida State quarterback, claimed Fisher did not reach out to him before he left for the Texas A&M job. The coach disputed that, saying he informed the entire team at a meeting — which Francois was absent from."No I haven't … he was not at the team meeting (when I told the team...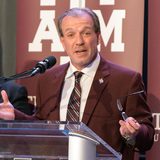 Jimbo Fisher of course has moved on from Florida State to take over the football program at Texas A&M for boatloads of money. One of the more interesting side stories that played out amid the coach's uncertain future before announcing the move was a the image of a discarded Christmas tree outside his home in Tallahassee, Fla. The photo not surprisingly went viral in an instant...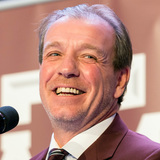 Jimbo Fisher made a somewhat surprising decision when he decided to leave his job at Florida State to take on a new challenge at Texas A&M, but those who are familiar with the relationship between Fisher and his former bosses saw it coming.On Monday, Fisher was officially introduced as the new coach of the Aggies. While speaking with reporters, he appeared to remove all doubt...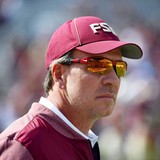 Former Florida State head coach Jimbo Fisher didn't break the news that he was leaving for Texas A&M to his players in the best manner possible.In fact, he didn't really let them know at all — if you believe his starting quarterback, Deondre Francois.Francois called out Fisher for failing to inform him that he was leaving, which is something you would think a coach who recruited...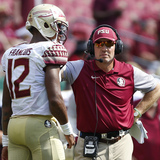 It appears that Jimbo Fisher's departure from Florida State may not have been handled particularly well.Quarterback Deondre Francois took to Twitter on Friday and offered a message that certainly seems to have been directed at his coach, who is departing for Texas A&M immediately. Francois was Florida State's starting quarterback, but missed almost the entire season after suffering...
After eight seasons as the Florida State head coach, Jimbo Fisher is set to become the leader of the Texas A&M football program.Wayne McGahee III of the Tallahassee Democrat confirmed the news that had been rumored for a while and intensified heading into FSU's regular-season finale."Florida State coach Jimbo Fisher has agreed to become the new head coach at Texas A&M sources...
MORE STORIES >>
College Football News

Delivered to your inbox

You'll also receive Yardbarker's daily Top 10, featuring the best sports stories from around the web. Customize your newsletter to get articles on your favorite sports and teams. And the best part? It's free!
THE COLLEGE FOOTBALL HOT 10