This one was over early, as the Utes ran LSU out of the Huntsman Center on Monday night to advance to the 3rd round of the NIT by a socre of 95-71. Utah jumped out to a 17-7 lead, and a 30-11 lead afte the first quarter and at that point LSU had no chance. LSU did have a 10-0 run spanning the 2nd and 3rd quarters cutting Utah's lead from 25 to 15, but after that Utah kept the lead...
With post season just around the corner, the No. 4 Utah Red Rocks capped their regular season off in style, defeating No. 20 Georgia GymDogs 198.150-196.350. This marks the first time Utah gymnastics has topped 198 in a meet since the 2015 Pac-12 Championship. In front of a crowd of 15,208, Utah again secured the highest average attendance for all women's sports. Before the meet...
The University of Utah women's basketball team will continue dancing in the WNIT after their 78-68 win against University of Las Vegas Thursday night. The Utes came out hot against the Rebels and lead on the scoreboard for all but two minutes of the game. Redshirt junior Megan Huff lead Utah in scoring with 17 points and nine rebounds. Right behind Huff was Tori Williams. Williams...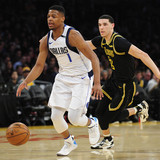 The world of college basketball got very interesting this past week. A probe led by the FBI would find numerous college players and programs paid off."But that said, how about some dollar amounts? From Christian Dawkins' reports, here are the largest dollar amounts listed for former NCAA athletes or their families. But it doesn't stop here. There are plenty more teams and names to...
By Lauren Neidigh on SwimSwam SOUTHERN CAL VS. UTAH Results Hosted by Utah Saturday, February 17th 25 Yards Dual Meet Format FINAL TEAM SCORES: UTAH: 141 USC: 121 The Utah men pulled off an upset on senior day to close out the regular dual meet season. Utah topped Pac-12 rival USC by 20 points on Saturday. Notably, the Trojans were without a handful of their All-Americans,...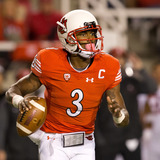 Utah Utes quarterback Troy Williams did something pretty awesome in his team's bowl game on Tuesday.At the end of his team's 30-14 win over West Virginia, Williams untied his shoe so that he would have to exit the game. In his place came walk-on quarterback Drew Lisk, who saw his first game action of the season. Williams is a two-time team captain, and that selfless play helps to...
The Utes held the Mountaineers to just 153 yards of total offense, including 29 yards rushing and just six first downs. Utah had a balanced game offensively with 197 rushing yards and 165 yards through the air, finishing the game with three rushing scores and three field goals.
The No. 11-seeded Utah Utes (23-9) opened the 2017 NCAA Volleyball Tournament with a first-round sweep (25-14, 25-21, 25-12) over the Cleveland State Vikings (22-8) Thursday evening at the Huntsman Center.
USC is on thin ice as they try to skate through the rest of the season without adding another loss to their record. In their latest game, it was the Utah Utes that nearly landed the final knockout blow to USC's 2017 season.  Whether it was because of luck or their incredible drive under pressure, the Trojans managed to narrowly escape a loss that would have certainly put an end to...
MORE STORIES >>
Utah News

Delivered to your inbox

You'll also receive Yardbarker's daily Top 10, featuring the best sports stories from around the web. Customize your newsletter to get articles on your favorite sports and teams. And the best part? It's free!
THE HOT 10: Who's Trending