We've updated our Privacy Policy.
By continuing to use this site, you are agreeing to the new Privacy Policy.
AUSTIN, Texas (AP) — Memories are strong in match play, which might explain why Ian Poulter picked up a new nickname. Golf held its version of a selection show Monday night at a downtown hotel when the 16 four-man groups were drawn for the Dell Technologies Match Play. Poulter is the No. 58 seed in the 64-man field, and when his number popped up, he was referred to as a "ninja" in...
Ian Poulter is something of a fiery sort, prone to on-course outbursts and the like. He's also prone to bouts of, well, not thinking things through. Perhaps then it shouldn't be all that surprising that some collateral damage has occurred as a result of the English golfer losing his temper a tad. Poulter took to Twitter to document how a meltdown during which he beat on his golf...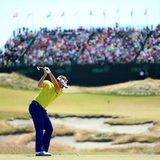 By Larry Brown Ian Poulter was one of many golfers who struggled with the conditions at Chambers Bay at the US Open this week, but few were as vocal as him in airing complaints. After shooting a 7-over 77 Sunday to finish tied for 54th at 11 over, Poulter ripped the USGA in a post on Instagram in which he called the greens "disgraceful." "I look forward to congratulating the 2015...
LIKE WHAT YOU SEE?
GET THE DAILY NEWSLETTER:
Ian Poulter is one of the most outspoken and eccentric players on the PGA Tour, and his personality shows through in his new autobiography, "No Limits." PGA of America president Ted Bishop strongly disagrees with at least one thing that was written in the book. According to Golf Digest, golf legend Nick Faldo made some comments last month criticizing Sergio Garcia for being "useless...
Ian Poulter has had a very successful career as a professional golfer. In doing so, he has earned a lot of money. The 38-year-old Englishman has an estimated net worth of $30 million. Earning $1.71 million, $1.72  in 2012 and 2013 PGA Tour seasons — not accounting endorsement monies and other winnings in non-Tour events […] The post Ian Poulter whines about wife's flight inconvenience...
Ian Poulter is something of an oddball, quite the eccentric fellow, especially for the world of golf. From his unique choices in wardrobe to his quirky personality both on and off the course, the English golf star easily is one of the most compelling personalities currently playing professional golf. Case in point: Check out the […] The post Ian Poulter stands on bridge railing,...
Golf Digest is launching a new recurring column written by "The Undercover Pro," a PGA Tour player whose anonymity will presumably provide a cover to give a behind-the-scenes, no-holds-barred and inside look at what it is like to be a pro golfer. In the debut column, which is a decent read, "The Undercover Pro" saves […]The post Anonymous PGA player in Golf Digest column: Ian Poulter...
Whether it's " MASHED POTATOES " or " YABBA-DABBA-DO " or " BOOM SHAKA LAKA ," golf fans love yelling stuff at professional golfers. These days, one of the more popular post-swing catch phrases seems to be "BABA BOOEY," a nod to Howard Stern producer Gary Dell'Abate. See for yourself below: Apparently some of these Baba Booey-bombers and other post-shot shouters caught the ear...
Fans attending the PGA Championship at Oak Hill this weekend were going a little overboard on the chants off the tee. The trend of yelling "get in the hole!" after a tee shot has been going on for a while, and the "mashed potatoes!" chant is a little newer. In addition to both of these […]
Ian Poulter tends to play some of his best golf on Sunday in a major. Now if he can just figure out the opening 54 holes. Poulter is best known for his clutch putting in the Ryder Cup. He has had three top-3 finishes in the majors, usually when he puts together a strong closing round. It's just never good enough. In those three chances, the Englishman has started no closer than...
MORE STORIES >>
Golf News

Delivered to your inbox

You'll also receive Yardbarker's daily Top 10, featuring the best sports stories from around the web. Customize your newsletter to get articles on your favorite sports and teams. And the best part? It's free!