We've updated our Privacy Policy.
By continuing to use this site, you are agreeing to the new Privacy Policy.
Tiger Woods may have the week off, but that has not slowed the PGA ratings roll. In other news, moving from ESPN to ESPN2 sank the NCAA wrestling finals, the Yankees continue to move the needle in spring training, and Premier League viewership was mixed last weekend. Even Without Tiger, PGA Viewership Climbs at Match [...] The post Ratings: PGA Match Play, NCAA Wrestling, Spring...
The excruciating details of Tiger Woods' return from his fourth back surgery are coming out piece by piece. With Woods looking like a true contender again, after finishing tied for second and for fifth at PGA events in consecutive weeks, he pulled back the curtain a bit more on what it took for him to...
To Claire Rogers, an Edible Arrangement seemed like proper thanks
LIKE WHAT YOU SEE?
GET THE DAILY NEWSLETTER: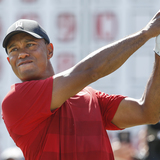 Tiger Woods is back. And while Bay Hill didn't end particularly well on Sunday, he's sticking to the positives. After all, there are plenty to choose from."If you would have asked me at the beginning of the year that I would have had a chance to win two golf tournaments, I would have taken that in a heartbeat. I'm extremely pleased."But on hole No. 16, things would fall apart. Needing...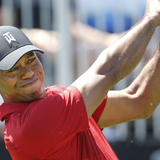 Tiger Woods had worked himself into contention on Sunday at the Arnold Palmer Invitational. But trailing by one shot on the 16th tee, an errant tee shot went out of bounds. For all intents and purposes, this took Woods out of the tournament. A par-five gave Woods a golden opportunity to tie or even take the lead. As it was, though, he made a bogey six. With only two holes remaining...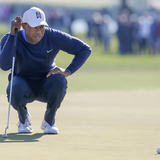 Tiger Woods is atop the leaderboard at the Arnold Palmer Invitational at Bay Hill this Thursday, thanks in part to a ridiculous putt he drained to take the outright lead. Through 16 holes, Woods is 4-under par and leads the field by one stroke. It's early, but it sure seems like Woods is really back this time.After his second-place finish last weekend and what we're seeing so far...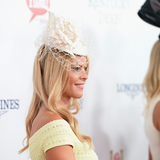 Elin Nordegren is poised to cash in big on the hot real estate market.Nordegren, the ex-wife of Tiger Woods, has listed her mansion in North Palm Beach, Fla. for $49.5 million.The complex is billed as having 11 bedrooms, 16.5 bathrooms, and spans nearly 26,000 square feet. It is described as being built in the style of the British West Indies. The home overlooks the ocean and features...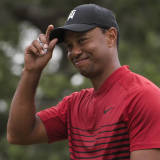 Tiger Woods is (almost) back.Golf fans who were looking for a sign of life from Woods got it and then some on Sunday at the Valspar Championship, but the 14-time major champion came up just short of setting the sports world on fire at the 18th hole. Tiger had a lengthy putt that would have forced a playoff, and the magic wasn't quite there. Woods was only in position to force a playoff...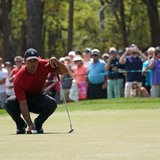 Tiger Woods hasn't been in contention like this in ages. And on Sunday, down by two strokes on the 17th hole at the Valspar Championship, he once again looked like the Tiger of old.Staring at a long 44-foot putt after a very conservative tee shot on the par-three, Woods stepped up and drained it. This incredible putt put Woods just one shot back with one hole remaining, and the Twitterverse...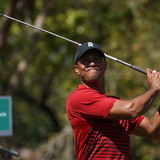 Tiger Woods sure seems like he's back, and was in contention on Sunday at the Valspar Championship.. As Woods battled to win his first tournament since 2013, he received a ton of public support, including the support of his ex-girlfriend, Lindsey Vonn.On Sunday afternoon as Woods was well into his final round, Vonn tweeted her support. Though Woods and Vonn ended their romantic relationship...
MORE STORIES >>
Golf News

Delivered to your inbox

You'll also receive Yardbarker's daily Top 10, featuring the best sports stories from around the web. Customize your newsletter to get articles on your favorite sports and teams. And the best part? It's free!