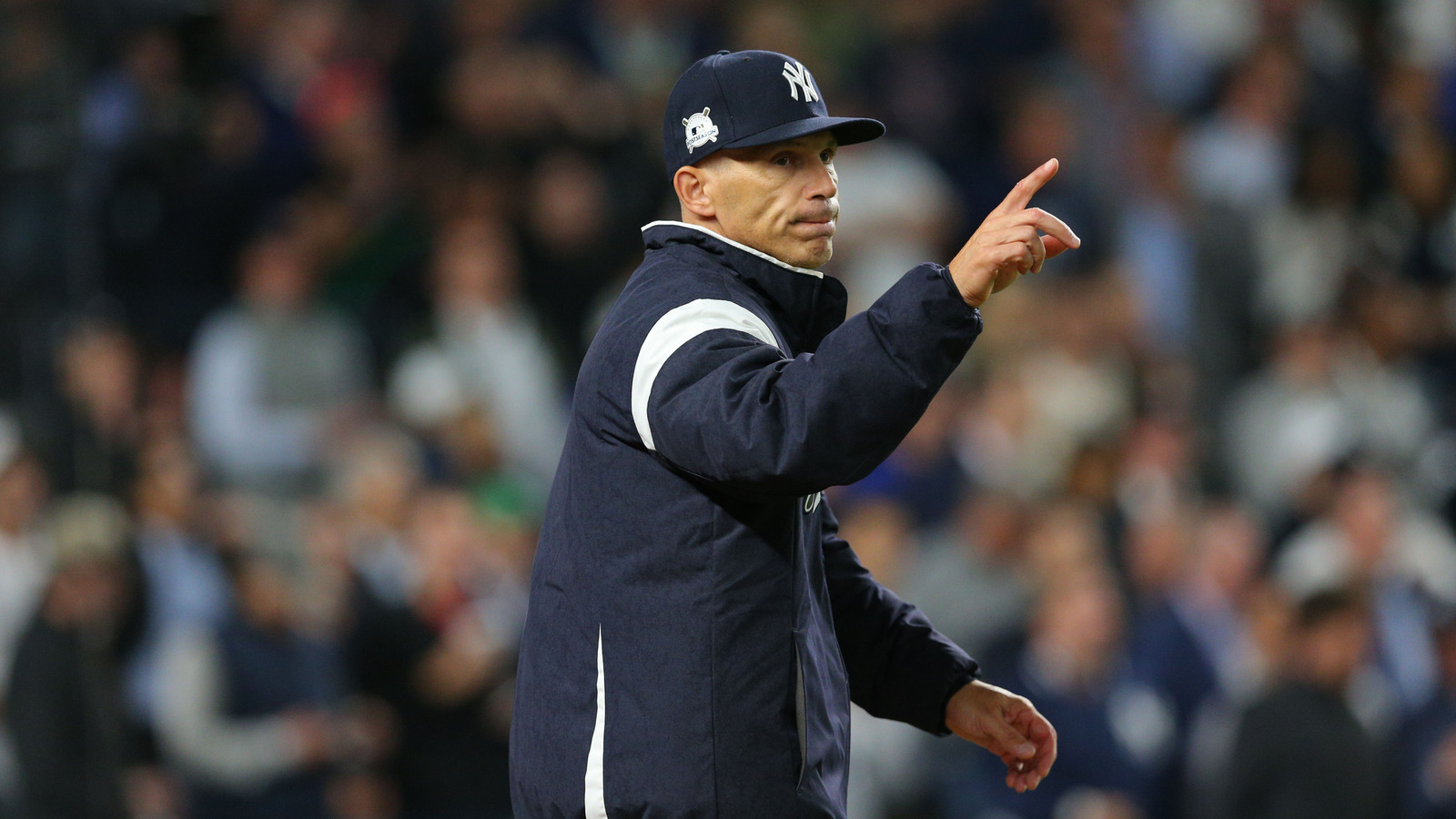 Oct 3, 2017; Bronx, NY, USA; New York Yankees manager Joe Girardi (28) makes a pitching change against the Minnesota Twins during the sixth inning of the 2017 American League wildcard playoff baseball game at Yankee Stadium. 
Brad Penner-USA TODAY Sports
Joe Girardi's future with the Yankees is up in the air and he will be just fine if he remains with the team or not.
After spending one season as manager of the Marlins, Girardi is in his 10th with the Yankees. Whether he holds that position going forward remains to be seen. Girardi is currently nearing the end of the final season of his contract.
Prior to Sunday's American League Division Series game against the Indians, Girardi was asked about his future in New York and reiterated he will be okay with whatever happens.
"I'm never worried about that," Girardi said, via the New York Daily News. "I worry about other people's futures, but not my own. I believe the man upstairs is in charge of me, and whatever happens, happens."
"I think an organization has to do what they're comfortable with, right, and it may not always agree with the person that is either being fired or however it goes," he continued. "But I think that's Hal and Brian's decision. Whatever their decision is, you know, I'll live with it."
Since taking over as manager of the Yankees, Girardi has led the team to a 910-710 regular season record and a World Series title.
Girardi's resume would seem to indicate a comfortable level of job security. However, Giarardi not yet being offered an extension suggests that may not be the case. It's entirely possible the way the season ends for the Yankees will have an impact on whether Girardi is with the Yankees next season. New York currently trails Cleveland 2-0 in their best-of-five series meaning we could have a resolution sooner rather than later.
MORE FROM YARDBARKER:
QUIZ: Name every MVP and Cy Young winner in Yankees franchise history
The New York Yankees have 25 MVP award winners and 5 Cy Young award winners in franchise history. How many of these MLB superstars can you name?
Clue: Year award was won
MORE FROM YARDBARKER
Yankees News

Delivered to your inbox

You'll also receive Yardbarker's daily Top 10, featuring the best sports stories from around the web. Customize your newsletter to get articles on your favorite sports and teams. And the best part? It's free!