We've updated our Privacy Policy.
By continuing to use this site, you are agreeing to the new Privacy Policy.
TAMPA — If Aaron Boone drops Aaron Judge into the leadoff spot against certain lefties and the move helps the Yankees win games, a brainstorming session on a bus ride moving north Thursday will be noted. After saying earlier Thursday, "I have no plans of leading him off," Boone took a look at it on...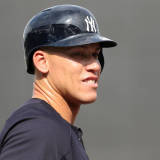 Aaron Judge on Friday will bat leadoff in a game for the first time since high school when the New York Yankees face the Boston Red Sox in spring training action. And the slugger downplayed any added significance to such a substantial change to where he's penciled in on the Yankees' lineup. "It doesn't change at all," Judge said Friday when asked if the leadoff role lends to changing...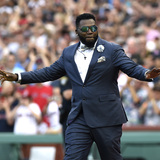 The Yankees currently have arguably the most potent lineup in all of baseball, and it's hard not to look at them as a pitcher's worst nightmare.With the acquisition of Giancarlo Stanton, who will likely hit behind Aaron Judge, pitchers had better make sure they don't let guys get on base beforehand, or those guys will make them pay with two and three-run homers.Former Red Sox slugger...
LIKE WHAT YOU SEE?
GET THE DAILY NEWSLETTER: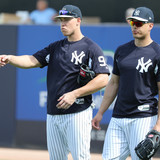 The New York Yankees boast a formidable one-two power-hitting punch in their batting order thanks to the offseason acquisition of Giancarlo Stanton, who joins slugger Aaron Judge.The case can be made that the Stanton-Judge duo has the potential to be among the best pairing of power hitters in a lineup in recent MLB memory. And one former ballplayer who once was part of one such fearsome...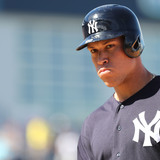 Aaron Judge got himself and the New York Yankees in a bit of trouble with the powers-that-be in Major League Baseball by making comments about Baltimore Orioles star Manny Machado that could be interpreted as tampering.Judge had an exchange with Machado before Wednesday's Yankees-Orioles exhibition game, details of which he later revealed to the media. "I told him he'd look good...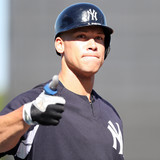 Tampering is bad, of course. But when it comes to players trying to recruit other players, sign us up. Unfortunately for Aaron Judge, the Yankees aren't on board with his approach.On Wednesday, reports would surface about Judge's pitch to Baltimore's Manny Machado."Adding him to our lineup that we already got would be something special. … I told him he'd look good in pinstripes....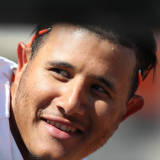 MLB had some words for the New York Yankees after Aaron Judge did some tampering with future free agent Manny Machado.Judge tried to recruit Machado before Wednesday's spring training game between the Yankees and Machado's Baltimore Orioles."Adding him to our lineup that we've already got would be something special. I told him he'd look good in pinstripes," Judge says he told Machado...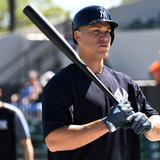 The New York Yankees have plenty of power, not the least of which being Aaron Judge. But the slugger, who would drop jaws during last year's Home Run Derby, probably isn't competing in this year's. It's hard not to blame him. After all, a player of Judge's caliber could use the extra rest. Last season, his second half would suffer due to a lingering shoulder injury. But there's no...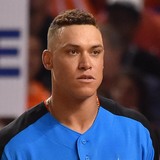 New York Yankees slugger Aaron Judge hinted that his big splash at the Home Run Derby last year, winning it at Marlins Park, may be his first and only appearance in the annual All-Star event. "I think I am one and done,'' the reigning Derby champion said this week during an appearance on the above-mentioned podcast from The Players' Tribune. The reasoning behind Judge's lack of enthusiasm...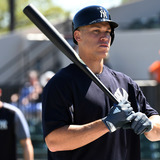 Now leading off for your New York Yankees: Aaron Judge? That's right, Yankees fans—don't discount it just yet. New manager Aaron Boone doesn't think it's likely, but he's not ruling the idea out."I wouldn't necessarily say it's likely, but something like that I would consider. I've thought about it."But, how does super-slugger Aaron Judge feel about it?"They haven't brought it up...
MORE STORIES >>
Yankees News

Delivered to your inbox

You'll also receive Yardbarker's daily Top 10, featuring the best sports stories from around the web. Customize your newsletter to get articles on your favorite sports and teams. And the best part? It's free!