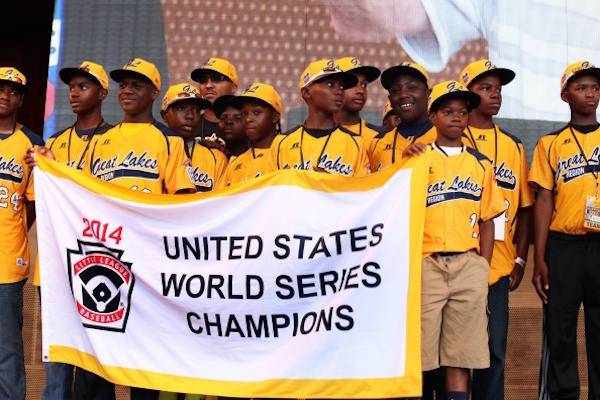 A parent claims the league that blew the whistle on Jackie Robinson West engaged in similar conduct.
Raymond Boyd/Getty Images
By Steve DelVecchio
A parent whose son played for Evergreen Park Little League, the league that blew the whistle on Jackie Robinson West, claimed this week that the whistle-blowers are guilty of doing the same exact thing.
Renee Cannon-Young claims her son Jacoby was recruited to play baseball for Evergreen Park back in 2011. Cannon-Young says her family lived on Chicago's South Side at the time, which would put them outside of Evergreen Park's district. She was told it didn't matter.
"The paperwork was filled out for me," Cannon-Young told ABC 7 in Chicago. "I was told that although he was not a resident of Evergreen Park, they were going to fix that so that he could play. Just use another address, and he would be able to play."
As you know, Jackie Robinson West was stripped of their Little League World Series US championship after an investigation determined the team used players from outside their boundaries. Chris Janes, the vice president of Evergreen Park Little League, is the one that alerted Little League Baseball about the cheating. JRW had defeated Evergreen Park 43-2 during the tournament.
President and CEO of Little League International Stephen D. Keener acknowledged that residency rule violations are common but are usually spotted sooner.
"These types of things do happen occasionally at the local level, but they're usually sorted out pretty much when the local tournament begins because neighbors know neighbors," Keener said.
The bottom line? People are pathetic. These are kids who range in ages from 10-13. Cheating by "recruiting" children from ineligible districts is everything that is wrong with youth sports in America.
MORE FROM YARDBARKER
MLB News

Delivered to your inbox

You'll also receive Yardbarker's daily Top 10, featuring the best sports stories from around the web. Customize your newsletter to get articles on your favorite sports and teams. And the best part? It's free!