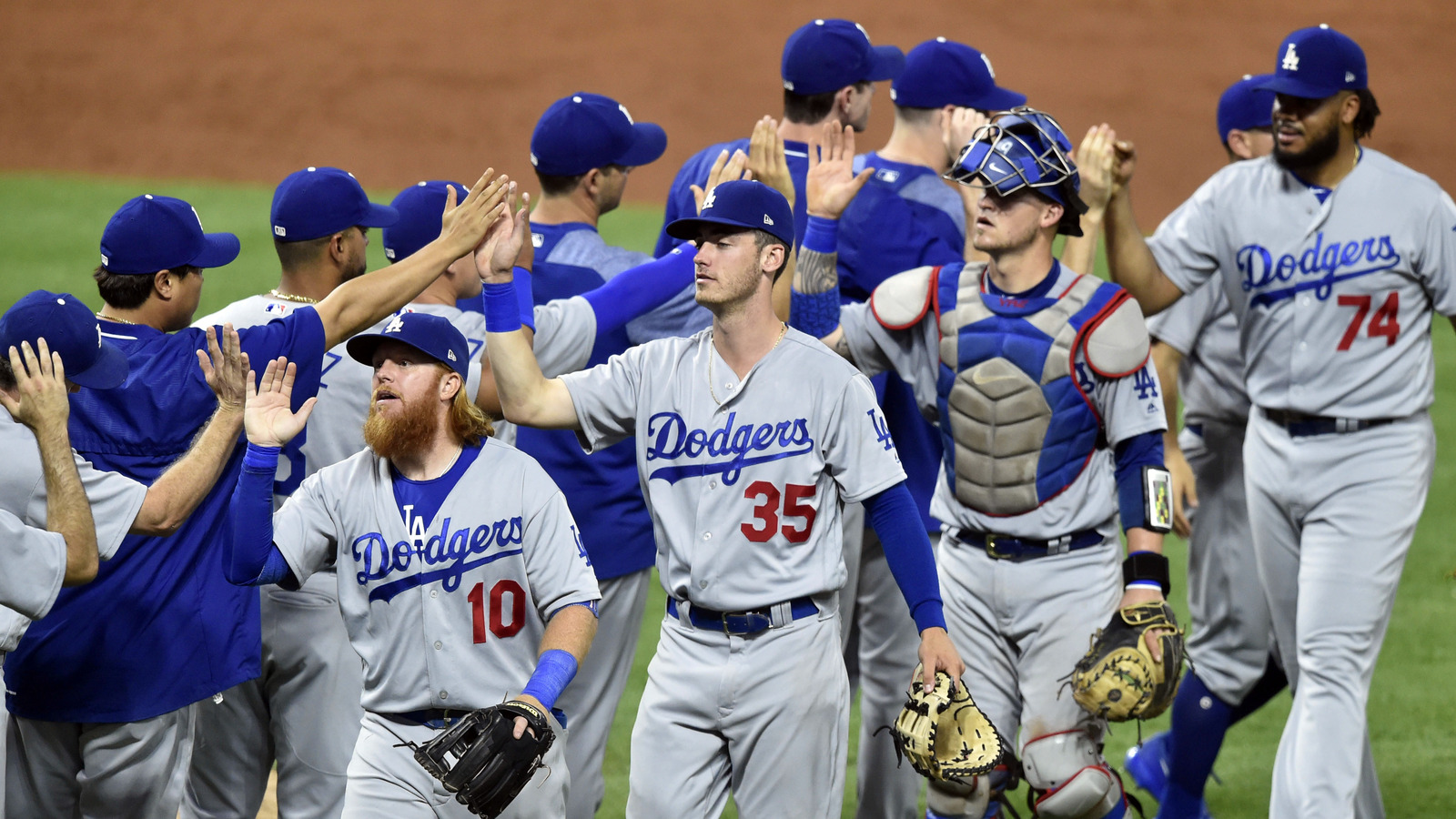 Jun 13, 2017; Cleveland, OH, USA; The Los Angeles Dodgers celebrate a win over the Cleveland Indians at Progressive Field.
David Richard-USA TODAY Sports
Congratulations to the Los Angeles Dodgers on winning the 2017 World Series! Well, not yet, of course. But with their acquisition of Curtis Granderson, you can just about crown them now. Granderson was the last and best piece for the Dodgers to add to their incredible season. Now they have the most complete and deadliest roster in baseball—with hardly any sign of weakness on the diamond.
The Dodgers are having one of the best seasons in MLB history. In 124 games, the Dodgers have only lost 35 times. With 90-plus wins on the horizon in August, they're on pace to win 116 games in 2017. That would be tie them for the most wins ever in a season. While another team with 116 wins—the 2001 Mariners—didn't get the desired result in the postseason, the Dodgers not winning the World Series would be a major upset.
Simply put, they have been unstoppable this season. And they owe a lot of it to their pitching staff The Dodgers rank in the middle to the top of the league in most hitting statistics, of course. But on the mound, they have the MLB's best team ERA and starting pitching ERA (No. 2 bullpen ERA), batting average against, BABIP against, team WHIP, earned runs against, total runs against and walks. They also sit top-four in saves, shutouts and fielding independent pitching (FIP).
To top that many categories is astonishing. But when you see who they have on the mound, it all starts to make a little more sense. The same goes for guys that Manager Dave Roberts has in the lineup every day.
I'm picking the Dodgers to win the World Series now because not only are they stacked, they also have everything a championship-winning team needs. From top to bottom, they have a great batting order, arguably the best starting rotation in baseball, and a solid bullpen—spearheaded by one of the game's best closers.
Beginning with the infield, two of their best are 3B Justin Turner and SS Corey Seager. Turner, a 2017 All-Star, is hitting .336 on the year which leads the National League. Seager, the 2016 NL Rookie of the Year, is having another great season with 17 home runs and 58 RBI. He's on pace for his second 20-plus HR, 70-plus RBI season—all while slashing .308/.392/.506/.898.
At second, the Dodgers have been splitting time between offseason acquisition Logan Forsythe and veteran Chase Utley. Second base is the weakest position the Dodgers currently have.
At first is the 2017 NL Rookie of the Year, Cody Bellinger. Well again, not yet, but come on. Bellinger is leading all rookies in home runs (2nd in NL with 34), RBI, slugging percentage and runs. He's also sits top-two in hits, walks, stolen bases and OBP.
In the outfield, the Dodgers found a gem in LF Chris Taylor, who is slashing .310/.380/.543/.923 on the season. In center, LA had former ROY candidate Joc Pederson—who was having the worst year of his career after an abysmal 2016. Pederson was hitting .053 in 13 games in August, with two hits, seven strikeouts and a seven-game hitless streak. That's why the Granderson move was just what the doctor ordered.
Pederson was demoted the day after Granderson was acquired, finishing his 2017 with a .215 AVG., 11 HR and 33 RBI. Granderson is an improvement in just about every category. He doesn't hit for average anymore but he's a solid all-around ballplayer that the Dodgers will definitely benefit from for the rest of the season. Where they had a liability in center, they now have a producer. In right, they have Yasiel Puig—a fan favorite and a tremendous athlete and defender—but also Bellinger, who was formerly listed as an outfield.
The reason why Bellinger played his last two games in the outfield is because of the return of yet another player who is looking to help take the Dodgers to the World Series. To think that the Dodgers are sitting at 89-35 on Aug. 23 and are getting back All-Star Adrian Gonzalez is absolutely absurd. Gonzalez, perhaps one of the game's best first baseman, is returning from the 60-Day DL to a team right in the middle of a historic title run.
Not only that, but they've also been without Clayton Kershaw for about a month now. And, Yu Darvish was recently placed on the 10-Day DL. Kershaw is scheduled to make his first rehab start this weekend while Darvish should be back by early September. Which that brings me to the next point: Starting pitching.
In the playoffs, teams only need about three or four starters that can go out and pitch a solid six or seven innings. The Dodgers have more than five. In the playoffs, every team has an ace. But the Dodgers arguably have two, and another pitching like one. That's what will take them to the World Series. Their rotation features Kershaw, Darvish, Alex Wood, Rich Hill, Kenta Maeda, Hyun-Jin Ryu, Brandon McCarthy and also Scott Kazmir—who is looking to return some time this year.
With Kershaw, Darvish, Wood, and just about any of the other pitchers mentioned, it's hard to see the Dodgers dropping a game at any point in the playoffs. And after these arms get the Dodgers into the sixth or seventh inning, the NL's best bullpen will have little trouble shutting it down. The Dodgers have six pitchers with at least 30 IP/30 games pitched with an ERA under 3.50. Their bullpen also ranks top-six in holds, saves, K/9, K percentage, BB/9, FIP, WHIP and ERA.
If the Dodgers can maintain this form, there's no doubt they can win it all. They had a great chance to win it with Pederson in center but Granderson makes them just that much better. And while Granderson might just be one player, his veteran presence will help the team. And that's what ultimately wins the championship—the team. All the moving parts—the infield, outfield, bench, starters, relievers—are one unit. And the Dodgers have the best entire unit, and then some. It's their title to lose.
MORE FROM YARDBARKER
Dodgers News

Delivered to your inbox

You'll also receive Yardbarker's daily Top 10, featuring the best sports stories from around the web. Customize your newsletter to get articles on your favorite sports and teams. And the best part? It's free!