We've updated our Privacy Policy.
By continuing to use this site, you are agreeing to the new Privacy Policy.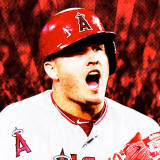 MLB Opening Day is just around the corner, but before it gets here, why not take a trip around the diamond and see our top 10 at every position rankings for 2018 first? 4. Chris Sale, Red Sox Whether it be his menacing glare, often nasty disposition or the snake-like way he unfurls on the mound, Sale has always had a special type of intimidation factor on the hill. Of course, the...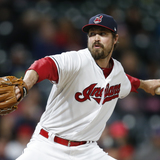 No area of the game has undergone a more dramatic overhaul in recent years than the role of the reliever. Long gone are the days of burnt-out starters hidden in the bullpen as a walking path to the closer. Nowadays, the bullpen may be the most intricately constructed part of any team.The Kansas City Royals crafted their way to a pair of World Series appearances, including a victory...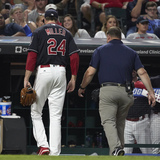 The Cleveland Indians continue to try to look for ways to get ace reliever Andrew Miller healthy.The team announced Friday that Miller has been shut down for five to seven days with patellofemoral syndrome, and that he will be re-evaluated after that. The condition sounds worse than it is, and there are no indications that there is any actual damage to any part of Miller's knee....
LIKE WHAT YOU SEE?
GET THE DAILY NEWSLETTER:
Andrew Miller may be number one on the MLB's Ten Most Wanted List this trade deadline season. According to a report from Ken Rosenthal of FOX Sports on Monday, the Cleveland Indians, a team very much in need of lefty relief help, may have Miller as their top trade target. Gimenez is favorite of #Indians' pitchers, and has connected with Bauer. Team's No. 1 need is LHR, and #Yankees...
The Chicago Cubs have the best record in baseball, and they're ready to go for that elusive World Series title by potentially beefing up their bullpen. According to Bruce Levine of CBS Chicago, one player the team may try to target is Yankees setup man Andrew Miller. The Cubs have been open about their pursuit of bullpen help, and Miller would be an ideal option. He's a dominant...
There are a myriad of reasons to be impressed by Andrew Miller. He's 6-foot-7, which is quite a height for a human to grow to. He's left-handed, which a rare trait. He can throw a ball at 94 mph consistency. Beyond the basics, it has become apparent in recent years that he's a pretty remarkable pitcher. You could argue he's the third best reliever on the New York Yankees, but that...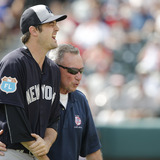 The New York Yankees received some good news on the injury front as Andrew Miller has been cleared to pitch despite a chip fracture in his right wrist, his non-throwing hand, an injury that won't require surgery. Hand specialist in Miami gave Miller the OK to pitch w/o surgery. Pain tolerance will dictate what he can do. Fracture will heal naturally — Jack Curry (@JackCurryYES...
From a health perspective, it had been a good spring for the Yankees. That was a welcomed change of pace. Of course, all good things must end, for the world is a cruel and cold place filled with sadness. Andrew Miller took a line drive off his right wrist in today's game with the Braves. According to reporters at the game, Miller immediately walked off the field and slammed his...
The MLB hot stove hasn't quite kicked into full gear, but as we await the fall of the large dominoes, the New York Yankees are making headlines. Although the Jose Pirela and JR Murphy trades are not earth-shattering, they are getting the ball rolling. More interesting are the rumors in circulation about Brett Gardner and Andrew Miller. Trading Gardner is a bit tricky because he's...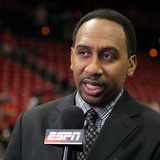 For the second time in three days, Stephen A. Smith's poor use of Twitter is making headlines. On Sunday it was his tweet about Jay Cutler that got him in trouble. On Tuesday it was a tweet about the Yankees showing his embarrassingly little knowledge of the team that led to the backlash. Andrew Miller, who has been lights out as the Yankees' closer all season, gave up a solo home...
MORE STORIES >>
Indians News

Delivered to your inbox

You'll also receive Yardbarker's daily Top 10, featuring the best sports stories from around the web. Customize your newsletter to get articles on your favorite sports and teams. And the best part? It's free!