We've updated our Privacy Policy.
By continuing to use this site, you are agreeing to the new Privacy Policy.
If catcher Cameron Rupp is not traded, he can be optioned to Triple-A Lehigh Valley. It would be a tough pill to swallow for somebody who has not played in the Minor Leagues since 2014.
By Brandon Apter, Sports Talk Philly editor   The Philadelphia Phillies kick-off their final full week in Florida on Monday against the Red Sox and they'll have some difficult roster decisions to make as the week progresses. They open their 2018 campaign on March 29 in Atlanta and there are a few guys on the roster bubble heading into the home stretch of Spring Training. One of...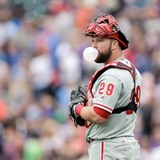 The Phillies have avoided arbitration with catcher Cameron Rupp, according to Matt Gelb of the Philadelphia Inquirer (via Twitter). Rupp will earn a $2.05MM salary for the coming campaign — just a hair shy of the $2.1MM that MLBTR projected he'd earn in his first arbitration year.Though Rupp was not quite as productive last year as he was in 2016, he has established himself as a...
LIKE WHAT YOU SEE?
GET THE DAILY NEWSLETTER: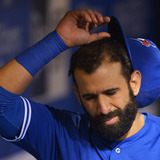 All-Star slugger Jose Bautista was in the middle of another standout campaign for the Toronto Blue Jays, but then he ran into a wall. Literally. The Blue Jays placed Bautista on the 15-day disabled list with a big toe strain, they announced on Friday. Jose Bautista has been placed on 15-day DL due to a big toe strain. https://t.co/2iFAx4VsGH pic.twitter.com/ftosk20u7d — Toronto...
Cameron Rupp, Image- Jay Floyd Drafted in the 3rd round of the 2010 draft, catcher Cameron Rupp has steadily been an improving prospect for the Phillies. After debuting in the big leagues last year, the 25-year-old has certainly proven himself as a talented backstop that could have quite a career ahead. Rupp, a University of Texas product, made his professional debut with the short...
Cameron Rupp had a good go at it in his four September starts with the Phillies last season, hitting .308 with two ribbies in 13 at-bats. Nice job, but it doesn't trump a combined .258 average in 2013 combined between Reading (.245) and Lehigh Valley (.269). In fact, you probably would not be reading about Rupp at all if it wasn't for a few words and a hearty endorsement from an...
Using 20/20 hindsight, players were available on the market for the Philadelphia Phillies besides Mike Adams. There were other third basemen, outfielders and relievers. Why didn't Ruben Amaro Jr. corral them? TAL'S HANDY CAPS   Welcome, Newcomers: This article represents the thinking of a baseball man in my opinion. Most fans do not consider the budget, prospects on the radar, the...
Cameron Rupp, Image- Jay Floyd Over the weekend, Cameron Rupp sat in the players' lounge area of the Coca Cola Park clubhouse watching the Phillies on television. On Tuesday, he'll be in the clubhouse at Citizens Bank Park for his first major league game. Rupp, the Phillies' third round draft choice in 2010 out of the University of Texas, was among a collection of youngsters that...
Rupp gets the call to Triple-A Lehigh Valley. Photo by: Jay Floyd According to Reading Fightins Director of Public Relations Eric Scarcella, the Phillies have done some reorganizing in their minor league ranks to adjust for Steven Lerud's promotion to the Phillies. Catcher Cameron Rupp, 24, has been promoted from Double-A Reading to Triple-A Lehigh Valley. Rupp, 6'1″ and 240 lbs...
Cameron Rupp, image- Jay Floyd In an organization stocked with catching talent, Cameron Rupp has, at times, been an afterthought.  That isn't the case any longer, as the Phils' 3rd round draft choice from 2010 has forced the team's brass and scouts alike to take notice and hold him in consideration as a potential big league backstop candidate. While Rupp's numbers (.215 avg, two...
MORE STORIES >>
Phillies News

Delivered to your inbox

You'll also receive Yardbarker's daily Top 10, featuring the best sports stories from around the web. Customize your newsletter to get articles on your favorite sports and teams. And the best part? It's free!