Chad Bettis threw six scoreless innings Sunday in a back-field game against the Brewers, drawing praise from the Rockies.
Righty Chad Bettis spent earlier outings testing various parts of his delivery, and it paid off Monday, when he threw five strong innings in a 4-2 Cactus League victory over the D-backs.
Chad Bettis looked strong and Antonio Senztela looked like someone who doesn't want to be stuck in Triple-A in the Rockies 4-2 win over the Diamondbacks.
Chad Bettis has a new perspective on life after battling and beating testicular cancer last year. The 28-year-old Rockies pitcher is looking forward to start the 2018 season, especially after accepting that baseball cannot always be his number one priority. "I think there are a lot of times… earlier in my career, where I felt like baseball taking kind of control of everything, really...
Rockies right-hander Chad Bettis intended to concentrate on the feel of a certain part of his delivery during Wednesday's "B" game against the Angels. But giving up four runs, two on a Carlos Perez homer, didn't feel good.
Colorado Rockies pitcher Chad Bettis looked good in his spring debut.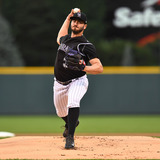 Chad Bettis is back in the major leagues after a battle with cancer and was greeted warmly by those in attendance at Coors Field.Late last year, Bettis was diagnosed with testicular cancer. In March, doctors found the disease had spread and Bettis would need to undergo chemotherapy, which he did. Bettis finished his treatments in May and was back pitching in the minor leagues by...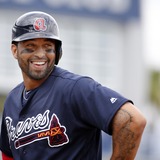 Everyone loves an underdog story, and few underdog stories in baseball top the one of going from worst to first. This can happen for any number of reasons: big offseason acquisitions, career years from multiple players, a call-up that takes off, a managerial change, maybe even key injuries to division foes, or a combination of any or all of those.Welcome back to the Yardbarker roundtable...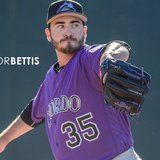 Colorado Rockies pitcher Chad Bettis on Monday received heartfelt expressions of support from several MLB teams and social media at large as he continues to wage a battle against cancer.Bettis, originally diagnosed with testicular cancer late last year, was declared cancer-free in January following surgery on Nov. 29. Subsequent tests in early March, however, unfortunately indicated...
A team can't make their season in March, but they can lose their season before it begins. Last week was an awful week for the Rockies. At the moment, the Rockies and the baseball world aren't concerned about when Chad Bettis will pitch again. They just want him to be healthy, after the 27-year-old starting pitcher learned last week that his testicular cancer had unexpectedly spread...
MORE STORIES >>
Rockies News

Delivered to your inbox

You'll also receive Yardbarker's daily Top 10, featuring the best sports stories from around the web. Customize your newsletter to get articles on your favorite sports and teams. And the best part? It's free!