We've updated our Privacy Policy.
By continuing to use this site, you are agreeing to the new Privacy Policy.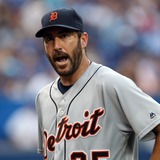 If you want to know how Detroit Tigers players felt about their late team owner Mike Ilitch, look no further than their social media channels.Multiple current and former Tigers players honored Ilitch, who died on Friday at the age of 87, with tributes on Twitter.From current stars Justin Verlander and J.D. Martinez to former players like C.J. Nitkowski and Ian Krol, Ilitch was praised...
Only one run was scored during Game 3 of the World Series on Friday night, but that was enough to be the difference. The Cleveland Indians beat the Chicago Cubs 1-0 at Wrigley Field thanks to great pitching by their staff and an RBI single by Coco Crisp in the seventh. The hit came off Carl Edwards Jr., who was the only Cubs reliever to allow a hit in the game (he surrendered two...
Pete Rose has been making a stir as part of the FOX studio analyst team this postseason. On Friday, he went viral. Rose peered into the camera as C.J. Nitkowski was speaking, held his gaze for a brief moment, then popped back out of the shot. Here's the original: I've been watching Pete Rose instead of posting him for 5 minutes pic.twitter.com/26oocQipUD — CJ Fogler (@cjzero...
LIKE WHAT YOU SEE?
GET THE DAILY NEWSLETTER:
Former MLB relief pitcher CJ Nitkowski appears to have successfully made the transition from professional ballplayer to coach. His training methods are a bit unorthodox, but we all know all the great ones like to be unpredictable. On Friday morning, Nitkowski posted a video on Twitter of him teaching his son how to execute a proper [...]
For The Associated Press EDITOR'S NOTE: C.J. Nitkowski pitched for eight teams in the major leagues from 1995-2005, then played pro ball in Japan and South Korea. He portrays Phillies pitcher Dutch Leonard in the current film `42.' --- Jackie Robinson had no influence on me. He didn't open any doors for me. He didn't pave any way. He didn't give me the hope that I could do anything...
C.J. Nitkowski's baseball career has taken him to some pretty interesting places.  From Cincinnati to New York (twice), Japan to South Korea...dude has just about seen it all. But his latest role (get it?) finds him in a Philadelphia Phillies uniform doubling as Dutch Leonard in the film "42". HOVG:  How does one go from looking for another ride in the big leagues to...
Need For A Lefty In The Big Boy Pen? Why Not Tab The Guy You Already Have? C.J. Nitkowski is a man among boys these days. The 39-year-old left-hander is throwing the ball extremely well at Buffalo with his version 2.0 side-arm pitching motion. As he becomes more and more comfortable with his new delivery, he feels more and more confident that he will get back to the show, despite...
Left-handed reliever CJ Nitkowski announced on Twitter that he has signed with the Mets and is headed to Double-A Binghamton. Back in March, Nitkowski auditioned for the Mets in front of J.P. Ricciardi and Dan Warthen, and it was later reported they would offer him a minor league deal. "They liked what they saw," Nitkowski said at the time. "They seemed pleased. It's nice to come...
According to Anthony DiComo of MLB.com, Nitkowski said the Mets seemed pleased with what they saw from him in his tryout today. "They liked what they saw," Nitkowski said. "They seemed pleased. It's nice to come back into this atmosphere and to get feedback from people who know what they're talking about." Nitkowski, a New York native, said his first choice would be to join the...
Free-agent LHP C.J. Nitkowski is trying out for the Mets in front of J.P. Ricciardi and Dan Warthen, according to Joel Sherman of the New York Post. Nitkowski, 39, has changed his arm angle from his days with the Yankees and Tigers, and is now throwing sidearm, reports Sherman. The lefty reliever last pitched for the Nationals in 2005 and owns a career record of 18-32 with a 5.37...
MORE STORIES >>
MLB News

Delivered to your inbox

You'll also receive Yardbarker's daily Top 10, featuring the best sports stories from around the web. Customize your newsletter to get articles on your favorite sports and teams. And the best part? It's free!