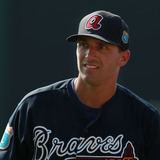 Atlanta Braves outfielder Jeff Francoeur wants Major League Baseball to punish performance-enhancing drug users more severely, and the 12-year veteran says he is not alone. In an appearance on Buster Olney's "ESPN's Baseball Tonight" podcast Thursday, Francoeur estimated that 90 percent of MLB players are in favor of stiffer PED penalties. "The system is flawed," Francoeur said...
There seems to be an urge to consider Jeff Francoeur's Tuesday pitching appearance symbolic. Francoeur's an outfielder called on to pitch, and he went two innings in a blowout because the bullpen phone was off the hook, and at one point he had to reassure a coach on the field he still had something left […]
A communication issue with the bullpen phone resulted in Phillies outfielder Jeff Francoeur pitching more than the team would have liked in a 19-3 blowout loss to the Baltimore Orioles on Tuesday night. The Phillies were down 17-3 to the Orioles when they decided to have Frenchy pitch the seventh inning. He retired the side...Read More
By Jason Rowan It was a wild scene at Oriole Park at Camden Yards on Tuesday. After all, how often do you see a team mash 8 home runs AND witness an outfielder throw 43 pitches in the same game? But that's exactly what went down during the Baltimore Orioles' 19-3 throttling of the Philadelphia Phillies. The eight home runs were an Orioles franchise record. And the outfielder who...
Jeff Francoeur is proving to be a regular "Jack of All Trades" for the San Diego Padres Triple-A affiliate El Paso Chihuahuas. Not only is the outfielder the perfect prank victim, but with a Gold Glove and World Series experience, he's also got some pretty solid Major League credentials.  Oh, yeah…he's also proving to be a rally killer on the mound. Sunday night, "Frenchy" took the...
MORE STORIES >>
Royals News

Delivered to your inbox

You'll also receive Yardbarker's daily Top 10, featuring the best sports stories from around the web. Customize your newsletter to get articles on your favorite sports and teams. And the best part? It's free!