Last November, the Los Angeles Dodgers re-acquired Darnell Sweeney in a trade that sent Howie Kendrick to the Philadelphia...
Last November, the Los Angeles Dodgers re-acquired Darnell Sweeney in a trade that sent Howie Kendrick to the Philadelphia...
PHILADELPHIA (AP) Adam Morgan pitched six strong innings and drove in the eventual winning run, and Darnell Sweeney homered to lead the Philadelphia Phillies to a 4-3 victory over the San Diego Padres on Saturday night. Philadelphia's Aaron Altherr snapped his string of extra-base hits to start his career with a fifth-inning single. Altherr entered with four doubles, a triple and...
View image | gettyimages.com There's no doubt the Cole Hamels deal was a team effort. Phillies general manager Ruben Amaro, departing president Pat Gillick, and the incoming president Andy MacPhail had a hand in the six-player package that came to town in return for the long-time ace. It will no...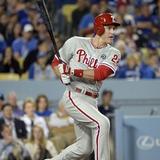 After 13 productive years in a Phillies uniform, Chase Utley is headed to Los Angeles, where he'll help solidify the Dodgers' second-base situation. In exchange for Utley's services, the Dodgers sent a couple of minor leaguers to the Phillies: utility player Darnell Sweeney and right-handed pitcher John Richy. Here's my statistical breakdown of these two prospects. Darnell Sweeney...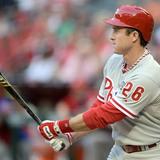 Eickhoff will start Friday The Phillies announced two roster moves Wednesday night. First, the Phillies announced right-handed starter Jerad Eickhoff will join the Phillies Friday and start against the Miami Marlins. Eickhoff has a 2.49 ERA in 21.2 IP for the 'Pigs and has thrown 19 strikeouts against three walks. Additionally, the Chase Utley trade has been finalized with utility...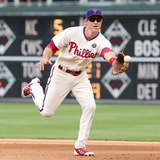 On Wednesday afternoon, the Phillies and Dodgers agreed on a trade to second long-time Phils second baseman Chase Utley to LA in exchange for a pair of prospects. Though the deal is not official yet, one of the prospects in the trade is known. Hearing one prospect headed to Phillies...
The Dodgers made six more roster cuts yesterday, reassigning Corey Seager, Darnell Sweeney, Chris O'Brien, Buck Britton, and Shawn Zarraga to minor league camp, and optioning Scott Schebler. With the majors side of things now sitting at 44 players — including the injured Chris Withrow and Brandon Beachy — the Dodgers now effectively have 17 more cuts to make, but there's...
Baseball never ends, and the ongoing Winter Leagues are evidence of that. The Dodgers have sent a bunch of relevant prospects to play in the Winter Leagues this year, and while one probably shouldn't look too far into the numbers here, it's always interesting to get more data. Stats Through 10/26 —– Arizona Fall League Corey Seager – SS – .255/.345/.412/.757, 13/51, 6 2B, 3B, 7...
I was pretty high on Darnell Sweeney after his debut season. He was a 13th-round selection in the 2012 MLB Draft, and his .804 OPS (including .819 in the Midwest League) gave me hope that the Dodgers might have struck gold with the pick. Then, I saw him a ton last season with Rancho Cucamonga, and was thoroughly unimpressed — probably because my expectations were a touch high. Here...
MORE STORIES >>
Reds News

Delivered to your inbox

You'll also receive Yardbarker's daily Top 10, featuring the best sports stories from around the web. Customize your newsletter to get articles on your favorite sports and teams. And the best part? It's free!