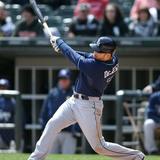 David DeJesus was traded from the Tampa Bay Rays to the Angels on Tuesday, and nobody is happier about it than David's wife, Kim. Upon learning of the trade, Kim sent off a flurry of tweets expressing her elation over the deal. @David_DeJesus3 is officially an Angel!!!!!!! And I'm officially in heaven!!!!!!!!!! — Kim DeJesus...Read More
The Tampa Bay Rays picked up outfielder David DeJesus' option for 2014 earlier this week, then did him one better by signing the 33-year-old to a two-year deal worth $10.5 million. Understandably, this made his wife Kim DeJesus very happy. For those of you who are unfamiliar with her, Kim is one of our favorite […]
(*not really) Remember that old joke setup "What's grosser than gross?" During Wednesday night's AL wild card game between the Cleveland Indians and Tampa Bay Rays at Progressive Field, not only was the behavior exhibited by some offensive use of face painting a gross exhibition by a few  fans of the hometown team, the contents […]The post Some Indians fans behaved super classy*...
David DeJesus traded to Tampa Bay for a player-to-be-named or cash. It was the best of times, it was the worst of times. And so, as Nationals fans mourn the end of the David DeJesus Era, take a moment to reflect upon your favorite moments of his glorious four day career with the Nationals. More from his wife, on Twitter: Oh yeah...and were headed to Tampa now, ya know just...
David DeJesus' wife Kim was the highlight of the trade deadline this season. The former Chicago Cubs outfielder's name was the subject of a number of trade rumors on July 31, but he ended up staying put. Or should we say, he ended up staying put for a couple more weeks. Last month, Kim DeJesus […]
Do the Washington Nationals truly want David DeJesus? We're about to find out. The Tampa Bay Rays have claimed DeJesus on revocable trade waivers, giving the Nats the chance to escape the approximately $2.5 million left on his contract, according to major-league sources. The deadline for a resolution on DeJesus is 1 p.m. ET on Friday. A player who is claimed can be traded to the...
When the David DeJesus signed a two-year deal with the Chicago Cubs in November, 2011, no one was happier about it than his wife, Kim. Kim grew up about 45 minutes away from Wrigley Field in Wheaton, Ill., so it was a welcome return to her old stomping grounds. That's why Kim was particularly devastated […]The post David DeJesus' wife posts heartbreaking tweet after he's traded from...
MORE STORIES >>
MLB News

Delivered to your inbox

You'll also receive Yardbarker's daily Top 10, featuring the best sports stories from around the web. Customize your newsletter to get articles on your favorite sports and teams. And the best part? It's free!