We've updated our Privacy Policy.
By continuing to use this site, you are agreeing to the new Privacy Policy.
--------------------------------------------------------------------------------- SUPPORT CLNS MEDIA: Powered by... RXBar, go to http://RXBar.com/CLNS; enter the promo code CLNS for 25% off your first order. eHarmony, go to http://eHarmony.com and use the promo code: GARDENREPORT for one FREE month. Find your life-partner w/ eHarmony for FREE in the first 30 days or cancel. ...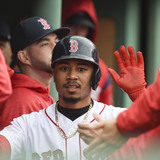 A few prominent members of the Boston Red Sox talked on Thursday about some of the difficulties the team experienced within the clubhouse.Both Mookie Betts and Xander Bogaerts acknowledged there were issues at times.Betts says there was "tension" when the team was going through its down times."I think [there was] just tension in the locker room as far as if things were down," Betts...
Since the Boston Red Sox 2007 World Series Championship, Dustin Pedroia has been the heart and soul of the team. The second baseman's grit, heart, and body-on-the-line style of play have made him a favorite of fans and teammates alike. But there comes a time in every player's career where Father Time begins to tighten his grip, and it appears Pedroia may be at this crossroad. He...
LIKE WHAT YOU SEE?
GET THE DAILY NEWSLETTER: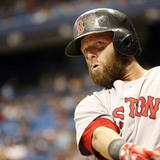 MLB.com's Ian Browne reported that Dustin Pedroia has undergone surgery to restore cartilage in his left knee. The surgery was done with hopes to repair a left knee injury that bothered the former MVP second baseman for most of the year. Browne also reported that Pedroia will not be ready to play baseball for at least 7 months and could be out until May of next season. Pedroia, 34...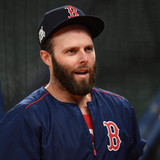 Boston Red Sox second baseman Dustin Pedroia has finally dealt with his ongoing left knee problems, and the surgery will keep him out a while.The Red Sox announced Wednesday that Pedroia underwent a successful cartilage restoration surgery on his left knee and that the recovery will keep him out about seven months — meaning he will miss the start of the 2018 season. A seven-month...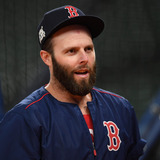 Dustin Pedroia said after the Boston Red Sox's season came to an end on Monday that he could need knee surgery.Pedroia has been dealing with left knee problems all season and missed some time at the end of the regular season because it was bothering him. He says he will know more after meeting with doctors on Tuesday. Pedroia had knee problems last season and underwent arthroscopic...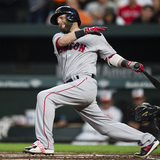 Dustin Pedroia left Monday's Boston Red Sox-Baltimore Orioles game after taking a foul ball off the face.Pedroia was leading off the top of the fourth at Camden Yards and poked at a 1-1 pitch. The ball hit off his bat, bounced, and hopped up into his face: Pedroia was bleeding some after being hit by the ball. Brock Holt replaced him during the at-bat and actually doubled.Pedroia...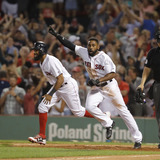 Want more news first thing in the day? Sign up for the Yardbarker Morning Bark newsletter here.Good morning and welcome to the YB Box Score, what we're reading while quietly clapping for the BoSox win over the Cards.Happy birthday today to Rudy Gay, Dustin Pedroia, Dee Brown, Antwaan Randle El, Christian Laettner and Jon Gruden. On this day in 1982 the Dodgers and Cubs started a...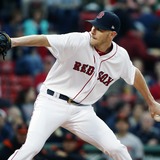 The top of the first inning during Tuesday's Baltimore Orioles vs. Boston Red Sox game was strange. Fittingly enough, Chris Sale was at the center of it.The game's second hitter — Adam Jones — was greeted with a heartwarming standing ovation, which you can see here. One hitter later, Sale threw behind Manny Machado — reigniting some bad blood between the two teams. Machado was at...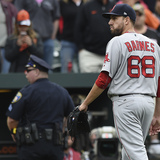 Boston Red Sox pitcher Matt Barnes made a decision to protect teammate Dustin Pedroia by throwing at the head of Baltimore Orioles star Manny Machado on Sunday. It's going to cost him. It started on Friday when Machado took Pedroia out on a slide into second base. Leading 6-0 in the eighth inning on Sunday, Barnes got his apparent payback by throwing behind Machado. Both plays can...
MORE STORIES >>
Red Sox News

Delivered to your inbox

You'll also receive Yardbarker's daily Top 10, featuring the best sports stories from around the web. Customize your newsletter to get articles on your favorite sports and teams. And the best part? It's free!