We've updated our Privacy Policy.
By continuing to use this site, you are agreeing to the new Privacy Policy.
What will Astros second baseman Jose Altuve do for an encore to his amazing American League Most Valuable Player Award winning season in 2017? What can we expect from a rejuvenated Justin Verlander pitching the entire season in an Astros uniform?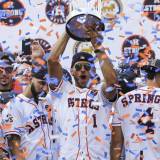 What's better than winning the World Series? Winning it on multiple occasions in a row — and that's what the Houston Astros are going to be going for this season. If you're an Astros fan and you're reading this, then the good news for you is that they are well-equipped to make a serious run at repeating as World Series champions. While other contenders have made big offseason acquisitions...
Could Jose Altuve's new contract extension with the Astros be a rare win-win for both parties? Two more seasons. Just two more seasons. Those few words kept rolling around in this author's head all offseason. Jose Altuve, the star second baseman for the Astros, could only be in Houston...
LIKE WHAT YOU SEE?
GET THE DAILY NEWSLETTER: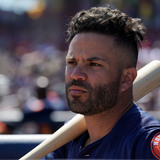 Whenever we talk about which player is currently under the most team-friendly contract, it's impossible to look past Houston Astros second baseman Jose Altuve.The reigning World Series champ, American League MVP, and three-time batting champ is in the midst of a five-year, $18.5 million deal, which also includes a $6.5 million team option for the 2019 season. He agreed to this deal...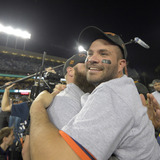 Jose Altuve will be staying with the Houston Astros for a while.According to reports, the Astros are in agreement on a five-year extension with Altuve that will kick in once his current deal ends after 2019. Altuve was already a superstar, but he firmly established himself as the heart and soul of the Astros with a series of remarkable postseason performances. He had been on a ridiculously...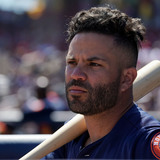 The defending World Series champion Houston Astros are about to lock up one of the best players in franchise history on a long-term deal.According to MLB.com's Brian McTaggart, the two sides are nearing a five-year extension that will pay Altuve a total of $150 million."Astros superstar Jose Altuve is close to signing a five-year extension worth $150 million that begins in 2020,...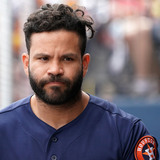 For the longest time, Houston Astros second baseman José Altuve has been underpaid. And while he still will be through the 2019 season, he's got a big-money five-year extension to look forward to. Altuve has led the AL in hits for the past four years, but that's not all. In three of those four seasons, he would lead the AL in on-base percentage. His slash line since 2014 stands at...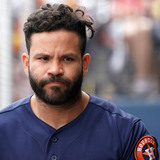 The Internet was buzzing after a number of videos surfaced from the Astro's White House visit on Monday, showing Jose Altuve intently staring at President Donald Trump.Altuve was seen looking directly at Trump with a very serious look on his face, and he didn't look all that happy, either.Still, he claims he wasn't grilling the POTUS. Altuve can say what he wants, but we think the...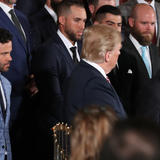 Jose Altuve stole the show when the Houston Astros visited the White House on Monday to be recognized for winning the World Series, and the reigning AL MVP insists it was not intentional.Several photos and videos showed Altuve standing behind Donald Trump with a very serious look on his face while the president was delivering his speech. On Tuesday, Altuve said it was an "honor"...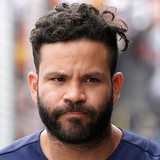 Championship team visits to the White House have become a little bit more newsworthy these days, and that was certainly true once again this week.The World Series champion Houston Astros visited President Donald Trump at the White House on Monday, and it was highlighted by some awkward moments that Astros star Jose Altuve had with the commander-in-chief.The reigning AL MVP stood...
MORE STORIES >>
Astros News

Delivered to your inbox

You'll also receive Yardbarker's daily Top 10, featuring the best sports stories from around the web. Customize your newsletter to get articles on your favorite sports and teams. And the best part? It's free!